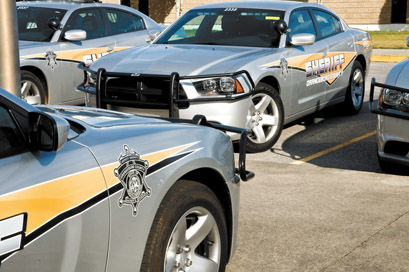 Orangeburg County Sheriff's Office
Someone broke into three vehicles on Kinard Street in Orangeburg, likely in the early morning hours on Monday, according to incident reports.
Sheriff's office spokesman Richard Walker said it's likely that the break-ins are related and, once identified, the suspects will face multiple charges.
One resident reported that someone damaged both driver's side windows of a 2016 black Dodge Charger and rummaged through the vehicle.
Another resident reported that someone shattered a passenger window on a 2008 Toyota Tundra. It appeared that someone rummaged through the middle console and glove compartment.
A third resident reported that someone shattered the rear driver's side window of a 2016 Dodge Charger. No one took anything or disturbed anything in the vehicle.
• Someone shattered the rear passenger window of a 2016 Nissan Maxima on Lombardi Court. The theft was discovered Monday morning.
The thief stole a CashApp card and $20.
• Someone removed windows from four vehicles parked behind a Cambridge Drive residence in Orangeburg on Monday morning.
Passenger-side windows were removed from a 2014 blue Dodge Charger, a 2007 black Lexus ES350, a 2011 white Toyota Tacoma and a 2005 gray Ford Mustang.
The damage is estimated at $1,000.
• A Norway man reported that his keys and 2005 gray Pontiac Grand Prix are gone.
He discovered his car was gone when he woke up just after 9:30 a.m. Monday.
He said a woman was also missing. He allowed the lady, who he'd never met, to come into to his residence to get out of the rain, according to the incident report.
The value of his vehicle is $2,000.
• Someone stole $20 from an unlocked 2009 Buick Enclave early Monday morning on Sweet Maple Drive in Orangeburg.
Another vehicle parked there was also broken into, but nothing was stolen from it.