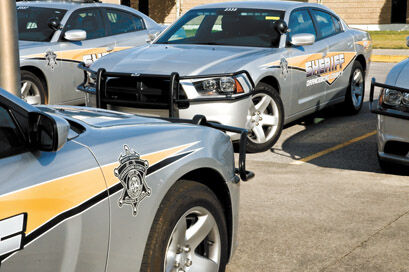 Orangeburg
County
Sheriff's Office
A man who lives near Cameron called deputies Tuesday morning after finding an intruder in his house. The two exchanged gunfire, according to a sheriff's office incident report.
The Mount Carmel Road resident said he heard someone walking across his kitchen floor at 4:45 a.m.
He jumped up and armed himself with his handgun.
That's when he noticed a man coming toward his bedroom.
The resident said he shot at the intruder out of fear for his own safety. The intruder returned fire.
The intruder exited the house and the two continued to exchange fire.
Deputies noticed the man's front door had been kicked in. The intruder left a pair of Nike flip-flops on the front porch.
Deputies noticed numerous bullet holes inside and outside of the residence.
Both the investigations and crime scene units responded to the scene.
The incident remains under investigation.
A traveler from West Virginia reported Monday night that someone stole his 2017 Jeep Wrangler from the Days Inn on St. Matthews Road.
The man told deputies he parked in front of the lobby for about five minutes and left his Jeep unattended.
Inside the Jeep he had a loaded .40-caliber Smith & Wesson pistol with a loaded extra magazine.
Surveillance video at the hotel captured the theft of the jeep.
The jeep is valued at $42,000.
A Myers Road man reported on Monday that someone stole his 1987 Chevrolet Blazer.
Deputies arrived at the man's home at 8:17 a.m. He said he last saw the vehicle the previous night around 8 p.m.
The gray and white two-toned Blazer is valued at $4,000.
At 7:32 p.m. Monday, a Woodbine Drive man reported that someone stole his steel gray 2013 Ford F150 pickup from his residence.
The truck is valued at $10,000.