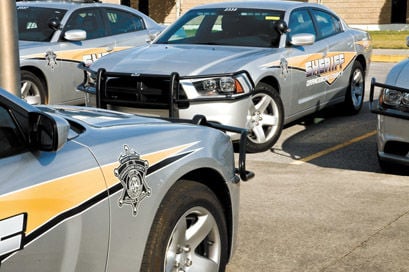 Orangeburg County
Sheriff's Office
A Cope woman almost lost her van's catalytic converter to a would-be thief, but he ran away after she fired shots, according to a sheriff's office incident report.
The woman called deputies at 12:33 p.m. Thursday after she heard someone knock on the door of her Ember Drive home.
She then checked on her surveillance cameras and saw a male with a blue sedan.
She said the man stood in her yard as if he was checking to see if anyone was at home.
A moment later, the man appeared to be underneath her 1996 white Ford Econoline van.
The woman "felt as if she needed to take action," the incident report states.
She walked out of her front door and shot her Hi-Point 9mm handgun toward the man's direction.
When a deputy arrived, he discovered a yellow saw blade wedged in the exhaust of the van "as if the subject was trying to remove the catalytic converters," the incident report states.
The woman showed the deputy where she discharged her firearm and the two bullet holes on her screen porch.
In an unrelated report, a Stroman Street resident claimed Thursday that her neighbor was stealing her electricity.
She told deputies that her last electricity bill was extremely high.
When she walked around her house, she discovered a yellow extension cord running from her house to her neighbor's house, the incident report said.
The neighbor told a deputy that he'd, "never do anything like that."
The neighbor also told the deputy that he thought the woman was, "being nice since it was cold outside," the report said.