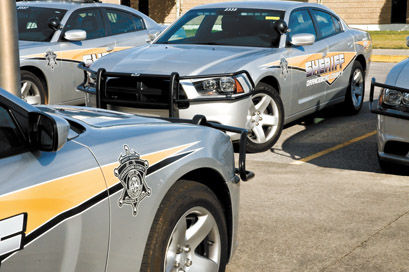 Orangeburg County Sheriff's Office
A convenience store employee reported two men assaulted another man on Saturday night, according to a sheriff's office incident report. The incident occurred in the HotSpot at 12340 Old Number Six Highway, Eutawville.
The injured man told deputies that a man punched him in the face and pushed him on the floor.
A deputy then located the alleged puncher in the parking lot and asked him about the altercation.
He told a deputy that the man who claimed to be a victim actually punched him in the face for no reason, according to the incident report.
A deputy didn't notice any injuries on either of the men.
However, a deputy detained the alleged offender in the store because a dispatcher confirmed that he had an outstanding warrant issued by the Santee Police Department.
The case remains active and a deputy will review the store's video surveillance to further investigate the incident.
• Someone ransacked an Old Edisto Drive home.
The following items were reported stolen on Friday: a Core15 rifle, an AK rifle, a Microsoft Xbox One, a Sony Playstation4, a single-shot shotgun, a Springfield XDS pistol, an Apple iPad2 and video games.
Deputies removed a Remington gun box, a Springfield XDS pistol box, a pickle jar used for loose change and a pair of scissors for processing of any forensic evidence.
The value of the stolen items is $11,300.
• A woman called deputies on Saturday to report that her former boyfriend did not disclose his HIV status to her, according to a sheriff's office incident report.
The woman said she discovered his status when she picked up some medication for him from the pharmacy.
She told deputies that she's now pregnant with her former boyfriend's child.
Sign up for our Crime & Courts newsletter
Get the latest in local public safety news with this weekly email.