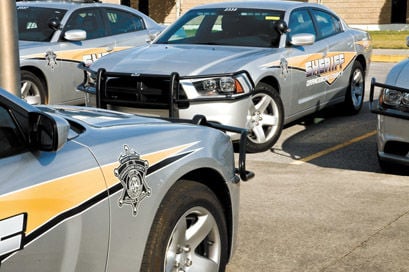 Orangeburg County
Sheriff's Office
A man shot a car in Neeses, left and returned later to threaten the residents, according to a sheriff's office incident report.
Residents of a Megan Drive home said the man first came into the yard between 5 a.m. and 6 a.m. and used a handgun to shoot the vehicle.
They said the man returned at 12:27 p.m., saying "I am going to come back and spray this house with bullets," the report said.
Residents said the man shot the handgun in the air as he made a right turn from Megan Drive to Ninety Six Road.
One of the residents gave a deputy a blue plastic glove containing a .40-caliber shell casing allegedly from the shooting.
• Someone stole a 2016 burgundy Kia Sorento from a Rashimori Lane home in Orangeburg.
A homeowner reported the theft at 7:40 a.m. Thursday.
He told deputies that someone broke into his wife's vehicle when she parked it in the city limits last week.
The thief took his wife's purse, which contained information regarding his home address and a spare set of keys to his Kia Sorento.
It's not known if the two cases are related.
The value of the vehicle is $26,000.
• Someone stole an empty trailer parked at the former site of Ryan's Steakhouse, located at 2580 North Road, sometime between 1 p.m. Wednesday and 2:40 a.m. Friday.
The owner of the empty tractor-trailer called deputies when he discovered it was missing.
He described it as a 40-foot brown container with a blue chassis.
He stated that he parked it so it would be visible to the security cameras at Zaxby's next door.
The value of the trailer is $20,000.
Sign up for our Crime & Courts newsletter
Get the latest in local public safety news with this weekly email.