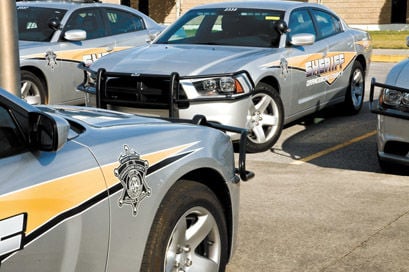 A Eutawville man accused of killing a friend's daughter allegedly confessed the details to a co-worker, a prosecutor said Thursday.
Kenneth Henry Eastwood, 68, is charged with murder in the Dec. 8, 2019 death of Cara Hodges, a mother of three.
Eastwood appeared via video conference before Circuit Judge Ed Dickson for bond consideration on Thursday. Dickson denied Eastwood's bond, but noted a judge may take another look at the case in six months.
Assistant Solicitor Catherine E. Mubarak alleged during the hearing that Eastwood confessed twice to killing Hodges.
The North Carolina woman was visiting her father in Eutawville at the time of her death.
Eastwood first confessed to one of his co-workers from the Eutawville IGA and then in a videoed interview with Orangeburg County Sheriff's Office investigators, Mubarak said.
Eastwood is said to have been with Hodges at Fish Tales, located at 12914 Old Number Six Highway, near Eutaw Springs.
Eastwood and Hodges "got really drunk," Mubarak said.
Hodges became emotional and Eastwood took her to his Gardensgate Road home where she begged him to take her home to North Carolina, Mubarak said.
Eastwood went to sleep, but Hodges woke him up about an hour later, begging again for him to take her back home.
Hodges wouldn't stop talking and continued to beg him to take her home, Mubarak said.
Eastwood allegedly confessed that he "just snapped."
"He took an electrical cord and strangled her, panicked, put her body in the trunk and dumped her in the woods," Mubarak said.
Hodges was found on Dec. 12, a few miles east of Eutaw Springs.
Hodges' sister Chrystal Edmonds and mother Randy Stinson attended the hearing by video.
They urged Dickson to deny Eastwood's bond.
"All he had to do was kick her out of his house or take her back to her dad's house," Stinson said.
Edmonds said that while Hodges was at Fish Tales with Eastwood, she made a video call to her niece.
Edmonds said the niece, "got a really bad vibe from him and we recorded him."
She asked Dickson to take into consideration that Hodges has "three beautiful children" who are living with her now.
"I have to look at my sister every day," she said.
"It should've never been done. It was senseless," she added.
Eastwood's attorney, James "Jim" Falk, said "I don't think he's a career criminal and I don't think he's a predator."
"We have no explanation of what happened this night," he said. "My client is certainly pleading not guilty."
The only conviction Eastwood has on his record is driving under the influence.
Eastwood can live with his sister in Santee if he is granted bond, Falk said.
Eastwood's next court date has not yet been set.
Sign up for our Crime & Courts newsletter
Get the latest in local public safety news with this weekly email.