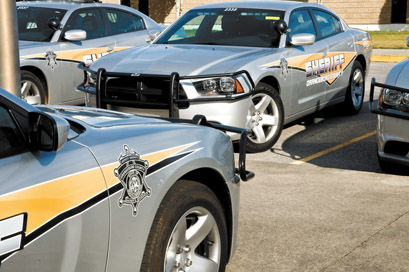 Orangeburg County
Sheriff's Office
Authorities are seeking the people who shot an Orangeburg man.
The 19-year-old is recovering from a gunshot wound to his left bicep after occupants of a vehicle fired at him at 9:15 p.m. Tuesday just outside of an apartment complex on Corona Drive.
The man told deputies that he and two other men were standing outside of an apartment when an unknown vehicle stopped near the entrance of the apartment complex and fired five to six shots before speeding off, an incident report states.
One of the other men said it appeared someone in the rear passenger seat fired five to six shots. The man saw the muzzle blast of the gun, the report states.
Deputies recovered four spent .380-caliber shell casings and two spent 9mm shell casings from the roadway.
If anyone has information about this incident, they are asked to call Crimestoppers at 1-888-CRIME-SC. Anonymous tips can be provided.
• A 12-year-old girl reported Monday afternoon that she was attacked by a classmate in the Bethune-Bowman Middle School gymnasium, according to a sheriff's office incident report.
The girl alleged a male classmate grabbed her throat from behind and then placed his hand over her mouth as he choked her. Her friends pulled the classmate off and broke up the encounter, the report said.
The classmate allegedly tried to choke her again and her friends helped her get free a second time.
The girl said as she ran out of the gym to get away from her classmate, the classmate yelled, "I'm going to kill you!"
She alleged that a coach witnessed both of the incidents, but didn't intervene. She told another coach about the incident, the report said.
The girl complained of her neck hurting and being sore, so her mother took her to the Regional Medical Center.
She spoke to a deputy at the hospital. The deputy didn't notice any visible injuries to the girl's neck.
An Orangeburg Consolidated School District 5 spokesperson didn't reply to questions about the incident.
• A Neeses Highway man reported someone broke into his home on Tuesday.
The stolen items include a 24-inch Sanyo flatscreen television, battery charger, welder machine and 100-foot power cord.
The value of the items is $3,650.
• In Eutawville, a Sandspoint Street man reported Monday that someone forced open a secured shed and stole the following items: a DeWalt air compressor, a planer, a Mikita table saw, a reset saw, skill saw, two Hitachi nail guns and a Senco nail gun.
The value of the stolen items is $5,000.
Sign up for our Crime & Courts newsletter
Get the latest in local public safety news with this weekly email.