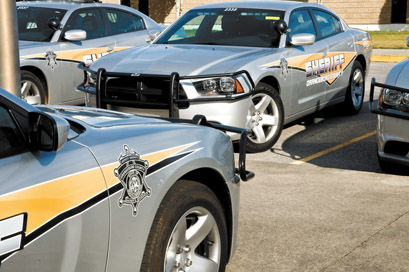 An Orangeburg man was shot and killed outside a club where people wanted to fight him, according to an Orangeburg County Sheriff's Office incident report.
Jamel Antwan "Ban Man" Ellison, 31, of 1396 Hill Drive, died at the Regional Medical Center on Sunday morning.
In addition, a 29-year-old Cottageville man suffered two gunshot wounds to the chest.
The incident occurred just before 2:30 a.m. Sunday at the Koast 2 Koast Bar & Lounge on Old Edisto Drive, according to the report.
When deputies got to the scene, they saw the Cottageville man lying face down on the ground with a female over him telling him to breathe.
EMS stabilized the Cottageville man and transported him to the Regional Medical Center.
Meanwhile, someone transported Ellison to the hospital in a Chevrolet Tahoe. He had a gunshot wound to the head.
A passenger in the Tahoe said various people began to fight Ellison while he was inside the club, the report states.
They went outside to leave the club, but more people began to fight Ellison and someone shot him, the passenger said.
Deputies remained at the hospital and at the shooting scene to maintain crowd control at both locations.
They also shut down Old Edisto Drive temporarily after finding multiple shell casings.
Sunday's incident was the third shooting in the area resulting in injuries since the beginning of the year.
On Jan. 25, an 18-year-old man received medical treatment for a gunshot wound he received just outside of the club around 3:40 a.m.
He told deputies he arrived there to celebrate his birthday, but heard shots ring out before he even entered the club.
Once he realized he was shot, he asked his cousin to take him to the hospital.
On May 31, a 22-year-old man was shot in the chest around 1 a.m.
Two of the man's friends took him to the hospital.
Each of the incidents are under investigation.
If anyone has information about these incidents, they are asked to call Crimestoppers at 1-888-CRIME-SC. Callers don't have to give their names.
Sign up for our Crime & Courts newsletter
Get the latest in local public safety news with this weekly email.