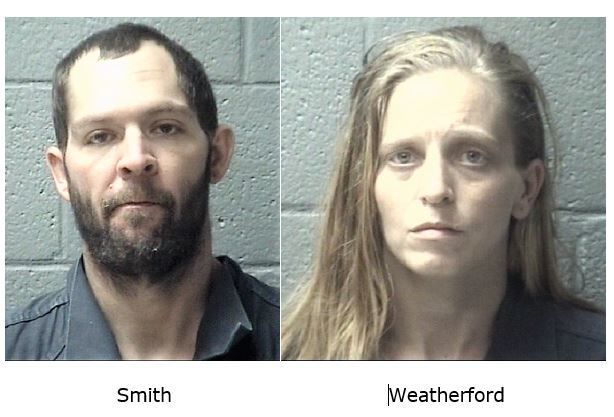 A man on probation for his role in the theft of golf carts is back in jail, according to Orangeburg County Sheriff Leroy Ravenell.
"He hasn't gotten the message yet that he's not very good at stealing other people's property," Ravenell said. "But we're more than happy to provide him with that message."
Thomas Smith, 33, of Orangeburg, has been charged with one count of second-degree burglary, one count of third-degree burglary, one count of grand larceny, four counts of malicious injury to real property, criminal conspiracy, tampering with a vehicle and malicious injury to personal property.
Tabitha Weatherford, 34, of Elloree, is charged with criminal conspiracy, grand larceny and third-degree burglary.
During a hearing on Friday, bond was denied on Smith while Weatherford's bond was set at $40,000 cash or surety.
A Santee man reported at 6 p.m. Wednesday that his Ford Ranger was stolen from his Old Highway Number Six property.
Neighbors told the man a white male was seen on the property along with a Ford Focus occupied by a female.
Smith allegedly used the Ford Ranger to steal a $50,000 boat from a Santee motel.
Then around 9 p.m. Wednesday, a Virginia couple staying at a Santee hotel reported their $65,000 truck and camper rig were stolen.
An Old Number Six Highway auto repair shop owner called 911 on Thursday morning after seeing a truck with a utility trailer traveling toward Eutawville.
He said the truck should have been at his shop awaiting repairs, the report states.
A tracking device led sheriff's office investigators and Santee police to the location of the truck and camper rig, the boat and the Ford Ranger.
Investigators were later able to locate the subject and the truck taken from the repair shop after spotting it on Highway 301.
The utility trailer did not belong to Smith either. It was allegedly taken from a Santee grocer.
Along with the Santee Police Department, the sheriff's office recovered all vehicles and property taken.
Smith was on probation after pleading guilty to his role in the theft of golf carts. The carts were stolen in the Santee area in August 2018.
"This was just a non-stop crime spree of stealing and taking what he could take," Ravenell said. "But it only lasted about 14 hours, and this after he just got out of jail."
Sign up for our Crime & Courts newsletter
Get the latest in local public safety news with this weekly email.