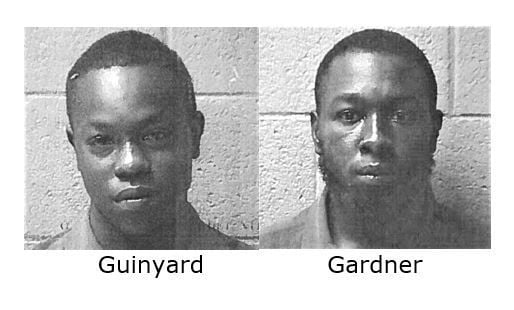 Orangeburg County Sheriff's Office
An Orangeburg man is accused of pointing a gun at a driver Tuesday morning on North Road.
The driver was traveling down North Road near IHOP around 8:30 a.m. when he noticed a vehicle driving at a high rate of speed behind him, according to a sheriff's office incident report.
The driver thought the vehicle was going to hit his vehicle in the rear, so he slowed down with the intention of moving over so the vehicle could pass him.
The driver said other vehicle drove into the median next to his. A man in the other vehicle pointed a pistol at him, causing the driver to slow his vehicle even more, according to the report.
The other vehicle left the scene.
Officers begin looking for the other vehicle and spotted one matching its description near Belleville Road. A traffic stop was initiated.
During the traffic stop, officers allegedly found a black shoulder bag containing six separate bags of marijuana with a total weight of 132.9 grams, a digital scale and $50, according to an Orangeburg Department of Public Safety arrest warrant.
Melvin Guinyard, 23, of 125 Blanda Circle, Orangeburg, was charged with pointing and presenting a firearm. If convicted, Guinyard is facing up to five years in prison and a fine.
Pierre Kevin Gardner Jr., 23, 4478 Rustie Street, Orangeburg, was charged with possession with intent to distribute marijuana.
If convicted, Gardner could be facing up to five years in prison and a $5,000 fine.
Both men were also charged with unlawful carrying of a pistol. If convicted on this felony charge, the men could be facing up to five years in prison.
• A 21-year-old Ravenel woman's car was keyed Monday night at the Baymont Inn on St. Matthews Road.
The total damage to the vehicle is $1,000.
• An Orangeburg man reported his white 2004 Pontiac Grand Prix was stolen overnight Monday from a Cordova residence on Jon Jon Drive.
The man said he left his keys in the vehicle's cup holder, according to the report.
The vehicle is valued at $5,000.
• A Santee woman reported the shed at her Santee River Road residence was burglarized Tuesday.
The woman said the doors were taken off and the shed completely emptied of its contents.
Items stolen include a mini-bike, a welder, fishing reels, ladders, back pack blowers, chainsaws and a couple of tills.
The items are valued at $1,200.
Orangeburg Department of Public Safety
An Orangeburg man was robbed at gunpoint Tuesday night while he was walking, according to an ODPS incident report.
The man said he was walking at the Malibu Apartments complex around 9 p.m. when two young males stopped him. He said they pointed a black 9mm handgun at him.
The males patted him down and took $100 from his pockets.
The man said he knew the males for quite a while, but declined to provide any further description of them, the report said.
Officers patrolled the area looking for suspects, but were unsuccessful.
In another report, an Orangeburg man reported his black, Glock 43 with laser and red Solus Edge snap on scanner were stolen from an unlocked storage compartment located near C&M Automotive on John C. Calhoun Drive.
The items are valued at $7,500.
Sign up for our Crime & Courts newsletter
Get the latest in local public safety news with this weekly email.