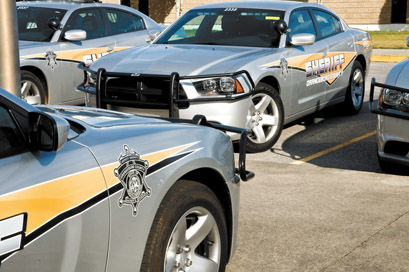 Orangeburg County
Sheriff's Office
Someone scammed an elderly Eutawville woman out of $14,800.
On Monday around 2 p.m., a deputy responded to the First National Bank on Old Number Six Highway where the woman and branch manager told deputies about the scam.
The woman told deputies that she'd been communicating with an unknown man for the past several months.
She said he somehow convinced her to allow him to deposit checks into her checking account if she would send him money from it first.
She told the deputy that she would withdraw money from her account and overnight it to an unknown address in Texas.
The branch manager told deputies that the checks the unknown man sent to the woman's account were fraudulent and no good, the report states.
The branch manager said the following dates and amounts reflect withdrawals the woman made from her account and sent to the unknown man: June 8, $6,750; June 15, $7,407 and June 16, $823.
This case is pending further investigation.
Someone stole a .40-caliber Springfield 40XD firearm and a Sony Playstation from a Glaze Lane residence in Orangeburg on Monday. The items are valued at $1,300.
The following items were stolen from a Beason Road shed in Orangeburg sometime between Thursday and Monday: Remington single-barrel shotgun, two electric screwdrivers, an electric sheetrock tool, two electric chainsaws and antiques.
The value of the items is $950.
On Monday around 3:30 p.m., a Red Will Road woman in Neeses reported that someone stole her 2004 "goldish brown" Chevrolet Silverado with a utility trailer attached.
She last saw the truck and trailer on Friday.
The truck has a pink "Girls Do It Better" sticker on the rear window.
The value of the truck and trailer is $7,500.
A Harlin Street man in Elloree said that someone test drove a vehicle he was trying to sell but took off before paying him the remainder of the money owed.
On Monday at 10:15 p.m., he called law enforcement after the buyer paid him $2,000 and then convinced him to let him take it for a test drive.
After 30 minutes and not being able to reach the buyer by phone, the seller called law enforcement.
The seller said he and the buyer agreed to a price of $5,000 for his 2012 BMW X5.
The buyer hasn't paid the $3,000 owed, the seller claims.
The seller said the title to the vehicle is in the glove box.
Sign up for our Crime & Courts newsletter
Get the latest in local public safety news with this weekly email.