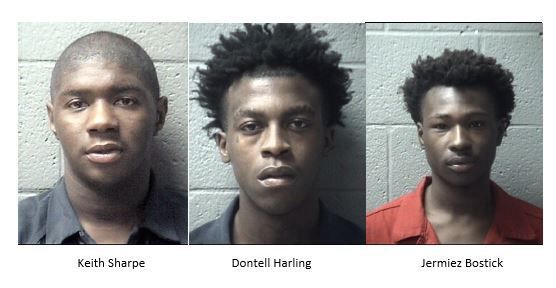 A third Aiken County man has been charged with robbing two Springfield residents in 2019 and shooting at their home, according to Orangeburg County Sheriff Leroy Ravenell.
"I said with the first arrests, we'll find you no matter where you are," Ravenell said in a release.
"As to the remaining suspects, we're not done yet. Keep looking over your shoulder. You'll see us eventually," he said.
Keith Sharpe, 19, has been charged with armed robbery with a deadly weapon, first-degree burglary, discharging a firearm into a dwelling, possession of a weapon during a violent crime, criminal conspiracy and malicious injury to personal property.
Sharpe is the third suspect to be arrested in the Oct. 24, 2019 robbery that happened at a Springfield residence.
Sheriff's office investigators were called to a Samaria Road residence around 11 p.m. after a family reported having been robbed and fired on.
Two brothers said between eight and 10 people in three vehicles drove up, according to the report.
The group made small talk with the brothers before threatening the pair at gunpoint, demanding money.
After taking a small amount of cash from the victims, the victims got behind a tree in case they were fired on.
Shots then rang out, striking the home and a vehicle in the yard.
No one was injured in the shooting.
Dontell Harling, 19, and Jermiez Bostick, 17, were taken into custody in December and face the same charges as Sharpe.
Bond was denied on Sharpe during a hearing on Thursday. Bond had previously been denied on Harling and Bostick at their respective hearings.
Sign up for our Crime & Courts newsletter
Get the latest in local public safety news with this weekly email.