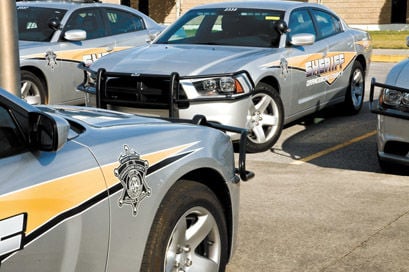 Orangeburg County Sheriff's Office
A Vance woman is undergoing treatment after someone kicked in the door of her Damascus Drive home and shot her, according to a sheriff's office incident report.
The woman called law enforcement at 6 a.m. Sunday.
She told deputies that she heard a car pull into her driveway and beep the horn.
She thought it was a friend of hers, so she walked toward the door to let her friend inside.
Someone then kicked in the door of her home and shot her.
She told deputies that the last thing she remembers seeing was a man wearing a black ski mask or bandana covering his face and then a bright flash.
She fell to the floor and the man ran off the front porch, she told deputies.
She said that after a few moments, she collected herself and realized she'd been shot.
Deputies transported the woman to the Holly Hill Municipal Complex at 8423 Old State Road where a deputy applied two combat compress bandages to her wounds to manage the bleeding.
"The wounds appeared to have been caused by a shotgun with birdshot ammunition," a deputy wrote in a report.
The woman told deputies she didn't know who would have shot her or why.
EMS transported her to the Regional Medical Center for further treatment.
Deputies collected blood samples off the living room carpet by the front entry door.
The criminal investigation division is handling the case.
If anyone has information about who opened fire on Damascus Drive, they are asked to call Crimestoppers at 1-888-CRIME-SC. Callers don't have to give their names.
Sign up for our Crime & Courts newsletter
Get the latest in local public safety news with this weekly email.