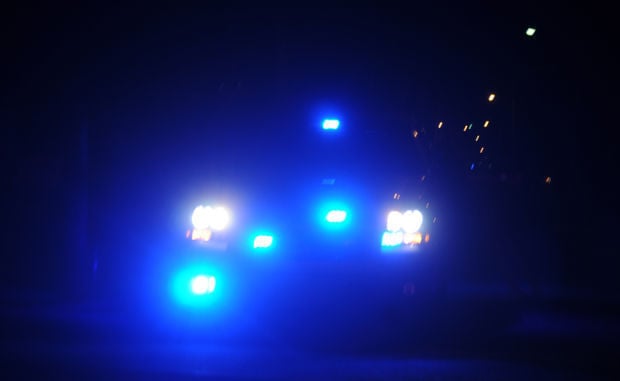 Orangeburg County Sheriff's Office
Four men are facing charges after a high-speed chase ended with their getaway Jeep hitting a train track and rolling over.
The following men are each facing one count of possession of a stolen pistol: Christian Ahmad Memminger, 18, of 702 Hickory St., Walterboro; Tyronjay Gregory Smith, 19, of 204 Durham St., Walterboro; Wendell Vameek Brown, 25, of 404 Wetsell St., Apt. 904, Walterboro and Frank Bernard Mack Jr., 19, of 1901 Gumwood Blvd. Unit C, North Charleston.
Smith is facing additional charges of possession of a stolen vehicle and first-offense failure to stop for blue lights.
The incident began when a concerned citizen reported two men were acting suspiciously at 1 a.m. Wednesday in the parking lot of the Holiday Inn Express on Sleep Inn Dr., according to a sheriff's office incident report.
The concerned citizen said the men were walking through the parking lot and looking into vehicles. They then got into a vehicle.
When deputies arrived at the hotel parking lot, they saw a matching vehicle with the headlights turned off attempting to leave the parking lot.
Deputies attempted to initiate a traffic stop on a dark grey Jeep at the bottom of the westbound on-ramp to Interstate 26.
When a deputy exited the patrol vehicle and approached the Jeep, the Jeep sped off.
At the same time, dispatchers alerted deputies that someone reported the vehicle stolen out of Beaufort County.
A deputy, using blue lights and sirens, pursued the Jeep, but the Jeep didn't stop.
At one point, the pursuing deputy lost sight of the Jeep due to its high rate of speed and the landscape of the area, according to the incident report.
Another deputy then saw the Jeep attempting to reenter the interstate and the pursuit resumed.
The chase ended when the Jeep struck a train track at a high rate of speed near the intersection of U.S. Highway 21 and U.S. Highway 78, the incident report states.
The Jeep then rolled over on its side, but all of the occupants were able to exit the Jeep without assistance.
Medical staff checked out the Jeep's occupants at the Regional Medical Center and cleared them to be released to the custody of the Orangeburg County Detention Center.
As a state trooper completed the accident investigation, he allegedly located a .380-caliber Colt Mustang Pocketlite pistol in the passenger compartment of the Jeep.
The trooper stated that the pistol had also been reported stolen.
In an unrelated case, a Cannon Bridge Road man called deputies to his Cope home on Wednesday afternoon after realizing that someone stole his 2017 black-and-orange Bad Boy Mowers MZ Magnum 54 riding lawnmower with a 54-inch mowing deck.
The value of the mower is $3,499.
Sign up for our Crime & Courts newsletter
Get the latest in local public safety news with this weekly email.