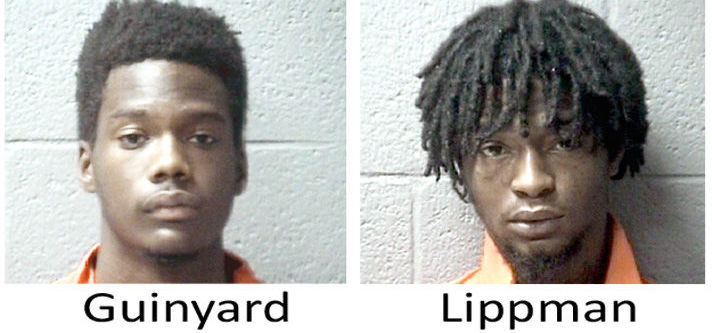 Two men are facing new charges in a July shooting incident that left one person dead.
Shyheim Lippman, 23, of 327 Boatswain Ct., Eutawville and Shavore Rodriguez Guinyard, 19, of 128 Waycross St., Orangeburg are facing five new counts each of discharging a firearm into a dwelling and first-degree assault and battery.
Lippman and Guinyard are already facing one charge of murder and two charges of attempted murder in the July 21 shooting incident. They are being held without bond at the Orangeburg County Detention Center on those charges.
The shooting incident occurred at a Graham Street residence. Deputies who arrived at the scene that afternoon found multiple people who they described as "hysterical and distraught."
One person at the scene told a deputy there had been a drive-by shooting and multiple people were injured. Among them was 27-year-old Darrin Demetrius Harrison, who was lying on the ground near the side of the residence.
Another injured man told a deputy that he and Harrison were sitting on the porch when he noticed a gray or silver vehicle travel down Graham Street.
The man told deputies that after he took a brief glimpse at the vehicle, he immediately heard gunshots.
Harrison died on Aug. 2 at a Columbia hospital. Two other people were wounded.
Warrants released by the Orangeburg County Sheriff's Office on Tuesday afternoon name five additional victims who were inside of the Graham Street residence at the time of the shooting. They were not injured.
Lippman has prior Orangeburg County convictions:
• On June 20, 2013, he pleaded guilty to possession of one ounce or less of marijuana.
• On Oct. 20, 2015, he pleaded guilty to unlawful carrying of a pistol.
• On April 18, 2019, he pleaded guilty to possession of one ounce or less of marijuana.
Lippman also has the following pending charges:
• Failure to stop for blue light on Feb. 3, 2019.
• Possession of a stolen pistol on March 16, 2019.
• Driving under suspension on June 12, 2019.
Back in 2016, investigators charged Lippman with obstruction of justice in connection with a shooting incident at a Holly Hill home that left four people dead and one child injured. A warrant accused Lippman of not being honest with officials about being in the home the day before the shooting.
He was not charged in the deaths.
A judge dismissed the obstruction charge at Lippman's preliminary hearing on May 1, 2017.
Guinyard has the following Orangeburg County convictions:
• Trespassing on May 2, 2019.
• Public disorderly conduct and third-degree assault and battery on Feb. 11, 2019.
Other than the current charges in the Graham St. shooting incident, Guinyard isn't facing any other charges in the county.
If convicted of murder, both Lippman and Guinyard face up to life in prison.
Sign up for our Crime & Courts newsletter
Get the latest in local public safety news with this weekly email.