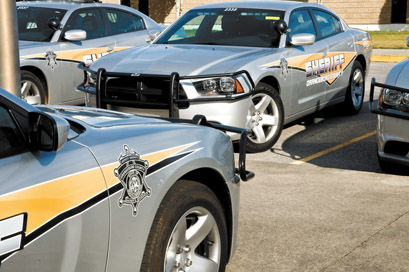 Orangeburg County Sheriff's Office
A North man was robbed at gunpoint Saturday by three men who claimed to have met him prison, according to a sheriff's office incident report.
The robbery occurred after the man visited a friend at Roosevelt Gardens Apartments on Judicial Circle in Orangeburg.
When he attempted to return to his vehicle, the three men approached him and asked him what he had.
One man pointed a firearm at him while the other two emptied his pockets of $400 in cash, he said.
• A woman reported that someone stole her 2018 blue Nissan Sentra from Moss Street, in Bowman, on Sunday morning.
• Someone stole a 2015 silver Buick Lacrosse from Auto Maxx, located at 2495 Magnolia Street, in Orangeburg.
The vehicle is valued at $10,000.
• Someone stole a red Dayton 5500 watt generator from the bed of a pickup truck parked at the Comfort Inn and Suites, located on Citadel Road, in Orangeburg, on Friday.
• A Liberty Street resident reported on Friday that someone stole a blue 2005 Infinity G35X sedan valued at $3,500.
Orangeburg Department of Public Safety
A 15-year-old girl allegedly hit a police officer on Saturday night outside Jammers, located at 698 Murray Road, according to a sheriff's office incident report.
The girl allegedly attempted to enter the skating rink to fight another juvenile, the report states.
When she was not allowed to enter, she allegedly approached a Toyota SUV an attempted to fight the sibling of her initial target.
An officer attempted to detain the girl and they both fell to the ground, the report states.
The officer hit his head and the girl allegedly got on top of him and began to punch him on his body
The girl was taken into custody.
Officers also claim she spit in the face of an officer.
She was escorted to ODPS headquarters, where officers took her photo and processed her before calling a guardian to pick her up.
Sign up for our Crime & Courts newsletter
Get the latest in local public safety news with this weekly email.