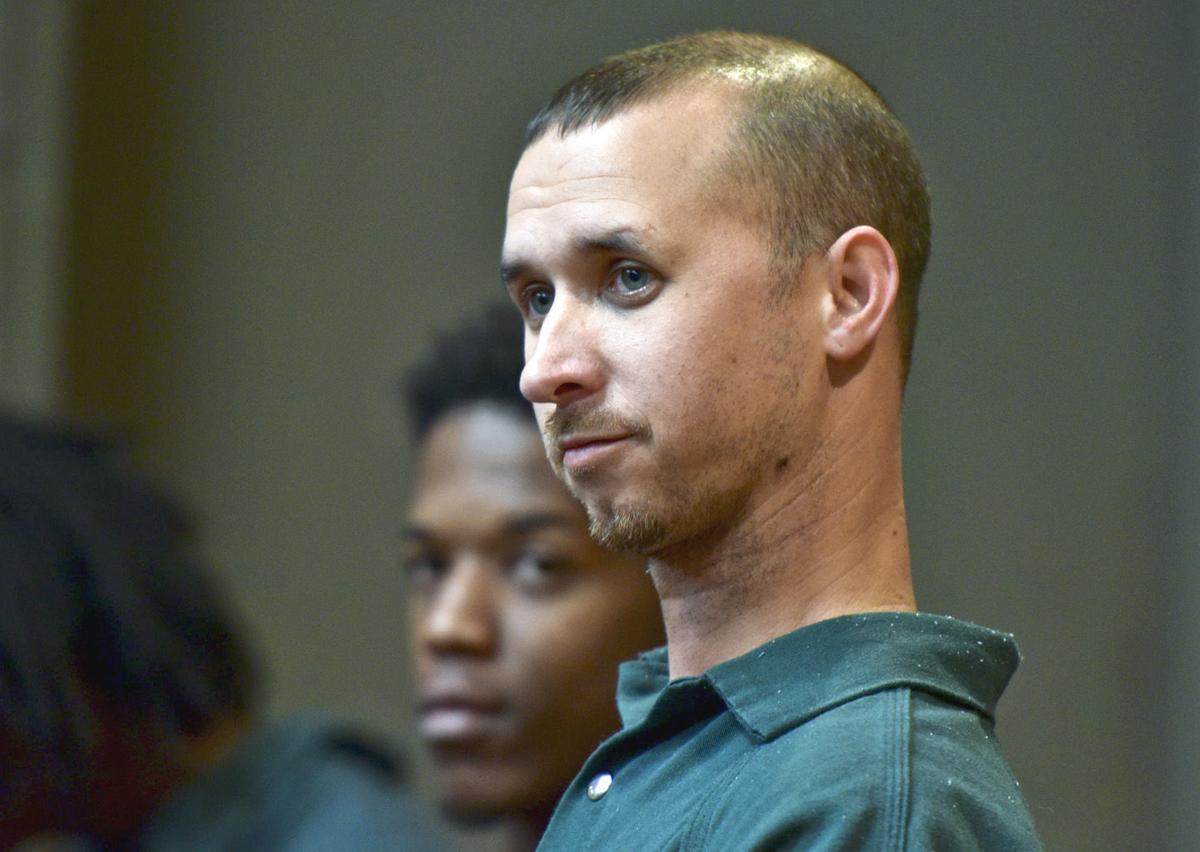 A North man is going to prison after swindling thousands of dollars from a woman who later attempted to take her life.
James Michael "Mike" Phillips, 35, of 10183 North Road, pleaded guilty Tuesday to blackmail before Circuit Judge Howard P. King. Prosecutors dismissed a kidnapping charge as part of Phillips' plea agreement.
King sentenced him to 10 years in prison and a $5,000 fine. After he serves five years, the remainder of his sentence will be suspended to five years of probation.
He also ordered Phillips to pay $18,000 in restitution.
The blackmail scheme took place from April 2, 2018 until Nov. 13, 2018.
The scheme began when the woman and her now ex-husband separated in 2018.
Deputy Solicitor Tommy Scott said that Phillips convinced the woman that she wouldn't have any trouble gaining custody of her daughter if she paid him money to give to a private investigator to help her.
"No investigator existed," Scott said.
The woman divorced and she maintained custody of her child, Scott said.
But Phillips "conjured up another reason to extort money from her," Scott added.
That's when Phillips created a make-believe character named "Trell."
According to Scott, Phillips told the woman not to tell anyone about "Trell" demanding money because "things will get worse."
Phillips "kept demanding more money and more money," Scott said.
Phillips used the money on material items that he wanted, not on essential items.
At some points, the woman gave Phillips her entire paycheck, took out high-interest loans online and even borrowed money from family members, telling them she "needed it for school," Scott said.
Over the months, the woman deposited over $10,000 in Phillips' bank account and also put cash in his truck.
As summer turned to fall, the demands for money intensified.
Phillips created a cellphone alias for "Trell" and convinced the woman that "Trell" sent him messages demanding money and threatening to harm her, her child and family.
Phillips claimed to the woman "he was trying to keep 'Trell' happy," Scott said.
The scheme came to a head in the first two weeks of November 2018.
On Nov. 4, 2018, while the woman was facing a wall in a room, Phillips approached her from behind and held an object to her head, which she believed was a gun. Phillips later told authorities it was a remote control for a television.
Phillips made another demand for money.
On Nov. 7, 2018, as the woman was at work and closing down business for the day, she was on the phone with Phillips, who was demanding money of her.
At the same time, she received a text message from "Trell," who was also Phillips.
The text message said, "You've done it now. I'll see you soon," Scott said.
Phillips allegedly told the woman the only way to get "Trell" to stop his demands was to pay $2,500 by the upcoming Friday.
Scott said the woman became so overwhelmed that on Nov. 8, she attempted to take her life by cutting both of her arms.
It wasn't until she was in a hospital in Columbia that she told law enforcement what happened.
Orangeburg County Sheriff's Office Investigator Rob Boyne said that the woman was paranoid that someone was standing in wait to shoot her.
Boyne said in court on Tuesday that the woman did not want to be interviewed in a room with windows.
"I've never seen mind control to the extent that I've seen in this case," Boyne said.
"She wouldn't take a breath without his permission," he added.
"I'm impressed she's still here," he said.
Boyne said that the woman's family has rallied beside her. He gives them credit for supporting her.
"It took a lot for her to come here today," Boyne said.
Phillips' attorney, John Keffer, told the court, "This is a horrendous case, there's no other way to put this."
Keffer told the court that Phillips is "trying to make it right" by pleading guilty to blackmail and agreeing to pay restitution.
Prior to his arrest on Nov. 15, 2018, Phillips was an employee of the Public Works department in Orangeburg County.
"He had retirement, he had medical benefits," Keffer said.
Phillips' mother also spoke in court.
"I'm not here to make excuses for him," she said.
"Mike stands here today a changed man," she said. "He's lost everything he's got. Material things don't mean anything to him anymore."
Phillips began to wipe tears from his eyes when his mother spoke.
"He understands he has a long road ahead," she said.
She explained that she raised her children to "tell the truth, don't lie."
Phillips' wife also addressed the court.
"It's been hard on us just as it has the victim," she said. She said she's seen a major change in him.
Through tears and a cracking voice, she said, "Please allow him to come home and allow him to do better for himself and most importantly our kids."
Phillips is a stepfather to two of his wife's children and they have one child of their own.
Before making remarks in court, Phillips paused and said quietly to his attorney, "I can't."
King said, "Take your time."
"I stand before you as a man, as a guilty man," Phillips said.
He noted that no amount of money can replace all that he took from the woman.
"I took advantage of her when I shouldn't have," he said.
Phillips said he's been working as much as possible as a tow truck driver and saving money for restitution.
"I'll pay what I have to pay," he said.
Prosecutors believed he swindled the woman of $35,000, but Phillips said he knows he took $18,000 from her.
He used the money to buy frivolous items, including a boat, which is now in the impound lot of the Orangeburg County Sheriff's Office. He offered to give the boat to the victim.
He told the court that he took out loans to pay for material items that he wanted and then began demanding money of the woman so he could make his loan payments.
"I'm only human," he said. "I made a mistake."
Before King sentenced him, he told Phillips, "Your actions cannot be characterized as a mistake."
"Your actions took place for more than six months and really is a cause of action."
He told Phillips that the crime he committed against the woman is, "more akin to assault or personal attack."
Phillips' wife sobbed as King sentenced her husband.
Sign up for our Crime & Courts newsletter
Get the latest in local public safety news with this weekly email.