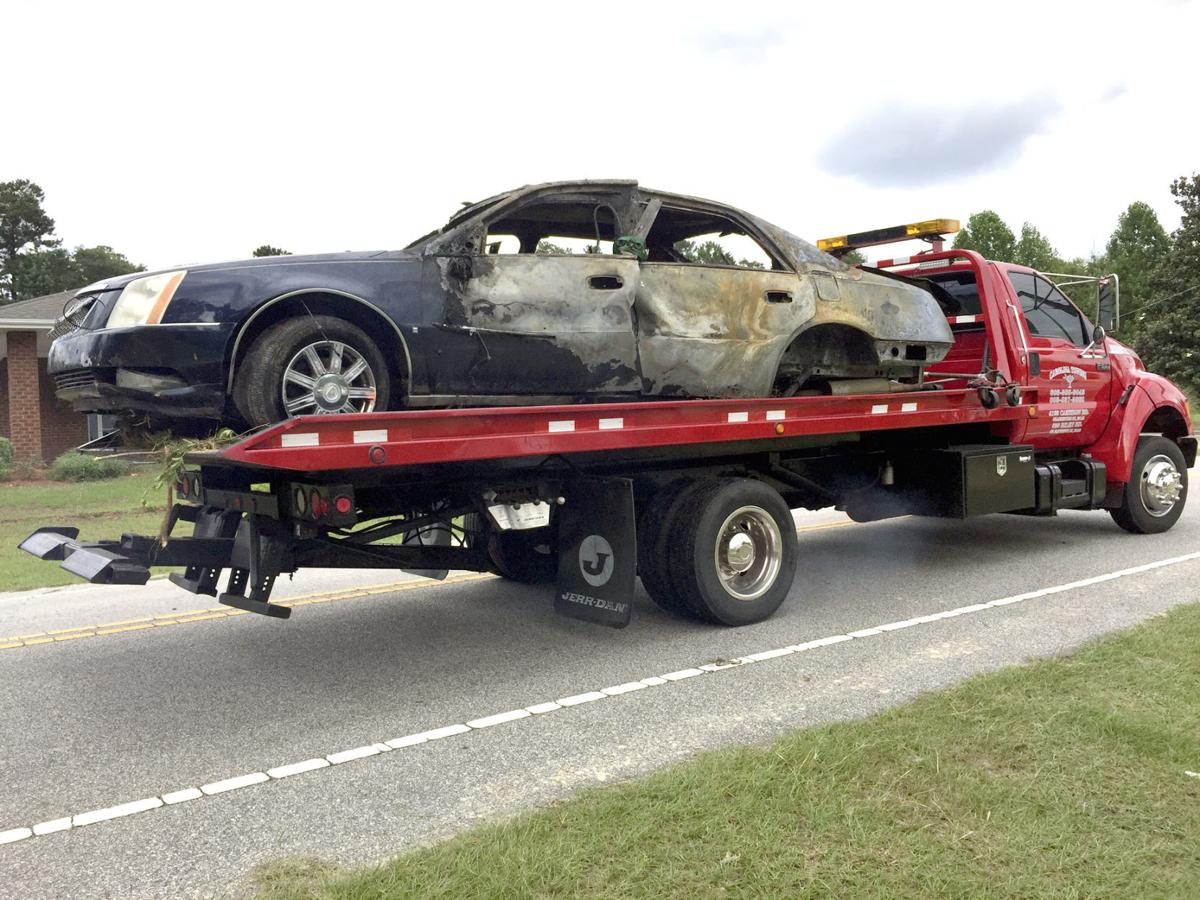 Two bodies discovered in a smoldering Cadillac on Tuesday morning remain unidentified.
According to an Orangeburg County Sheriff's Office incident report, both bodies "were completely unrecognizable due to the severe burns on their person."
The sheriff's office and S.C. Highway Patrol began looking into the deaths after Orangeburg Department of Public Safety officers extinguished a vehicle fire on the 1300 block of Ridgewood Drive in Orangeburg.
A newly released ODPS report states that officers responded to the call at 5:41 a.m. Tuesday for a "report of a woods and grass fire" at Columbia Road and Ridgewood Drive.
Officers arrived and did not see any signs of a fire at that location, but checked the area and discovered a fire across the street from the Kingdom Hall of Jehovah's Witness at 1330 Ridgewood Drive.
You have free articles remaining.
When crews arrived at the scene, they saw a vehicle in the woods on the edge of a pond "with heavy fire showing from the passenger compartment and trunk area," an ODPS fire report said.
Once crews extinguished the fire, they used an extrication tool to open the trunk and passenger compartment to extinguish hot spots in the vehicle.
When they did that, they discovered "two deceased persons in the front seat of the vehicle," the report said.
Crews continued to carefully extinguish the fire as to not disturb the scene any further.
A sheriff's office report states that the vehicle, a dark blue Cadillac of an unknown model or year, was 75 percent burned. It did not contain a South Carolina license tag, the incident report states, noting that it may have burned in the fire.
A partial vehicle identification number was visible, the report states.
The criminal investigation division is continuing to process the evidence to determine if foul play was a factor, sheriff's office spokesman Richard Walker said.
If anyone has any information about the incident, they are asked to contact the sheriff's office at 803-534-3550 or Crimestoppers at 1-888-CRIME-SC.