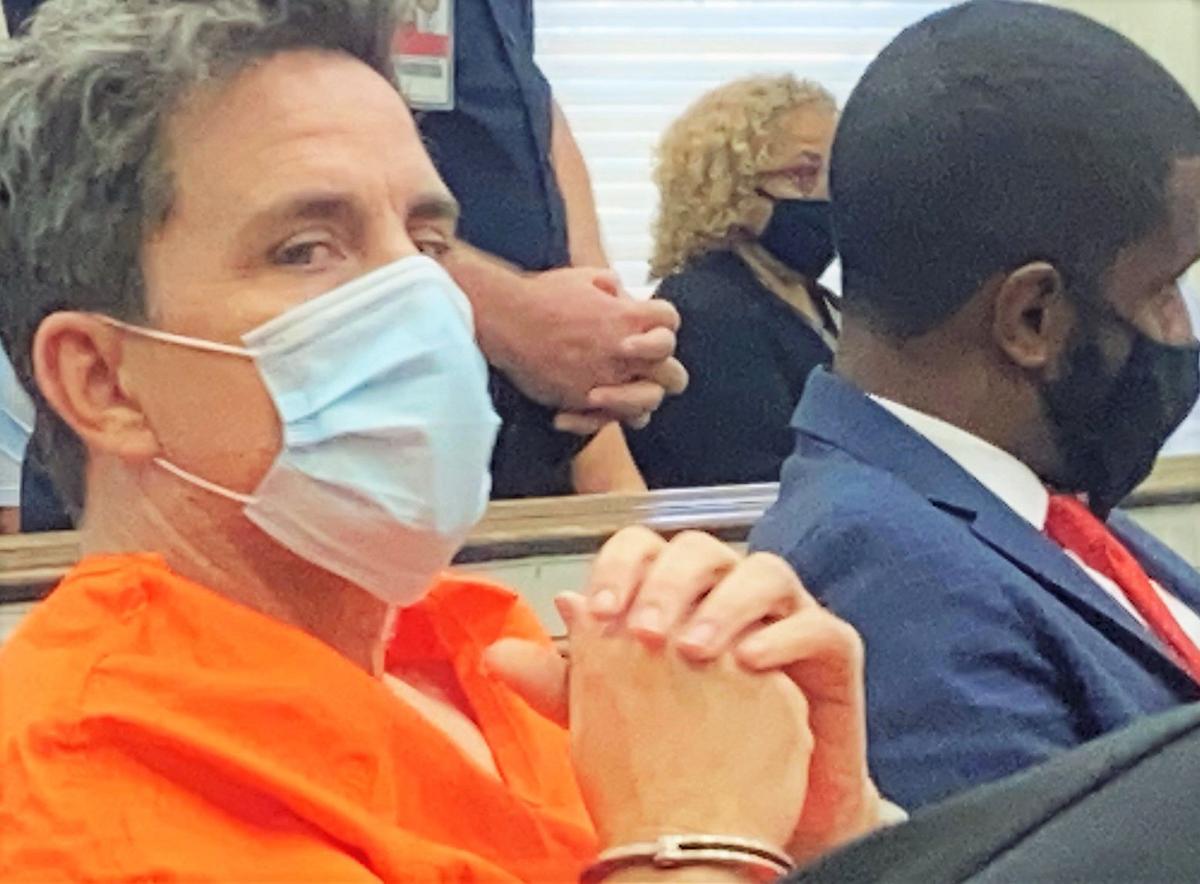 A Bamberg County councilman accused of sex crimes against minors will remain in jail while alleged drug addiction issues are evaluated. Bond may be considered at a later date.
Kerry Trent Kinard appeared at the Barnwell County Courthouse on Wednesday afternoon.
"Aside from the serious nature of these charges, the court is concerned with the representation that Mr. Kinard suffers from depression, pill addiction and mental instability. That is not a good recipe for release on bond," Circuit Judge Clifton Newman said at Kinard's bond hearing.
The S.C. Law Enforcement Division took the 49-year-old Bamberg resident into custody on Friday night on charges of first-degree criminal sexual conduct with a minor, attempted criminal sexual conduct with a minor, first-degree assault and battery, and two counts each of both criminal solicitation of a minor and dissemination of obscene material.
SLED Special Agent Lawrence Wiggins told the court, "The investigation is far from over."
"SLED is actively looking into an additional allegation that goes back 25 years in another part of the state," he said.
Wiggins said, "As far as the pattern of how things transpired, that pattern is consistent across all of the alleged victims, as far as we can tell."
The parents of the two children Kinard is accused of violating addressed the court.
"Since the truth has been revealed, I now see that Kerry exemplifies the epitome of evil. He's preyed on my children for years. They now have memories of their childhood no child should have," the children's father said.
"What has happened behind closed doors is disgusting to me," he added.
"The children's most restful nights of sleep have been since last Friday, since he was jailed," he said.
"I feel that due to his unstable mental state, the propensity to commit despicable acts against children, the Bamberg community is endangered," he said. "If released from jail, I believe this heinous behavior will continue and it would continue to the point of no return."
The children's mother said they are "physically and emotionally exhausted by the fear" of Kinard's possible release from jail.
"I'm sure he's upset that his evil acts over the years have finally been revealed," she said.
"We have to make protection of the innocent in this case a priority, especially when there have been so many times in public we have all, as a community, witnessed his anger in the last few years," she said.
"He got in an altercation with a preacher and also showed his rage in county council meetings. This man is sick, very sick," she said, raising her voice and looking in Kinard's direction in the courtroom.
"He needs help and he needs to be punished for what he took from my children and the lifelong damage he's caused. He does not need to be released," she said.
The mother alleged that an incident happened that made her daughter "very brave."
She said that her daughter told her son and he urged her to tell their mother.
"She broke down and told me all of the details of it," she said.
The T&D did not name the children's parents to protect the children's identifications.
Wiggins said on Sept. 22, the Bamberg County Sheriff's Office requested the agency's assistance in reference to an allegation of sexual assault.
He said he interviewed the two children over the two days that followed.
He said the children disclosed alleged assaults and he believed there was "sufficient evidence to substantiate to move forward with the charges."
Wiggins told the court the children accused Kinard of "consistent groping, touching, fondling."
He said the children also alleged, "that they were exposed to pornography during, after or prior to the sexual assaults."
Wiggins said some of the alleged abuse began around 2007 to 2008.
Kinard's attorney, Bakari Sellers, told the court that Kinard "has a history of public service" and doesn't have a criminal record.
The Air Force veteran was first elected to Bamberg County Council in June 2012. He served as chairman from Jan. 1, 2019 until Dec. 31, 2019.
This past June, he lost his re-election bid in the Democratic primary.
His previous political experience includes a 2002 appointment as a Jasper County magistrate by then-Gov. Mark Sanford.
"Mr. Kinard has had some addiction issues," Sellers said. "We are going to get him into rehab as soon as he is bonded out."
"My client does have a bevy of guns and we are willing to surrender the guns, not forfeit because we're going to wait for the charges to see what occurs, but surrender them for the pendency of this matter," Sellers added.
Sellers said Kinard doesn't want to have any contact with the children who've accused him of abuse.
Newman ordered Kinard, "be held in custody pending an evaluation for his mental drug-addiction condition, if he has them."
He also ordered that a follow-up hearing occur within 30 days so the court can hear professional opinions expressed from Kinard's required evaluations.
Kinard has not been suspended from his council seat.
Brian Symmes, communications director for the Office of Gov. Henry McMaster said, "The governor's authority to suspend an elected official is specifically reserved for when the elected official has been indicted."
A grand jury has not yet indicted Kinard.
If convicted, Kinard faces up to life in prison.