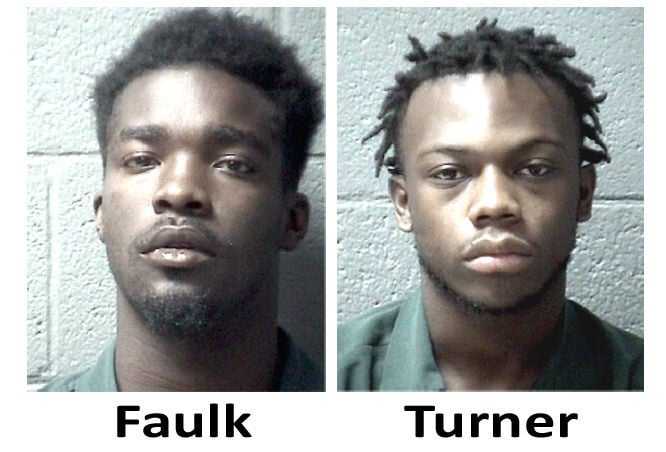 Two Conway men are accused of bringing firearms onto South Carolina State University. Neither man is a student.
Erick Kim Faulk, 22, of 4610 Long Beach Road and Taquan Odell Turner, 19, of 6636 Old Bucksville Road are charged with possession of a firearm on school property. Officers also charged Turner with simple possession of marijuana.
Officers seized a loaded .38-caliber Colt handgun and a loaded .43-caliber Glock handgun with an extended magazine.
An S.C. State police officer responded to a call around 1 a.m. Tuesday about a verbal altercation at the Hugine Suites Housing Complex, a co-ed dormitory for upperclassmen. The officer deescalated the incident.
He then saw about eight males "smoking what he believed to be marijuana" and wearing red bandanas entering an apartment, according to a police incident report.
One of the men, later identified as Turner, allegedly walked into the apartment with a Louis Vuitton bag on his back, the officer noted.
The officer didn't recognize the men as students and asked for additional officers to be placed on standby for security purposes.
While the officer checked the apartment, he allegedly saw Turner in the far right bedroom rolling a marijuana blunt.
The officer noted that Turner allegedly sat on a desk "as if to conceal the gun when security entered into the room."
While the officer was inside of the bedroom, another officer heard him yell, "It's a gun in here!"
That officer then went into the apartment to locate and secure the weapon.
That officer saw four males standing in a common area of the apartment and saw three additional males exit a bedroom where the first officer had Turner in detention in the bedroom.
Officers then found a six-round, 9mm magazine in the Louis Vuitton bag.
Officers told the other males that they would search them for any illegal items.
One of those males, Faulk, told officers that he had a .38-caliber Colt handgun in his front waistband.
Orangeburg County Magistrate Jacob Gillens set their bonds each at $3,500 cash or surety.
In an unrelated case, university police responded to a shooting incident outside of Hugine Suites around 1:47 a.m. on Sept. 20.
Two women – an S.C. State student and a Claflin University student –were treated for gunshot wounds to their legs.
University police charged Joshuaa Brionn Jarrett Collier, 22, of Bill Salley Road, with that shooting.
Collier is facing two counts of assault and battery of a high and aggravated nature and possession of a firearm during the commission of a violent crime.
If convicted, Collier faces up to 40 years in prison.
Sign up for our Crime & Courts newsletter
Get the latest in local public safety news with this weekly email.