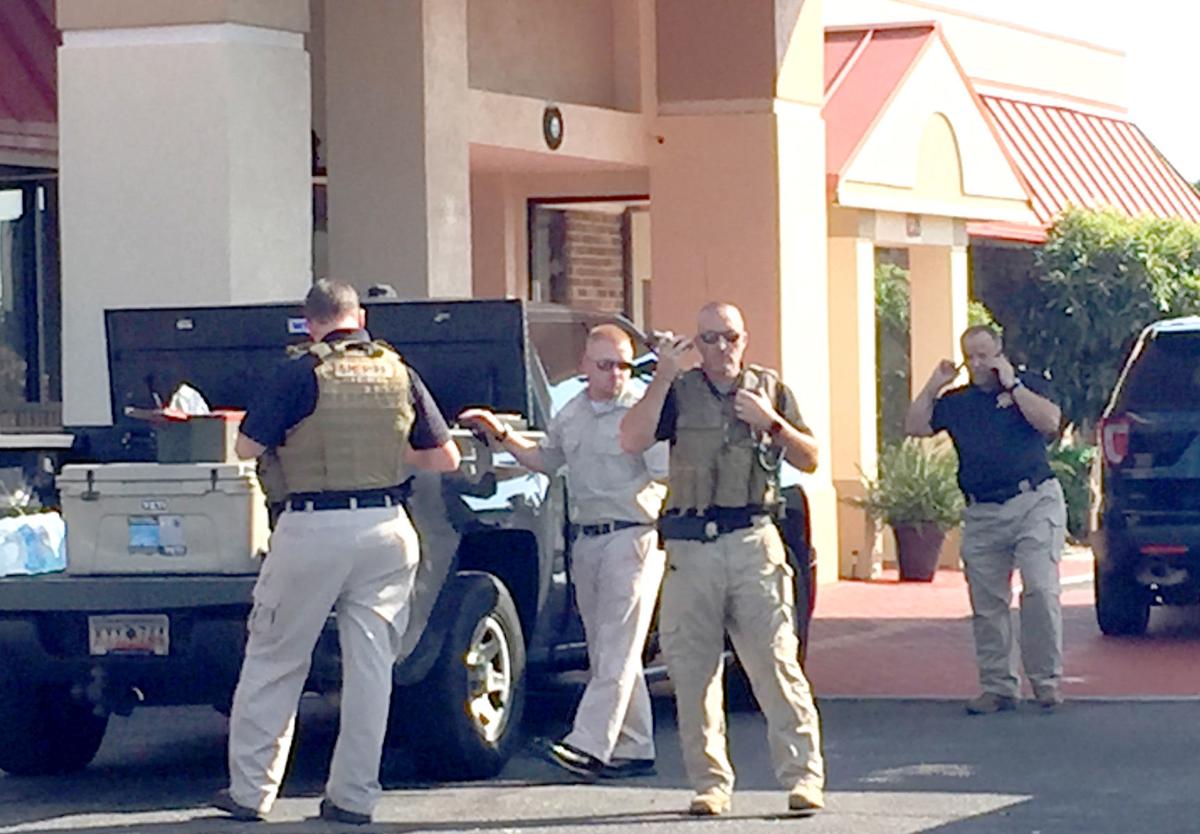 A Summerton man facing a possible prison sentence killed himself Friday as his Santee hotel room was surrounded by police, officials say.
Stacy Kyle Pritchard, 51, of Ralph Bell Road died Friday of a self-inflicted gunshot wound, according to Orangeburg County Chief Deputy Coroner Sean Fogle.
Clarendon County Sheriff Tim Baxley said that investigators were looking for Pritchard after a jury found him guilty of second-degree burglary last week.
He said Pritchard was tried in his absence.
After the jury found Pritchard guilty, he became a fugitive, Baxley said. He noted that investigators recovered some of the stolen property from the 2018 burglary.
He said Pritchard was facing up to a 15-year sentence. A judge sealed Pritchard's sentence.
The Clarendon County Sheriff's Office received information that Pritchard was staying at the Clarion Inn in Santee.
Baxley contacted the Santee Police Department and Orangeburg County Sheriff's Office to assist in apprehending Pritchard.
It turned into a standoff.
For a couple of hours, law enforcement officials attempted to negotiate with Pritchard.
At one point, Pritchard fired a weapon which struck the shield of a law enforcement officer, Baxley said.
Officers discovered Pritchard deceased in the hotel room.
They never fired at Pritchard, according to S.C. Law Enforcement Division spokesman Thom Berry.
SLED is investigating the incident at the request of the Orangeburg County Sheriff's Office.
Pritchard has a decades-long history of criminal convictions, prison sentences and drug rehabilitation, according to a SLED background check.
By age 18 in 1986, he had his first drug convictions: possession of marijuana and drug paraphernalia.
In 1990, Pritchard had convictions of assault and battery, disorderly conduct, trespassing, resisting arrest and possession of drug paraphernalia.
Two years later, he pleaded guilty to one count of armed robbery and three counts of strong-arm robbery in Sumter County.
He received a 10-year sentence, but served about six years in prison.
In 1999, he pleaded guilty to resisting arrest and some minor drug charges.
He pleaded guilty to second-degree violent burglary in 2001.
A judge sentenced him to 15 years in prison, suspended to nine months and then five years of probation.
Pritchard faced multiple charges in 2003 and 2004 in Clarendon County: possession of crack cocaine, resisting arrest, breaking into motor vehicle, possession with intent to distribute cocaine and failure to stop for blue lights. He pleaded guilty to each of the charges in 2005.
A judge sentenced him to 15 years in prison, suspended to eight years. He served about half of that time.
By 2009, he faced the charge of assault and battery with intent to kill and pleaded guilty to that charge in 2012.
A judge sentenced him to 10 years in prison, suspended to the service of five years and then five years of probation.
On Oct. 5, 2014, Pritchard was out of prison and on probation and facing new charges: violating probation and second-offense possession of methamphetamine or cocaine base.
He began serving additional prison time on Jan. 12, 2015, but served less than one year.
In the fall of 2016, Pritchard faced charges of second-offense third-degree burglary, resisting arrest and a third or subsequent offense of possession of methamphetamine or cocaine base.
A judge sentenced him to five years in prison beginning in 2017, but he served a few months instead.
In April 2018, he faced his most recent burglary charge. This time a jury found him guilty, even though he didn't show up for his scheduled trial.
Baxley said Pritchard's mother, Betty S. Pritchard, wrote her son's obituary.
She described her youngest of five children as a "beautiful little boy, full of mischief and unbridled energy. His eyes sparkled and his grin stole everyone's heart."
She went on to tell of his gifted athletic abilities in football, baseball and basketball. He was a starting player on the 1981 Dizzy Dean World Series Championship team.
"Stacy packed a lot of living into his first 17 years of life. His was a life filled with promise, with high expectations, and big dreams. He was a joy to those around him. He was truly gifted and a kind, loving and extremely generous person," she wrote.
The obituary said his life began to change, perhaps because of medication he received for a broken bone or teenage curiosity. He began his lifelong battle with drug addiction.
He voluntarily entered rehabilitation programs on several occasions trying to defeat his demons, she wrote.
"You see, he did not want to be a drug addict. No one chooses to be drug addict," his mother wrote. "Addiction is a disease, a cancer that takes control and destroys anyone in its path. It does not discriminate."
She said that the family is left with some peace.
When Pritchard was in his 20s, he asked Jesus to be his Lord and Savior, she wrote.
She noted that her son often proclaimed his faith in Jesus and in the last few weeks he assured his family that "his relationship with God was rock solid."
"He spent many days in the last few weeks apologizing and making peace with each one of us close to him. He actually said, 'Please tell everyone who I've hurt or wronged that I'm sorry. That isn't the real me. I'm so sorry,'" his mother wrote.
Sign up for our Crime & Courts newsletter
Get the latest in local public safety news with this weekly email.