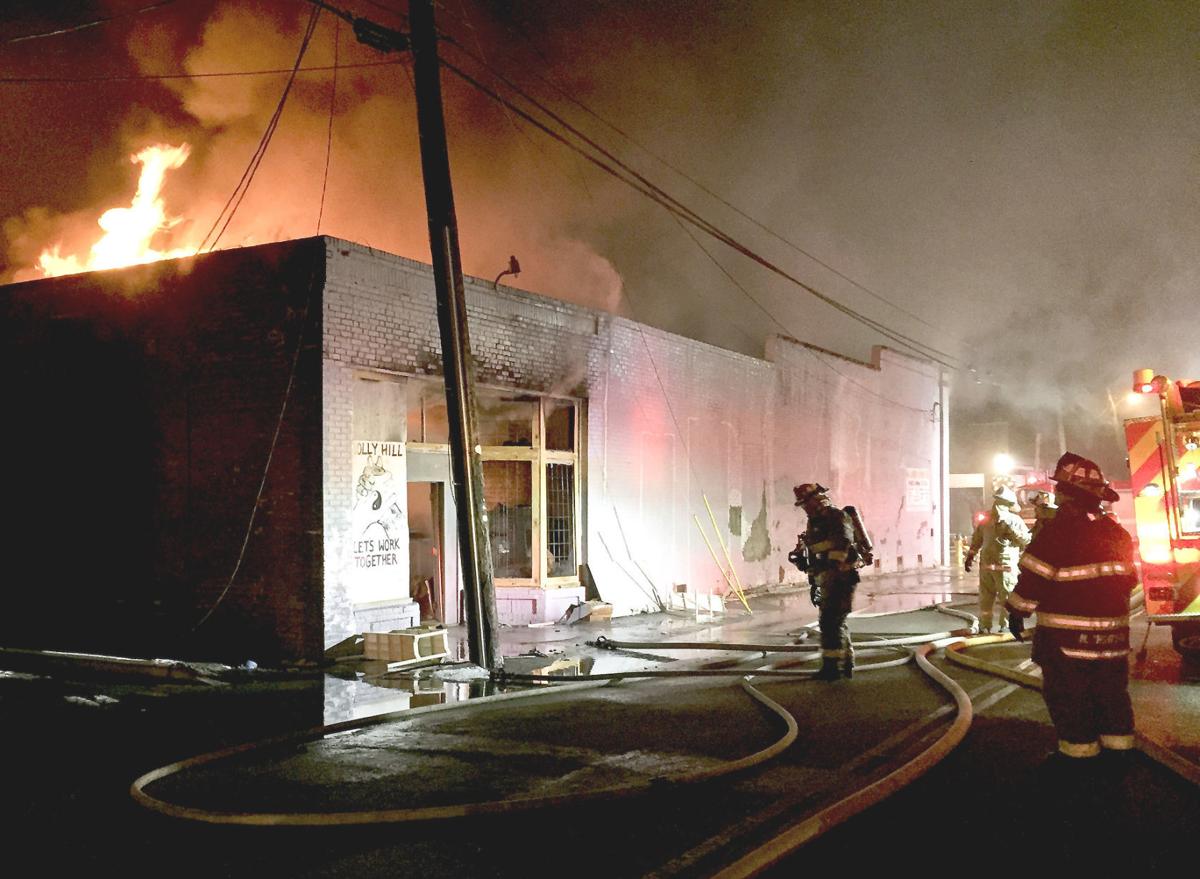 A 37-year-old man has pleaded guilty to arson in the 2018 blaze that destroyed three businesses in downtown Holly Hill. The estimated loss exceeded $1 million.
Marvin Leroy Capers-Smith Jr. of Dennis Ridge Road, Bonneau, entered the plea before U.S. District Judge Mary Geiger Lewis. She ordered him to remain in custody.
The U.S. Attorney General's Office said that Capers-Smith's ankle monitor helped them confirm that he was at the scene of the fire on Jan. 8, 2018.
Capers-Smith used an accelerant to start the fire at Joy's Touch of Class, an event planning/travel agency business on Old State Road.
The two businesses on either side of Joy's Touch of Class were also destroyed: Goldstein's and Super 10.
As he was driving away from the scene of the fire, a Holly Hill police officer noticed Capers-Smith's vehicle entering the roadway without using a turn signal, according to Police Chief Josh Detter.
Capers-Smith then entered the lane for oncoming traffic and later disregarded a stop sign, according to a police incident report.
An officer attempted to initiate a traffic stop, but Capers-Smith began traveling at a high rate of speed on Toney Bay Road. The officer decided to call off the pursuit because there were icy patches on the road.
Capers-Smith's SUV was later located upside-down on the side of the road. Officers searched and found him nearby in a ditch. His back was broken.
A volunteer firefighter on the way to the crash discovered the downtown buildings were on fire.
Capers-Smith's SUV contained merchandise from Joy's Touch of Class, Assistant U.S. Attorney DeWayne Pearson said.
Pearson noted, "GPS data tracked Smith-Capers as he moved back and forth between the store and his vehicle as he loaded the Yukon with stolen merchandise."
On Sept. 9, 2019, an ATF agent located Capers-Smith in Fairfield, New Jersey and brought him back to South Carolina.
Capers-Smith is facing state charges of reckless driving, third-offense driving under suspension and second-offense failure to stop for blue lights causing great bodily injury.
Those charges remain pending.
He's also facing an additional, unrelated charge of second-degree burglary.
Capers-Smith will be sentenced on the federal arson charge at a later date. He faces a minimum term of five years in federal prison, and a maximum of 20 years and a $250,000 fine. He will be responsible for restitution to the store owners.
Since 2001, Capers-Smith has pleaded guilty to multiple crimes in Orangeburg County, Berkeley County and Charleston County.
Assistant U.S. Attorney Winston David Holliday Jr. of the Columbia office is prosecuting the case.
Sign up for our Crime & Courts newsletter
Get the latest in local public safety news with this weekly email.