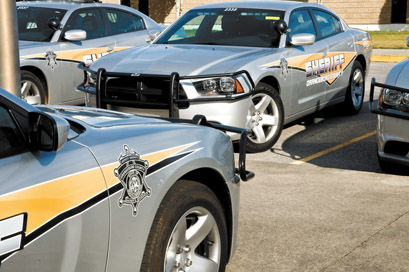 Orangeburg County
Sheriff's Office
Three strangers broke into a woman's home and beat her, according to a sheriff's office incident report.
The woman reported that she woke up at 1 a.m. Friday to the sound of a thump on the front door of her Brookdale Drive home. She then heard a thump on the side door.
The woman got up to investigate the noises and found three males wearing ski masks and gloves in the kitchen.
She said the males didn't say anything to her, but they punched her in the mouth.
She fell to the floor and they then kicked her, she said.
The males left and she called law enforcement.
The woman suffered face and body injuries, but refused medical attention at the scene.
• A Wilkinson Street man said three males, likely juveniles, robbed him of his 2003 green Mercedes E320 at 4 p.m. Friday, according to an incident report.
The males, each wearing COVID face coverings, approached the man's home on foot and asked him for water to drink.
The man went to the kitchen to get water. When he returned, one of the males was pointing a gun at him while standing on the sidewalk about six feet away.
The males demanded the keys to his vehicle, so the man gave them the keys and they sped away toward Liberty Street, the report states.
Deputies recovered the vehicle later on Roache Court.
• An Orangeburg County School District pickup truck was stolen from a gated area at 6030 Slab Landing Road in Cope.
Someone cut the gate's chain to access the truck. An employee left the truck unlocked with the key in a cup holder, according to an incident report.
The 2001 Ford F-350 pickup is valued at $13,000.