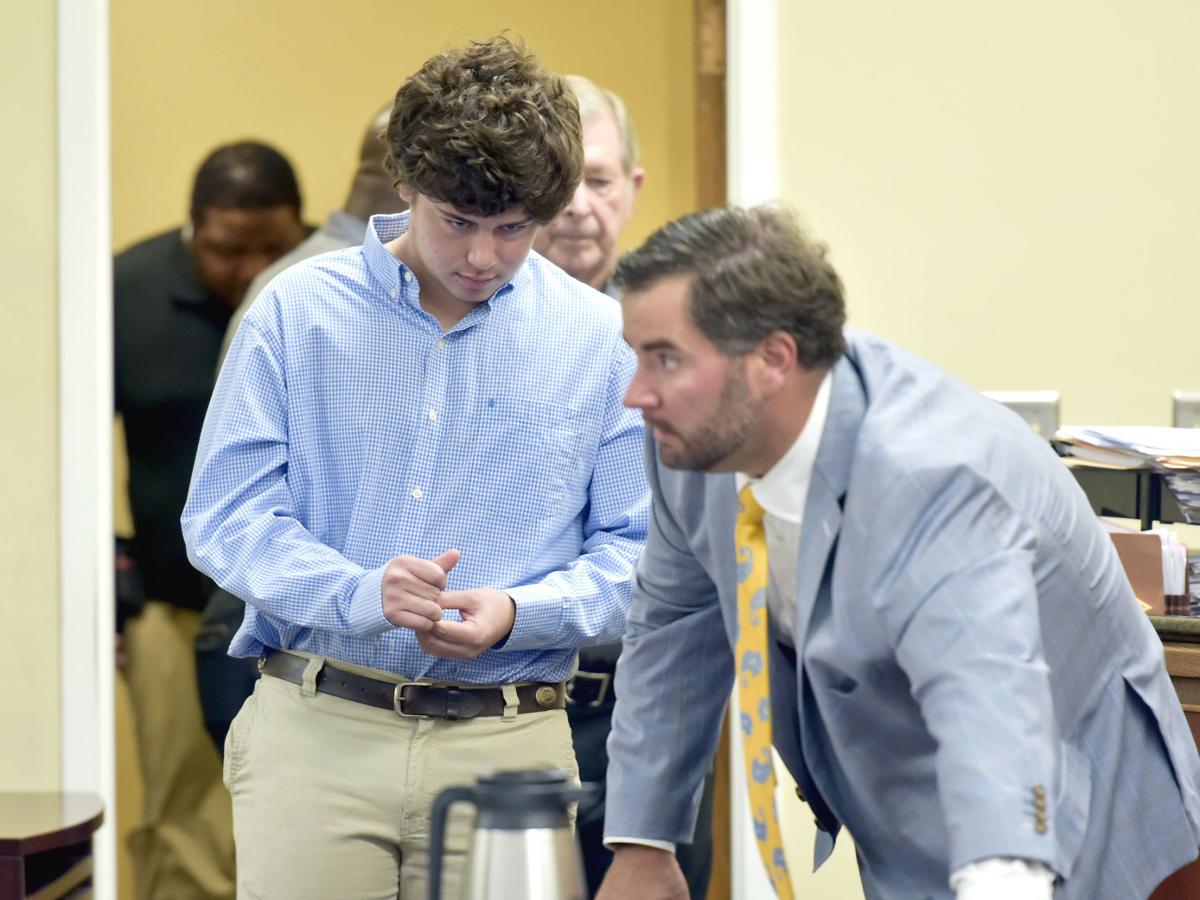 A 16-year-old facing charges as an adult in two alleged rape incidents appeared before Circuit Judge Casey Manning on Tuesday morning at Orangeburg County Courthouse.
Bowen Gray Turner of Jackson Drive is currently being held at the S.C. Department of Juvenile Justice.
One of his attorneys, Orangeburg Sen. Brad Hutto, asked the court to move Turner's cases to family court and to consider setting bond.
The victim's father told the court his 16-year-old daughter continues to wake up a few nights a week "with nightmares from the attack," which allegedly occurred on June 2 at a party held at a property off Neeses Highway.
"We are proceeding forward with counseling and also medical followup for the prevention of STDs and the monitoring of infection," the victim's father said in court.
"We hope the court, in dealing with Mr. Turner, will not only consider the unlawfulness of his actions but the ongoing, and surely, lifelong scars his victims and their families will always bear," the father said.
"Mr. Turner was out on bond when he attacked and raped our daughter," he said with his wife by his side.
Turner is facing one count of first-degree criminal sexual conduct from the alleged June 2 incident.
On June 2, Turner was already on bond on a charge of first-degree criminal sexual conduct with aggravated force due to an alleged incident from Oct. 7, 2018, in Bamberg.
The S.C. Law Enforcement Division charged Turner in the Bamberg incident on Jan. 29.
As for the bond from the Bamberg charge, a judge initially set bond at $10,000 and ordered Turner to wear a GPS ankle monitor.
However, according to court records, Turner's attorneys Charlie Williams and Shane Burroughs requested that a circuit judge order the removal of his GPS monitor.
Circuit Judge Thomas Hugheston granted the request on April 22.
Second Judicial Circuit Assistant Solicitor Michael Emmer said it was six weeks later that Turner found himself in a similar incident as the one in Bamberg.
He said both incidents involved juveniles consuming alcohol under age 18.
Emmer said the Orangeburg victim had been in the bathroom at the Neeses Highway pond house and when she exited, she noticed her friends had left to get something to eat.
Emmer said that after the victim stepped outside by herself to speak with one of her friends on the phone to make arrangements to pick her up, "Mr. Turner grabbed her by the arm and pulled her to the edge of the woods by a pickup. He forced her to the ground and a sexual assault took place at that time."
Emmer said the victim suffered bruising to her back as a result of the force of the incident.
He went on to say that after the incident occurred, the victim was in a state of shock and went into the bathroom of the pond house.
When she attempted to leave the bathroom, she saw Turner was also inside the pond house.
Emmer said Turner was on the couch and his eyes were closed.
"She bolted from the door and ran into the woods to hide from Mr. Turner," Emmer said of the victim.
Once the victim reached the woods, she called for a friend to pick her up but "not before Mr. Bowen Turner was out in the wooded area with a friend looking for her, trying to call her name and trying to get her," Emmer said in court.
He noted the case remains under investigation.
Hutto argued that after the incident, the victim allegedly said, "I felt ashamed."
"Well, guess what? You just had sex on the ground with a boy you didn't really know and you got up and you feel ashamed, you feel regret, that's not rape," Hutto said.
Hutto said Turner and the victim were mutually engaging in sexual behaviors with each other at the party.
"She did not object, she did not scratch, she did not push, she did not call out. When asked point blank if she said, 'no,' she didn't. When asked point blank if she said 'stop,' she didn't," Hutto said.
Hutto argued Turner should be out on bond with GPS monitoring.
He said Turner is currently housed at DJJ with the population waiting for trial.
"In other words, he's not in the regular DJJ population, he's in the population of just juveniles waiting for general sessions. There's no structure there. He's not a gang member. He's just not in the right environment there and he's getting no benefit from it as an education," Hutto said.
Hutto said Turner is a rising senior and his grades indicate he'll graduate on time.
He is no longer enrolled at the school he was attending at the time of the June 2 incident, but his parents have made arrangements for him to continue his schooling if the court grants his bond request, Hutto said.
Hutto also noted that a preliminary assessment by a physician indicates Turner is "age appropriate, shows no propensity to be a predator or a pedophile and has interests in teenage girls."
Hutto said that in 2016, state legislators passed the Raise the Age Act, which took effect on July 1, 2019.
Part of that law stipulates that people who are children by definition and facing charges, those matters need to be handled in family court, Hutto said.
The act also raised the statutory ages from 17 to 18, Hutto said.
Hutto said, "We've got young people, underage, making bad decisions. Quite frankly, we have parents who are making some bad judgments about where their kids go.
"There's an old expression, 'You don't want to get kicked by the same mule twice. If you've been kicked once, why are you going around the mule again?'" he said.
"Bad judgment," Hutto said in response.
Manning said he will make determinations later this week about whether to move the cases to family court and whether to set bond.
The 2nd Judicial Circuit is handling the case at the request of 1st Judicial Circuit Solicitor David Pascoe due to a conflict of interest.
Sign up for our Crime & Courts newsletter
Get the latest in local public safety news with this weekly email.