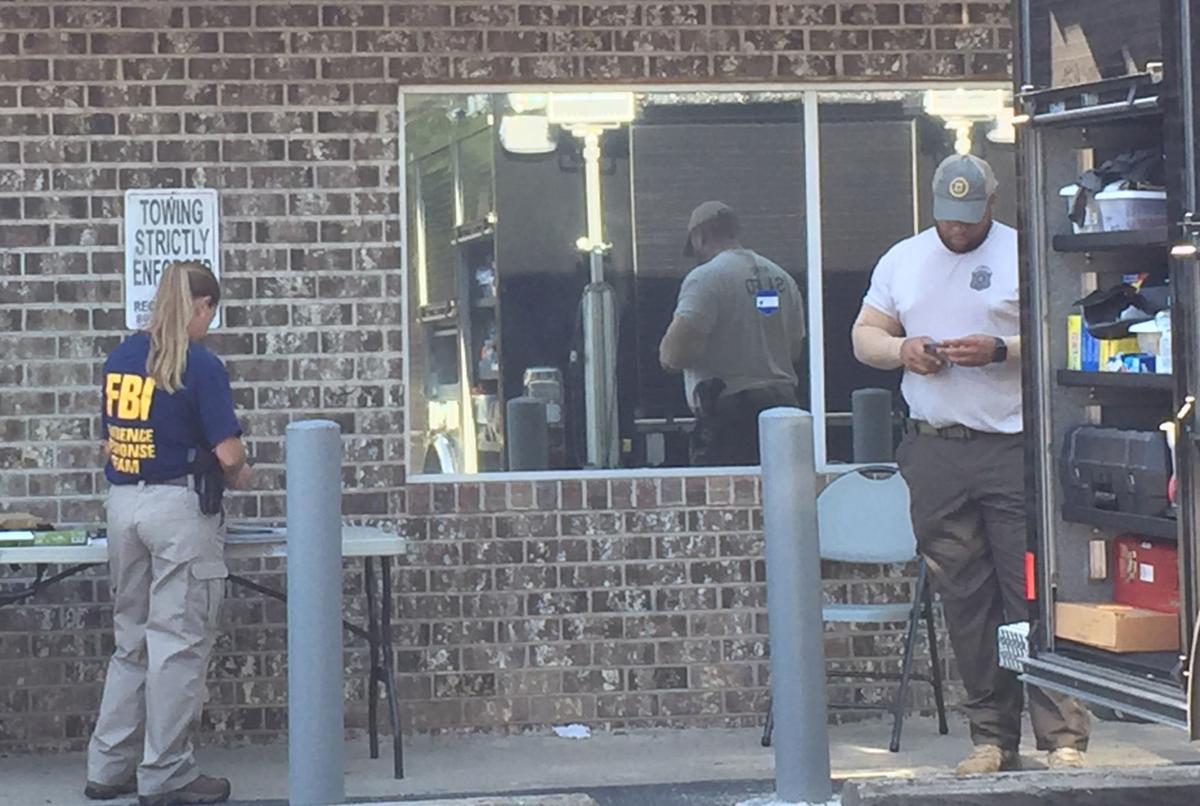 An investigation into illegal money transfers between the U.S. and India led FBI agents to locations in Orangeburg and Greenwood.
Two Greenwood men are in federal custody, but federal officials have not said what – if any – charges the men may face.
Around 10 a.m. Wednesday, FBI and S.C. Law Enforcement Division agents were seen wearing black disposable gloves and toting brown paper evidence bags out of an office of the Quick Pantry at 2182 Magnolia Street in Orangeburg.
There were several unmarked law enforcement vehicles in the parking lot.
At the same time, additional agents conducted searches at a home and Dairy Queen, both in Greenwood.
Don Wood, an FBI spokesman at the Columbia field office, said that agents were executing a search warrant at the Orangeburg business in connection with a case where agents took two Greenwood men into custody.
The role, if any, of the Quick Pantry in the case is not yet clear. The T&D attempted to reach the Quick Pantry by phone, but was not successful.
The two men in federal custody are Mihirkumar "Mike" Jayantibhai Patel and someone known as "Eddie Patel," according to federal court filings that were opened to the public late Thursday afternoon.
An indictment remains temporarily sealed. However, an FBI agent alleges that the two men conducted unlicensed money transfers between the United States and India.
An affidavit alleges, in part, that the two men "participated in an unlicensed money transfer by receiving a specified amount of Indian rupees in India and providing a confidential source a specified amount of U.S. dollars in South Carolina, affecting interstate and foreign commerce."
The investigation began in March 2018.
A source told FBI agents that on May 2, 2018, he unexpectedly ran into Mike Patel at a restaurant in Columbia. Mike Patel allegedly told him that he's doing about $1 million a month in money transactions, the affidavit states.
Later that month, the source told agents that Mike Patel kept cash for his business at his home.
He allegedly stored the cash "in trash bags in his attic and hidden in other places around his house," the affidavit states. It goes on to allege that when Mike Patel transports cash in his vehicle, he hides the money in a trash bag filled with garbage.
On July 6, 2018, the source alleged that another man used Mike Patel to transfer approximately $14,000 to India to help pay for expenses associated with building a home there.
On Oct. 14, 2018, the source was in the kitchen at a place of worship in Orangeburg when Mike Patel allegedly entered with stacks of cash, the affidavit states.
The source consensually recorded the impromptu meeting, which they conducted in the Gujarati language. An FBI language specialist completed a summary translation and the source provided additional details.
Mike Patel allegedly paid $3,000 to a cook for catering an event for him and gave him an additional $5,000 to give to another man for his commission. The source believed Mike Patel was referring to the illegal money transfer business, the affidavit states.
Mike Patel allegedly showed the source and two cooks $150,000 cash he had in his car.
The source told agents of several transactions Mike Patel allegedly executed in the transfer of thousands of dollars to India.
Earlier this month, Mike Patel went on vacation and allegedly left Eddie Patel in charge of the handling the money transfers.
Nearly two weeks ago, on Aug. 13, the source met with Eddie Patel at the Dairy Queen in Greenwood and provided the source with $20,000 cash, as the completion of an alleged illegal money transfer.
Eddie Patel told the source that he'd owned the Dairy Queen for about 10 years, but his name doesn't appear on the business's paperwork, the affidavit alleges. It goes on to say that Eddie Patel allegedly told the source he keeps $200,000 in an unlocked safe at Dairy Queen.
The source told Eddie Patel they needed to transfer $100,000 from India to the United States.
"Eddie said he could make it happen in one minute and did not even have to leave his chair," the affidavit states.
The two men have a detention hearing set for Aug. 27 at 10:30 a.m. before magistrate Shiva V. Hodges at the Matthew J. Perry Courthouse in Columbia.
Sign up for our Crime & Courts newsletter
Get the latest in local public safety news with this weekly email.