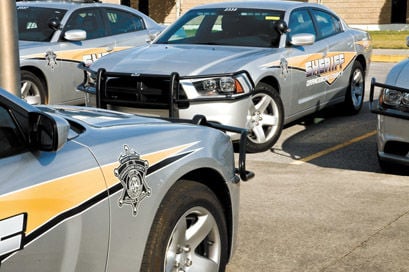 Orangeburg County
Sheriff's Office
A 34-year-old Elloree man accidentally shot himself early Wednesday morning, according to a sheriff's office incident report.
Deputies met the man at the Regional Medical Center at 5 a.m.
He told deputies that his .45ACP semi-automatic Springfield 1911 pistol discharged as he went to move it from the glove compartment of his vehicle.
The bullet struck his upper leg area, the incident report states. The wound is not considered life threatening.
He told deputies the weapon was in its holster.
Deputies forwarded the incident report to the Elloree Police Department because the incident happening inside the Elloree town limits.
You have free articles remaining.
• A Bedford Avenue man called deputies to his North home at 4:20 a.m. Wednesday.
He reported that he started his 2002 brown Chevrolet Silverado to let it warm up before he left for work.
While he left his unlocked truck unsupervised with the engine running in the driveway, someone stole it, an incident report states.
The truck is valued at $3,500.
• A Cope man called deputies to his Whisenhut Road home on Tuesday to report that someone stole his 2013 black Ford F150 truck valued at $25,000.

Orangeburg
Department
of Public Safety
A woman called officers on Sunday night to report that her 2010 silver Honda Accord was missing along with a juvenile.
She told officers that she'd parked her vehicle at her apartment around 2 p.m. and when she woke up at 9:35 p.m., she noticed the vehicle and juvenile weren't there.
The vehicle is valued at $6,000.