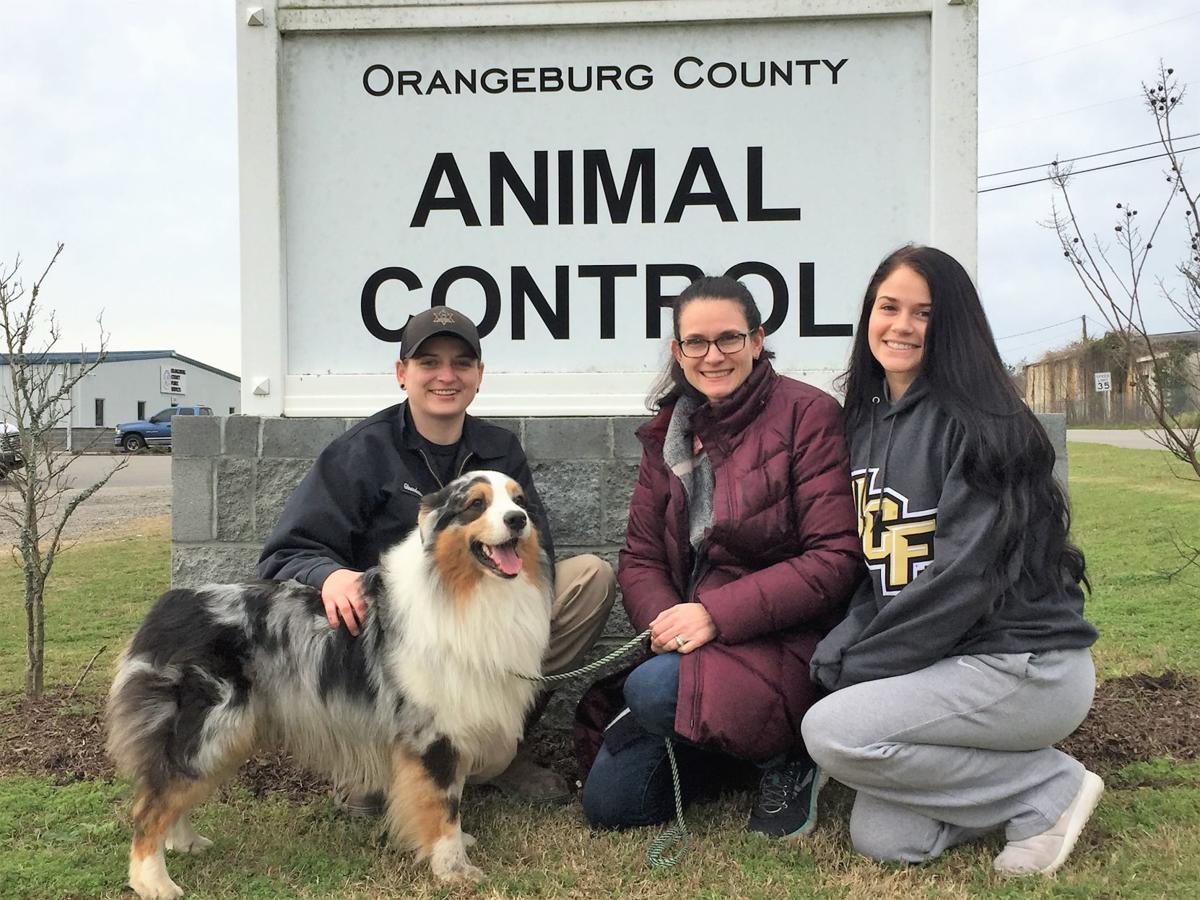 Wednesday morning's vehicle crash near Branchville claimed the life of a Pittsburgh, Pa., dog handler.
Anya Dobratz, 34, of Hampton Street, "died of blunt force injuries due to the motor vehicle collision," Orangeburg County Chief Deputy Coroner Sean Fogle said.
The accident occurred around 5 a.m. on U.S. 21 near Chips Road. Dobratz died at the scene.
She was driving a box truck north when the vehicle ran off the roadway to the left and struck a culvert, according to the S.C. Highway Patrol.
Orangeburg County Animal Control workers arrived at the scene and rescued six dogs from the truck.
One dog was missing: Australian shepherd Jax, who'll turn 4 next month.
Within a couple of hours after the accident, the Dettore family in Chadds Ford, Pa., learned that Dobratz was killed and Jax was missing.
Amy Dettore and daughter Judy drove from Chadds Ford to Orangeburg to help search for Jax on Thursday morning, while they also grieved the loss of Dobratz.
"Anya loved Jax," Dettore said, choking back tears.
"I've known her for about a year now. She developed a special bond with Jax. She adored him, she absolutely adored him," Dettore said.
"You know, there are lots of handlers out there and they are professional and they handle a lot of dogs, obviously, but he had a special spot in her heart and they loved each other. It's very sad," Dettore said.
She noted that Dobratz was returning home to Pennsylvania from Florida where Jax and the six other dogs competed in several dog shows.
Jax won Best of Breed in one of the shows, Dettore said.
As Dettore and her family set out to try to find Jax after a 12-hour trip, she kept thinking of Dobratz.
"I just kept thinking, 'She's taking care of him,' and she did," Dettore said. "She was with him the whole time."
At some point on Wednesday, the Dettore family posted on social media that they were searching for their beloved Jax.
You have free articles remaining.
Dettore said a psychic named Lisa reached out to her and assured her that Jax was safe.
The psychic gave specific information about Jax and his location, Dettore said.
Dettore coordinated with Orangeburg County Animal Control employee Margaret Girardeau about going to the accident scene.
Around 8:30 a.m. Thursday, Amy and Judy Dettore and Girardeau headed to the scene.
"I kept thinking, 'What are we going to do? How am I going to find him?' Because there were search parties out yesterday and no one could find him. The psychic was guiding me and telling me he was going to be OK and that he was waiting for me," Dettore said.
"We first walked around the site and didn't locate him," she said.
Then Girardeau received a phone call.
"Someone had found a dog that had no tail," Dettore said, noting that Jax, too, was tailless.
"That was just about five minutes down the road and we went and it wasn't him. While we were there we said, 'Let's go back to the scene and continue to search,' " Dettore said.
But something happened just as she, daughter Judy and Girardeau were getting into their vehicles.
"A gentleman came out of nowhere and said, 'He's over there! He's over there! Follow me! Follow me!' " Dettore said.
"So we jumped in our cars and followed him like down the street and around and there he was in a yard. Very standoffish, but as soon as he saw me and I called his name, he came running," Dettore said.
Dettore fell to her knees as an excited Jax danced around her and barked.
She'd raised Jax from the time he was a puppy.
"He's more than just a dog. Jax has the personality like no other. He just loves everybody. He's full of himself and he likes to bark," Dettore said.
"He's always very happy. He's just the kindest, sweetest soul you'll ever meet. He adores me. He's always by my side when he's not dog showing," Dettore said, as tears formed in her eyes.
"You know, you just have that feeling that he's OK. He's just an amazing dog," she said.
Amy's daughter, Judy, 17, said, "I know my mom probably didn't want to be alone" during the trip, so she joined her.
And when she saw Jax, Judy said, "I was like, 'Yes, thank God!' I had no idea if we'd find him or not."
Amy and Judy Dettore and Jax headed back to Pennsylvania after returning to the Orangeburg County Animal Control and Shelter office.
Funeral arrangements for Dobratz were not announced by press time.