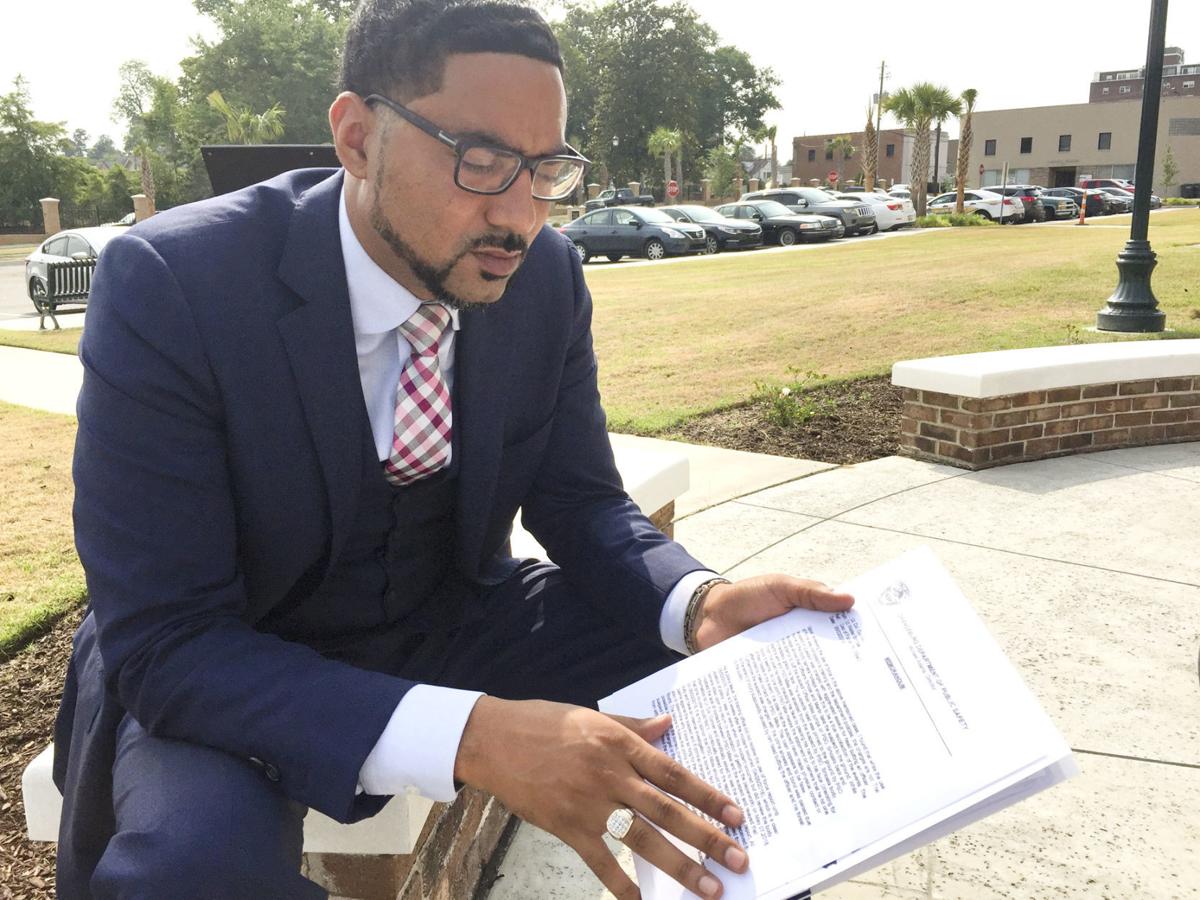 An Orangeburg man is suing the city, claiming he was wrongfully held in jail for 128 days after being falsely accused of assaulting Orangeburg Department of Public Safety officers.
Demetrius Lamont Jamison had been accused of head-butting an officer and injuring another officer's ankle on Apr. 26, 2018.
Rep. Justin Bamberg, D-Bamberg, announced on Tuesday that he's filed a lawsuit at the Orangeburg County Courthouse on behalf of the 28-year-old Summers Avenue man.
The attorney said he also plans to file a lawsuit in federal court on the grounds that the City of Orangeburg allegedly violated Jamison's civil rights.
The state lawsuit claims that the City of Orangeburg showed gross negligence by failing to prevent Jamison's false arrest. The complaint also claims city officials failed to accurately document facts in incident reports, warrants and other documents relied on by a prosecuting agency.
The lawsuit claims officers falsely imprisoned Jamison because "probable cause did not exist to arrest" him.
It further claims that the city maliciously prosecuted Jamison's case "even after an internal review of the arrest and charges indicated the charges need be dismissed."
The complaint also alleges city officials abused Jamison's process in a criminal trial.
After issuing charges for third-degree assault and battery and assault and battery of a high and aggravated nature, city officials "were made aware of certain false allegations prior to their prosecuting the charges, yet still conducted a criminal trial against (Jamison)," the lawsuit claims.
A judge convicted Jamison at a bench trial of third-degree assault and battery after he had already been in jail for 43 days, Bamberg said. He was sentenced to serve an additional 10 days in jail.
Bamberg says he's working to get that conviction overturned.
The 1st Judicial Circuit Solicitor's Office dropped the ABHAN charge on Aug. 28, 2018 citing "insufficient evidence" against Jamison, according to courthouse records.
The lawsuit also alleges that city officials "hid or otherwise covered up an exculpatory official city memorandum effectively clearing (Jamison) of the wrongful allegations."
The complaint states that Jamison suffered damages by being incarcerated unjustly, which resulted in additional costs such as fees to afford an attorney and gathering information associated with a Freedom of Information Act requests for multiple documents.
Bamberg claims Jamison's future income and employability in his home geographical area is damaged due to "the very public allegations by high-ranking city officials that he had assaulted law enforcement officers."
In the meantime, SLED is continuing its investigation of Jamison's arrest, launched Sept. 5, 2018 at the request of ODPS Chief Mike Adams, who pledged the department's full cooperation.
"I believe there are certain leaders in government who are waiting for the findings of SLED before they take action and in all fairness, I understand that to a certain degree," Bamberg said.
"At the same time, what SLED does with regards to criminal charges or anything like that is completely separate from being able to acknowledge the difference between right and wrong," he added.
"The city (of Orangeburg) and the Department of Public Safety's handling of the situation was wrong and I don't think anybody needs SLED to tell them that," he said.
James Walsh, attorney for the City of Orangeburg, said on Tuesday that "The City does not comment on pending litigation."
Bamberg said Jamison is staying out of trouble and remaining optimistic.
"He's still waiting to be vindicated. He's still waiting to get the conviction undone about the third-degree assault and battery that never happened and he's ready to move past this and get on with his life. Imagine trying to overcome the public image that you were some psycho who assaulted a bunch of law enforcement officers in your hometown," Bamberg said.
"I have every bit of faith and trust that justice will prevail in the end," he added.
Sign up for our Crime & Courts newsletter
Get the latest in local public safety news with this weekly email.