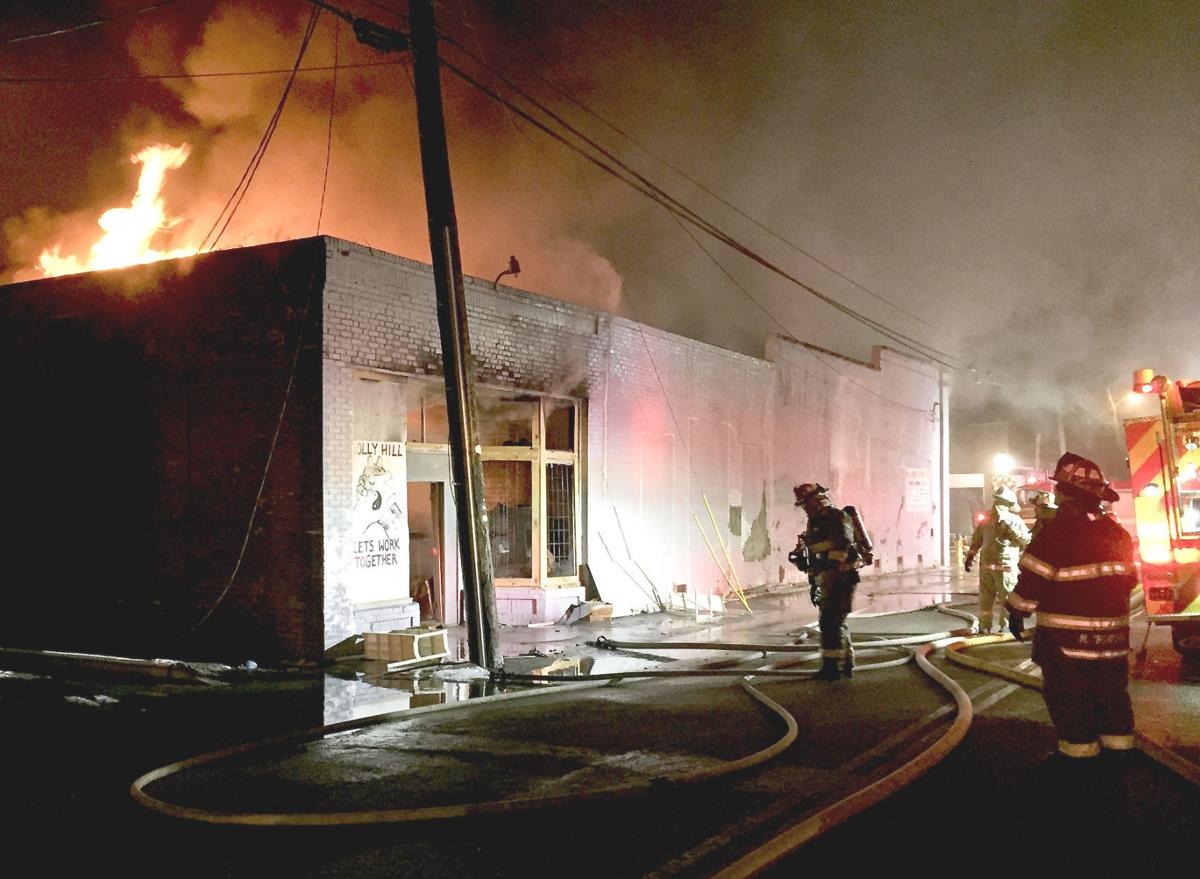 The suspect in Holly Hill's downtown fire was found in New Jersey and sent back to South Carolina to face a federal arson charge.
Marvin Leroy Capers-Smith Jr., 34, of Bonneau is facing one charge of arson in the Jan. 8, 2018 fire that destroyed three downtown Holly Hill businesses, causing $1 million in damage.
If convicted, Capers-Smith faces up to 20 years in prison.
Investigators believe Capers-Smith started the fire at 8609 Old State Road. The building was home to Joy's Touch of Class, an event planning/travel agency business.
The two businesses east and west of Joy's Touch of Class were also destroyed: Goldstein's and Super 10.
Agents say a fire accelerant was discovered at the scene.
Capers-Smith allegedly tried to flee from police the night of the fire, crashing his vehicle and breaking his back. A volunteer firefighter on the way to his crash discovered the downtown buildings were on fire.
The Holly Hill Police Department charged Capers-Smith with reckless driving, third-offense driving under suspension and second-offense failure to stop for blue lights causing great bodily injury.
Capers-Smith is facing an additional, unrelated charge of second-degree burglary from an incident that occurred hours before the downtown fire.
At the time of the fire, Capers-Smith was serving five years of supervised probation for first-offense failure to stop for blue lights. Authorities believe he was wearing a court-ordered GPS monitor.
Federal agents obtained an arrest warrant for Capers-Smith on May 17, 2019.
On Sept. 9, a federal ATF agent took him into custody in Fairfield, New Jersey.
This is allegedly the second time Capers-Smith has fled to Fairfield after being wanted by law enforcement.
According to the Essex County Department of Corrections in New Jersey, authorities arrested Capers-Smith on June 1, 2012 on an outstanding warrant from the Orangeburg County Sheriff's Office.
He was accused of stealing a Ford F-250 from an Orangeburg hotel. Capers-Smith ended up pleading guilty to possession of a stolen vehicle.
Since 2001, Capers-Smith has pleaded guilty to multiple crimes in Orangeburg County, Berkeley County and Charleston County.
An arraignment was held Wednesday on the arson charge at the Matthew J. Perry Jr. Federal Courthouse in Columbia.
Capers-Smith remains in detention at the Lexington County Courthouse.
He's scheduled to appear again before U.S. Magistrate Judge Shiva Hodges at 10 a.m. Tuesday for a detention hearing. That's when the court will decide whether or not to set bond.
He's represented by federal public defender Dan Leonardi.
Sign up for our Crime & Courts newsletter
Get the latest in local public safety news with this weekly email.