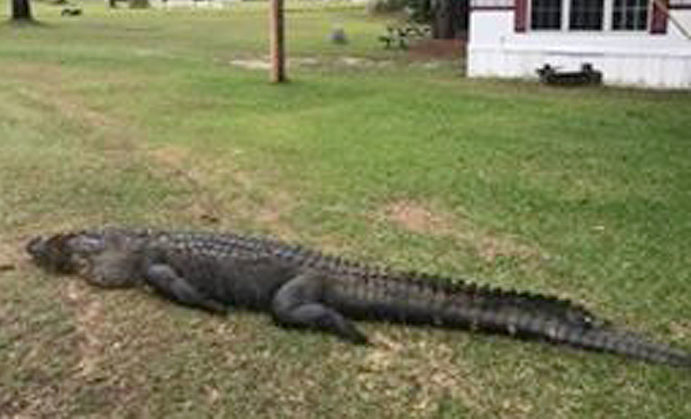 DENMARK -- When Princess Johnson visited her mother on Riley Road in Denmark on Saturday, she noticed there was an 11-and-a-half foot long uninvited guest in her yard.
Johnson lives a few houses from her mother.
She and her mother have lived on Riley Road for 20 years and haven't ever seen an alligator in the neighborhood. It was a shock.
Her first thought at the sight of the swampy creature was to make sure her dog, KJ, remained safe.
"Don't bother KJ!" Johnson shouted to the alligator from her vehicle.
"That thing is 10 feet long! Call somebody!" Johnson hollered, combined with laughter of disbelief.
Johnson called the Bamberg County Sheriff's Office, which put her in touch with a local official with the S.C. Department of Natural Resources.
She said the wildlife officer came to the property, euthanized and removed the alligator.
The official length of the alligator was 11-and-a-half feet.
She was grateful to put KJ inside of her house and know that the long-tailed reptile went to "gator heaven."
Sign up for our Crime & Courts newsletter
Get the latest in local public safety news with this weekly email.