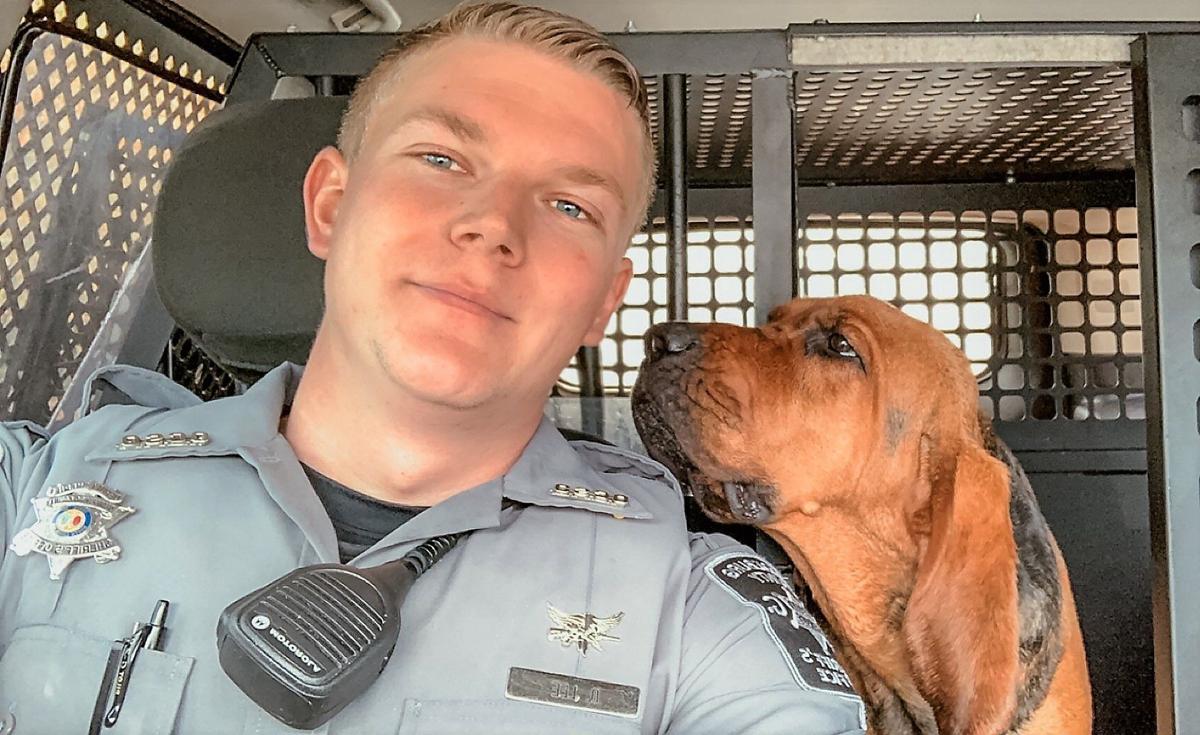 If Shelby could've said it in human words, the trained bloodhound would've told a 6-year-old boy that she was thankful he was unharmed.
Instead, the Orangeburg County Sheriff's Office K-9 licked the boy as he petted her.
"Her reward is smelling or licking the person" she's been tracking, said Cpl. Dylan Lee, one of Shelby's handlers.
A woman called law enforcement just after 5 p.m. Sunday after she wasn't able to find her 6-year-old foster son. He'd wandered away from the foster mother's home in an Orangeburg neighborhood.
Lee's deputy-in-training saw the call and went to the scene. While the trainee went to the residence, Lee went to Shelby's kennel and loaded her into a truck.
With lights flashing and sirens blaring, Shelby howled all the way there, Lee said.
"She loves it," he added.
Once at the scene, Lee opened the back of his patrol vehicle and Shelby knew it was time to get to work.
Lee said once he puts on Shelby's harness, she's ready to get the job done.
Shelby led him to a wooded area in the backyard.
A neighbor told deputies he just saw the boy in another area, not too far away.
So Lee, his trainee and Shelby relocated to the area.
Within a couple of minutes, "Shelby was walking in circles."
"She'll usually do that when she's trying to get back on track or if something is near," Lee said.
"Out of the corner of my eyes, I saw the kid laying up underneath some bushes," he said.
After making sure the boy wasn't harmed or in need of medical attention, Lee told the boy to come over and pet Shelby.
Not only did the boy enjoy meeting her, but she enjoyed meeting him – and said so by licking him.
"We gave him a stuffed toy dog and we told him that her name is Shelby," Lee said.
"If it was just me, I wouldn't have found the child," he added.
Shelby was born in South Carolina and is about 3 years old.
The sheriff's office trained her from when she was a puppy and also makes sure she conducts practice searches.
"She's real good at locating missing children," Lee said.
He noted a few months ago she helped another deputy locate a 10-year-old child.
Shelby also helps deputies locate shooting suspects who may have fled scenes on foot.
As for being a K-9 handler, especially with Shelby at his side, "It's pretty fun to be able to locate what you're looking for," Lee said.
"For that instance, you get to see the mom and how happy she was," he said.
She has two younger kennelmates – bloodhounds Mustang and Sally, Lee said.
Mustang and Sally are around 2 years old. The siblings are from Tennessee originally.
Mustang and Sally are still working on some of their training, but Shelby seems to be a pro.
Lee said sometimes Shelby will put her head on his shoulder when they're in the patrol vehicle.
"She's a very sweet, loving dog," Lee said.