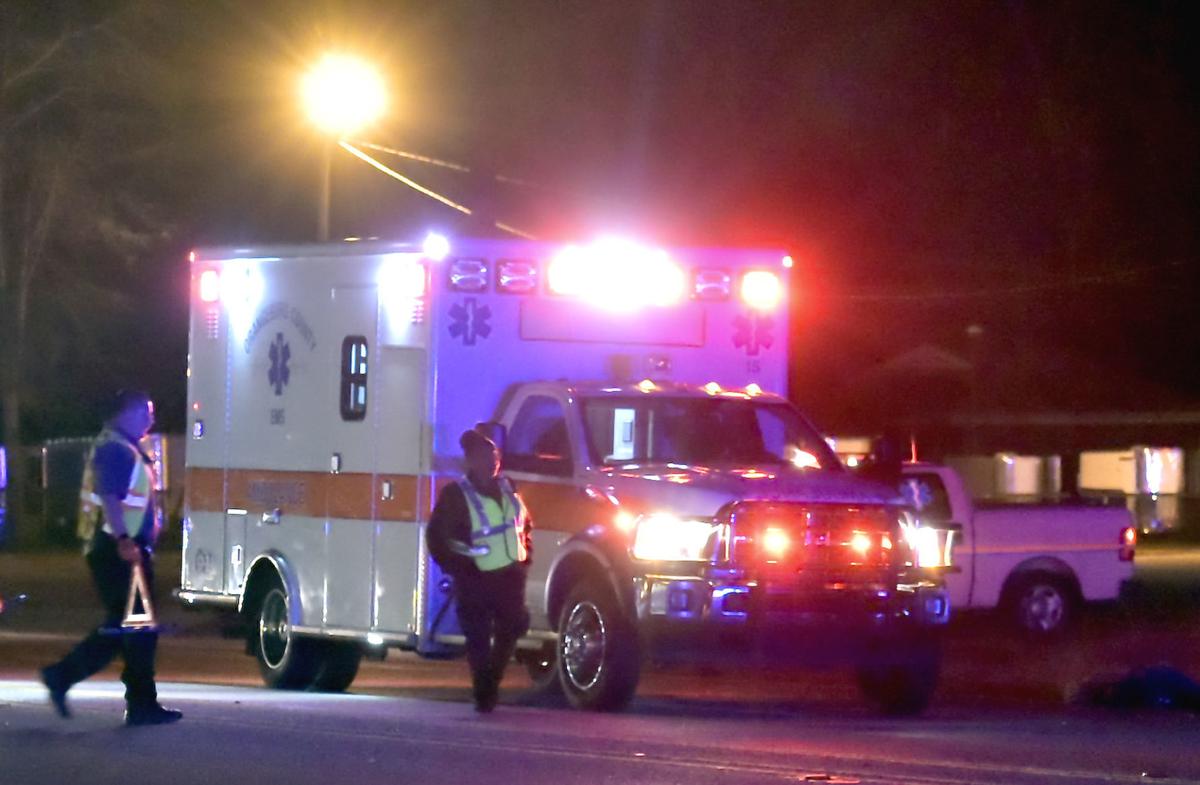 When an emergency occurs, any wait is too long.
That's why county officials say they need to keep fully staffed emergency medical services operations. But it's getting harder.
"I can surely say that the costs of equipment, supplies and labor will continue to increase," Calhoun County Emergency Services Director Bill Minikiewicz said.
"South Carolina is in a critical shortage of paramedics that is making recruitment and retention our main worry. Larger counties can easily offer higher wages than small rural counties like ours," he said.
EMS staffing became an issue in The T&D Region earlier this year when Orangeburg County Council approved a new business license fee.
Officials said they needed the revenue, largely to pay for more EMS workers to cover the 1,100-square-mile county.
Orangeburg County's EMS operates on an annual budget of $2.9 million.
The county has ten ambulances, but is currently operating seven due to the lack of manpower, Orangeburg County Administrator Harold Young said.
On a given day, there about 28 EMS personnel on a 12-hour shift. Due to being understaffed, some have to work double shifts.
"We need more certified EMT's (emergency medical technicians) and paramedics," Young said.
South Carolina regulations require EMTs to go through a year of education and training in order to receive the certification enabling them to serve. Young said it used to take six months.
The more stringent requirements have impacted the number of new, qualified individuals coming through the pipeline. With 45 other counties competing for these individuals, the recruitment efforts are a challenge.
For example, in June of this year Young said the county's EMS had about 17 openings. The county has whittled that down to about 10 openings as of the beginning of October.
Young said all areas of the county are covered, but the county could use more.
"The truth is we need those extra bodies to fully get us to our maximum potential of response time," he said.
The county has tried to address the need through recruitment and advertising.
It's also using the business license fee revenue to increase pay for EMTs and paramedics.
Young said the fee is allowing the county to increase its baseline pay for EMTs to $37,000 and paramedics to $50,000. The increase includes about $1 an hour more for EMTs and $2 more an hour for paramedics.
Young said the business license fee will provide EMS with about $700,000 more a year.
"This the only way we could give them the increase they did," he said.
According to the U.S. Bureau of Labor Statistics, the annual median wage for paramedics and EMTs in the state is about $33,000 through May 2016, the latest numbers available.
Young says counties are constantly upping their pay in light of local shortages.
"It is a sad situation, but a lot of folks jump back and forth depending on who pays more at the time," Young said. "Now that we upped our base rate in pay some, we are OK."
In order to address the challenges, the S.C. Technical College System recently held a joint meeting with Apprenticeship Carolina to address the shortage.
The meeting focused on building the state's EMT workforce through registered apprenticeship programs, including education through local technical colleges and funding assistance through the S.C. Apprenticeship Initiative grant.
Equipment
In addition to ensuring the county has manpower, Young said equipment is also needed.
"At the end of the day, you are only as good as the equipment you can put on the ground to help people during a time of disaster," Young said. "You go to some of these expos, they have all these bells and whistles, but at the end of the day we've got what we need to be able to keep you safe."
"You can ask those guys. They don't get everything they want, but they get everything they need," he said.
There are two ambulances in Orangeburg as well as one each in Santee, Neeses, Eutawville, Rowesville and Bowman. Twenty years ago, the county had two ambulances for the entire county.
Young said the business license fee will also let the county purchase five new ambulances for EMS.
"The debt service for the five ambulances will come from the EMS budget, which is a part of the additional money they got from the business revenue," he said.
The current fleet of ambulances is about 6 years old, but most have 100,000 miles on them. He said a few have over 200,000 miles due to them operating daily in a county the size of Orangeburg.
Response time
Despite of manpower shortages, Young said the county's average EMS response time is 11 minutes and 40 seconds countywide.
The county tracks response times for training and investigation purposes using computer-aided dispatch technology.
Young said a lot of people in the county do not see a primary care doctor due to the lack of funds and tend to call ambulances for non-emergency situations.
"That puts an extra burden on the ambulatory system," he said. "Unfortunately, we find people that make false claims of sickness just to get transported from the eastern end up to Orangeburg."
He said another challenge is the county EMS is responsible for interstate accidents. With two major interstates running through the county, it can be a challenge.
"At any moment, there could be a pileup on I-26 or I-95," Young said. "That response could cost us two to three ambulances out of the seven."
Young says the county's ambulances are strategically located to provide the county the service it needs.
For example, Young said if both ambulances from Orangeburg are on calls, both the Neeses and Bowman units are on standby to cover Orangeburg.
If all units are tied up in Orangeburg, Young said the Santee unit comes and stations itself at U.S. 301 and U.S. 176 to provide coverage further west if needed.
"There is a chess game with the pieces," he said.
When help is really needed, the county can also call on mutual aid with surrounding counties, but tends to use private pay ambulance companies such as Pendarvis, On Time and American.
Young said service billing methods are easier for private companies.
Young says over the past six years, the county has put a "premium on emergency services and the system they have."
"I know what it takes to keep a county safe," he said.
The county has invested more than $3 million in just the past year in radio technology and dispatch systems, all with the intent of improving EMS.
S.C. Department of Health and Environmental Control spokesman Tim Kelly said the state does not have a response time requirement, "but it does have en route time requirements based on the type of emergency service."
"Licensed ambulances and first responder units are required to be en route to a call within five minutes of being dispatched," Kelly said. "Volunteer agencies are required to be en route to a call within 10 minutes of being dispatched."
"If the ambulance services, including the voluntary services, cannot respond within the required amount of time, they must make arrangements to have the closest staffed ambulance dispatched," he said.
One of the key EMS benchmarks for municipal and career fire departments is the National Fire Protection Association's standards.
On all EMS calls, accepted national response standards include 8 minutes in urban areas and 10 minutes in rural areas.
Calhoun County
In Calhoun County, EMS has an annual budget of $1.2 million.
The county has seven ambulances which are staffed daily and around the clock. The ambulances are stationed throughout the county in St. Matthews, Sandy Run and Creston.
The county currently has 18 full-time and about 12 part-time first responders, plus a logistics officer, training officer and director.
"The goal of EMS is to reduce morbidity and mortality," Minikiewicz said. "To do this, we are constrained by the principle of utility ... to do the most good for the most people most of the time.
"You can always improve the numbers if you can afford it."
Despite being challenged with staffing, Minikiewicz says by law the county needs to respond to every emergency call.
Minikiewicz says the county's dispatch time, from when the call is received until it is dispatched, is about three minutes. The response time – how long it takes the ambulance to arrive -- is about 11 minutes.
"The last time this was assessed by the U.S. Department of Transportation, average response time for South Carolina was 6 minutes in urban counties and 11 minutes in rural counties," Minikiewicz said.
He says the local response time is in line with national numbers.
Minikiewicz says the county calls in off-duty EMTs and mutual aid from other counties when assistance is needed. He says the office staff is also on call.
Minikiewicz says the county does receive assistance from other county EMS departments, "but there is never a guarantee that they will be available."
"We also occasionally use a private service when needed," he said. On Time Transport "has a permit as required by the county to provide service in the county. They provide emergent and non-emergent service at the BLS (basic life support) level at minimum."
Bamberg County
Bamberg County contracts with the private, non-profit Bamberg Rescue Squad Inc. to provide emergency 911 service in the county.
The county, through the BRSI, has three ambulances that operate 24 hours a day, seven days a week.
Ambulances are housed at the company headquarters in Bamberg as well as Denmark and Ehrhardt.
The service has 13 full-time employees and 13 part-time employees.
"I feel that we should have one additional ambulance to be able to serve the county better," said Martha Hammett, Bamberg Rescue Squad Inc. operations manager. "We would need to have an additional six employees to cover the three shifts."
At the present time, Bamberg receives mutual aid from Allendale, Barnwell, Colleton, Hampton and Orangeburg counties.
"If our three units are all out on 911 calls, then dispatch would call the county that is the nearest one to the location of the call," Hammett said. "We do not have any private services in Bamberg County, but do have them in surrounding counties which we have called if needed."
Hammett said the county is well covered.
"We have not had any situation where the people of Bamberg County have not been able to get the care they need," she said.
The average dispatch time for Bamberg Rescue Squad is five minutes from dispatch to the truck being en route.
"This time is close in comparison with the state of South Carolina," Hammett said.
Get local news delivered to your inbox!
Subscribe to our Daily Headlines newsletter.