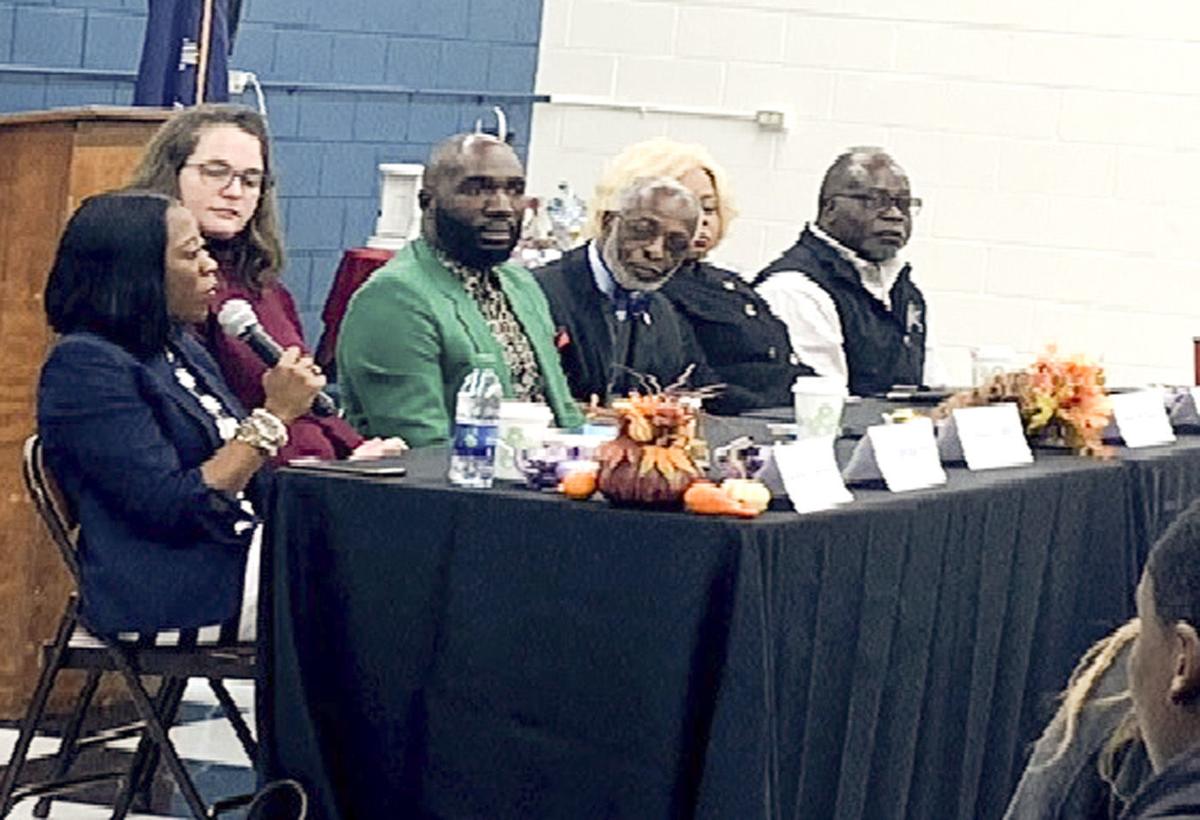 COPE Area Career Center hosted two separate panels of community professionals Thursday, Nov. 21, to share some of the duties and responsibilities entailed in their respective careers, as well as expound upon employer expectations of potential hires.
This year, as in the previous year, this symposium was sponsored in collaboration with Orangeburg-Calhoun Technical College.
The morning panel included Orangeburg County Sheriff Leroy Ravenell; Orangeburg County Coroner Samuetta Marshall; master hairstylist J. Rashawn Colter of Master's Hair Studio; Jimmie "Doc" Rogers, director of sports medicine, Dorchester Academy; Taryn Shekitka, director of operations, S.C. Trucking Association; and Samantha Farlow-Moyd of Farlow-Moyd Law Firm, Columbia. A lot of beneficial information was shared. Rogers reemphasized the panel's strong advice to students that their demeanor, particularly their attire, immediately sends a message as to whether someone is serious about employment or not. Marshall cautioned students to get to really know an individual before making big commitments. Ravenell told students that social media is definitely an avenue that is scrutinized when seeking employment in law enforcement. Colter and Farlow-Moyd stressed the importance of doing what you have a passion to do rather than being led down a career path that you really don't want to pursue. Shekitka shared the trucking industry's position on drug tests and licensure certifications.
Afternoon panelists included John Slavich, vice president of Human Resources, CF Evans Construction; O'nia DuBard, cosmetologist/esthetician, Massage Envy; Ronica Robinson, physical therapist, Regional Medical Center Health Complex; Timmy Long (fabrication) and Stephanie Keitt (human resources) represented Husqvarna; Rick and Paula Bair, owners of Hutto's Transmission; Tomekia Dantzler, human resources generalist, Zeus; and attorney John Felder of Felder Law Firm, St. Matthews. The panel shared valuable information about the use of cell phones in the workplace, working hard to achieve your goals, educational requirements, how getting to know your employees can turn them into family and so much more.
Dee Edwards, COPE school counselor, and Jean Rickenbacker, regional career specialist at OCtech, coordinated the symposium. Both Edwards and Rickenbacker shared mini-bios of the panelists and kicked off the sessions by asking panelists an array of questions. Students were given the opportunity to ask questions and interact with the professionals.
Get local news delivered to your inbox!
Subscribe to our Daily Headlines newsletter.