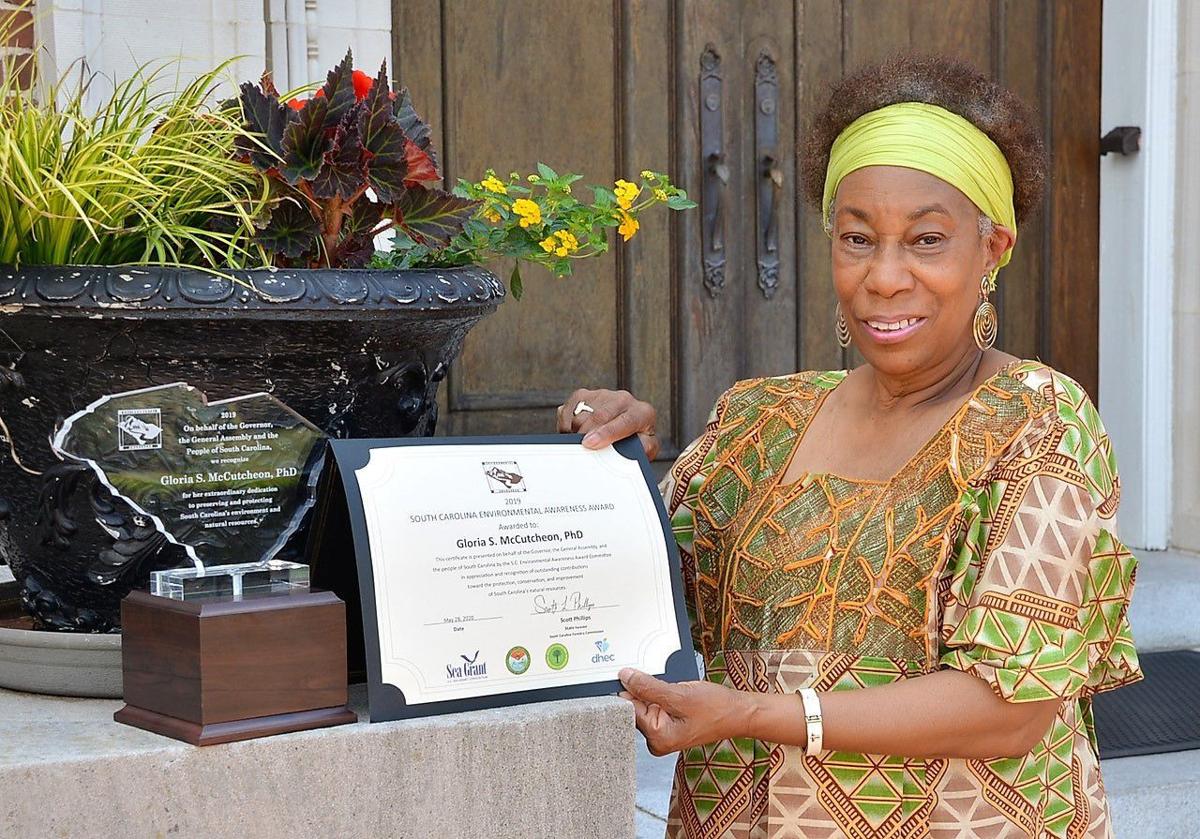 Claflin University's growing reputation in STEM research and education can be largely attributed to the exceptional accomplishments of its world-class faculty and high-achieving scholars.
When Dr. Gloria S. McCutcheon, chair and professor of biology at Claflin, received the 2019 S.C. Environmental Awareness Award, it further confirmed the university's commitment to innovative research that will improve the lives of residents in South Carolina and beyond.
McCutcheon was presented the award on Thursday, May 28, during a ceremony at Tingley Memorial Hall. The South Carolina General Assembly established the award during the 1992 legislative session to recognize outstanding contributions to the protection, conservation and improvement of the state's natural resources.
McCutcheon, who has worked at Claflin since 2008, is a scientist, author, teacher, community worker and trailblazer in the conservation of natural resources. Her professional work has focused on the study of beneficial insects in soybean, cotton, vegetables and medicinal plants. She is also an adjunct professor in the School of Public Health at the University of South Carolina.
"This award will have a lasting impact on the promotion of environmental awareness and opportunities for my students at Claflin, who will continue to make great contributions as we face increased concern about health, health disparities and the environment," McCutcheon said. "The gap in the disproportionate incidence of disease in populations must be closed, and it is our students who will help close these gaps so that communities of color will not suffer disproportionately."
McCutcheon served at Clemson University for 33 years directing students in master's and doctoral programs who have made great contributions in sustainable agriculture across many sectors throughout South Carolina, the nation and the world.
Her early research at Clemson University provided substantiating data to assure farmers and the agricultural community that through integrated pest management, conservation of these beneficial insects promotes a cleaner environment and more economical crop production. She holds the honor of professor emerita at Clemson.
"I accept the award with humility on behalf of the many people across the state of South Carolina who walk this journey with me through schools, science camps, 4-H Clubs, faith-based organizations, local farms and community organizations," said McCutcheon, who is the first representative from a historically black college/university selected for the prestigious award.
Each year the public is invited to submit nominations that are then reviewed by a S.C. Environmental Awareness Awards committee, which includes representatives from the state's natural resource agencies. In judging the nominees, the committee considers excellence in innovation, leadership and accomplishments that influence positive changes affecting the natural environment.
McCutcheon earned a bachelor's degree in zoology and a master's in entomology from Clemson University. She earned a Ph.D. in environmental entomology from the University of Georgia. As a member of the inaugural class of the Kellogg Foundation Food and Community Policy Fellows, she studied sustainable food systems and global health in Costa Rica, Cuba, Europe and Zimbabwe and used her experience to communicate issues in sustainable food systems. McCutcheon is passionate about promoting environmental awareness, and she has made presentations about her work both nationally and abroad.
Get local news delivered to your inbox!
Subscribe to our Daily Headlines newsletter.