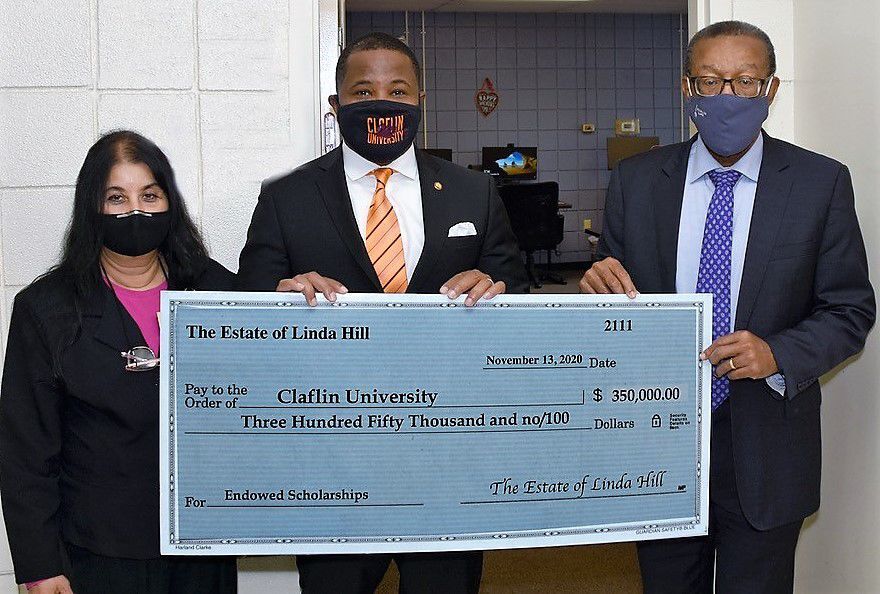 Perhaps it was happenstance that Linda Hill arrived at Claflin University more than 40 years ago to begin her career as a college professor.
Hill came to Claflin after her father, the late Rev. Raymond Hill, saw a job announcement in The United Methodist Church Bulletin. Rev. Hill was a minister in The United Methodist Church, and he encouraged his daughter to apply for the position.
"He helped pave the way for her journey to Orangeburg," said Dr. Peggy Ratliff, professor of English at Claflin and one of Hill's closest colleagues.
Hill was an associate professor in Claflin's English Department at the time of her death in April 2019. Her experiences working with first-generation college students reinforced her support for increasing access to affordable, high-quality academic programs to all aspiring college students.
On Nov. 16, Claflin was presented with a $350,000 gift from Hill's family to establish an endowed scholarship for students.
The donation is the largest by any current or former faculty member at Claflin.
The Writing Center, where Hill helped students develop and articulate their thoughts and ideas as writers, was named in her honor.
"You can't replace a person like that who gave Claflin 46 years of outstanding service," Claflin President Dr. Dwaun J. Warmack said. "Ms. Hill taught some of the gateway courses, including English 101, that every freshman has to take. It was a labor of love that she continued to pour her knowledge into those students. People invest their time and resources in people and programs they love. You can tell that she really loved Claflin by this generous gift."
Hill was a native of Valparaiso, Ind. When she accepted a faculty position at Claflin, she was following the career path of her mother, the late Josephine Wilson Hill, who also was a college professor.
"Linda loved and cared about the education and success of her students," Ratliff said. "She was a dedicated faculty member who loved Claflin University. I can honestly say the Claflin family was truly her family because she spent more than half of her life here. She was a friend, a colleague, and a scholar."
Ratliff and Hill collaborated on several general research projects and grants and they shared a keen interest in women's literature.
"Our latest and unfinished project was to write a book on the life and works of Julia Mood Peterkin, who was a Pulitzer Prize winner from Fort Motte, S.C. Her works were based on the lives of real-life African Americans who lived on a Jim Crow plantation in Fort Motte, which is near St. Matthews," Ratliff said.
Dr. Mitali Wong, professor and chair of the English Department, said Hill provided leadership for the English Education program and made major contributions to syllabi and curriculum design in general education courses, including first-year English courses, until her very last year at Claflin.
"She was active with grant writing and research and she was clearly the best editor on campus," Wong said. "She helped with every new university catalog for almost two decades. Linda will always be remembered by her colleagues for her great sense of humor. She often made very witty remarks with a serious face as she was gifted with words. She was an institution and we truly miss her."
Get local news delivered to your inbox!
Subscribe to our Daily Headlines newsletter.