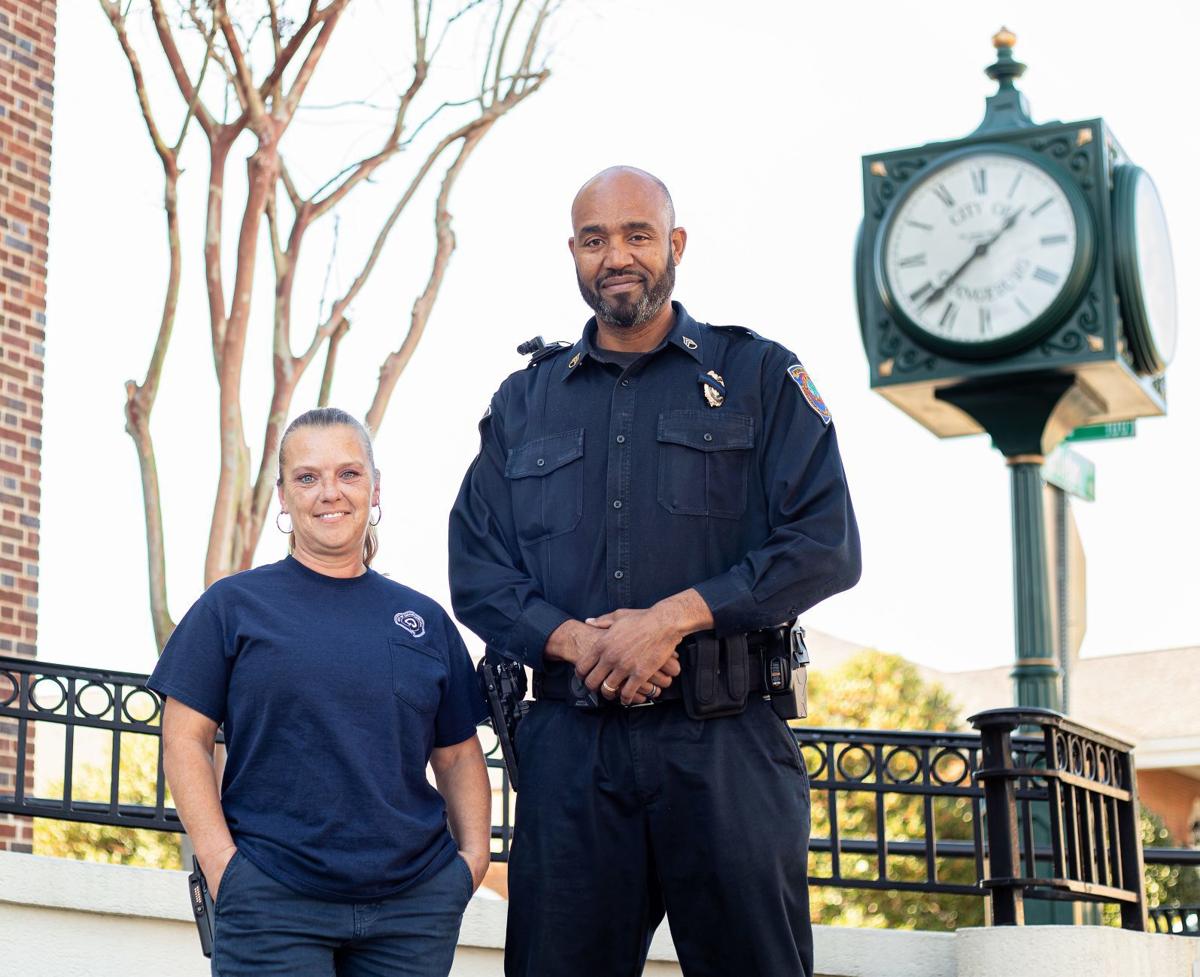 The City of Orangeburg and the Department of Public Utilities named their employees of the year recently.
Department of Public Safety Sgt. Arney L. Lucas was recognized as the 2019 City of Orangeburg Employee of the Year and recipient of the 2019 Dick Horne Foundation Award. Warehouse Specialist Wendy Linder was recognized as the 2019 Department of Public Utilities Employee of the Year and recipient of the Dick Horne Foundation Award.
Lucas began his law enforcement career in October 1994, initially serving as Field Training Officer-- an instrumental role where he shaped the careers of young officers graduating from the academy, helping develop them into successful and productive assets of the Public Safety agency.
Later, he was assigned to the Warrants section, where his keen abilities to remember information and faces had a tremendous impact in reducing the servable outstanding warrants of the agency. Within the Public Safety agency, he wears many hats: He is a member of the Special Reaction Team, a victims services provider and a firearms instructor.
And while he is heavily involved in work-related duties, he is equally involved in serving the community, devoting time to assist with mentoring troubled youth as well as youth in his church. He further dedicates time to assist with the Edisto Elementary Bike Club, a project near to his heart where throughout the course of the year, he solicits and procures bicycles (new and used) from various organizations or community members, repairs them and seeks ways of providing the bicycles to members in the community whether through the Public Safety Agency's "Working for Wheels" program, brightening someone's' spirit during the holidays, or just observing someone who needs a dependable replacement bicycle.
He further assists with the River Bridge Ramble, an organized bicycle ride and fundraiser that takes place in the fall and supports the Public Safety agency's gang initiative. The most recent event brought together nearly 130 riders and generated close to $4,000 in funds for the project. His involvement in this project was instrumental in the City of Orangeburg receiving the 2019 Municipal Association Achievement Award in the Public Safety Category.
Some employees become highly respected as they develop their skills at the Department of Public Utilities after years of training and testing. But only a few become highly respected instantaneously. Linder made an immediate impact on everyone she came in contact with almost immediately.
Her attention to detail, courteous attitude, diligent work efforts and values made her the prime candidate for DPU's 2019 Employee of the Year.
In her short time with DPU, she has improved the morale, safety, cleanliness and overall operations of her warehouse group, which impacts all of DPU.
She took on new tasks with enthusiasm and brings order to an area which can often be hectic and stressful.
According to DPU, Linder is willing to go above and beyond for anything asked of them by supervisors and coworkers. She pays great attention to detail and improves safety.
Get local news delivered to your inbox!
Subscribe to our Daily Headlines newsletter.