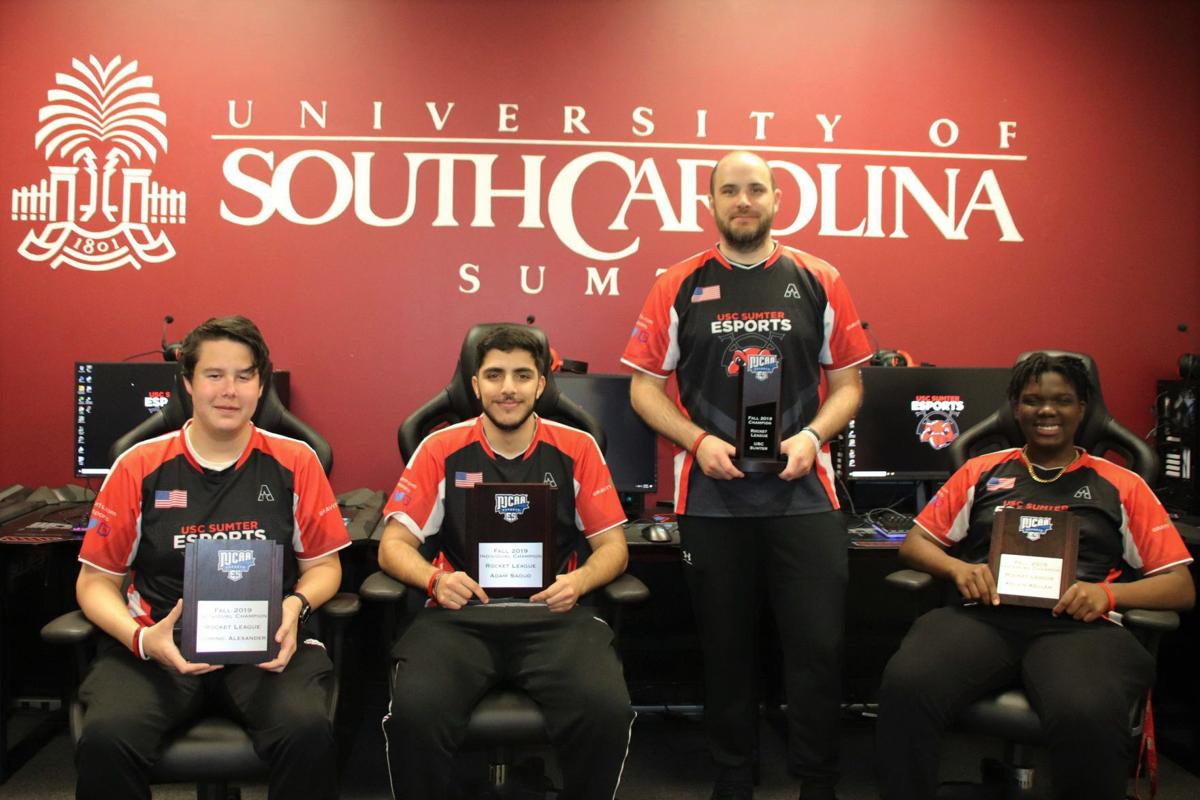 SUMTER — Kelvin "JR" Keller Jr. put aside baseball when he graduated from Calhoun County High School in 2018 and signed with the University of South Carolina Sumter eSports team to compete with other college students around the country.
Now he has a championship in Rocket League — a popular vehicular soccer video game released in 2015 — to show for it.
USC Sumter's eSports (video gaming) team recently won the National Junior College Athletic Association eSports Rocket League Fall Championship.
The team is coached by Kris Weissmann and includes Keller, Dominic Alexander and Adam Saoud. They competed in an online game over a nine-week season that included playoffs.
The Fire Ants ended their regular season undefeated in matches and had a total game record of 12-1. Their regular season success earned them a number one seed and a two-match bye going into the tournament. In the playoffs, the team went 2-0 in matches securing them a spot in the championship. Championship play saw them competing in a best of seven match, and the Fire Ants swept the Centralia College Blazers 4-0 to claim the title.
"I felt like we were overdue for a big program win and recognition," Weissmann said. "We have worked very hard for a long time to be great, and it was awesome to see the players get what they deserved.
"It felt like we finally turned a corner, and bigger things are on the horizon. I just felt great for the team and the program as a whole."
Keller, for one, enjoyed the competition from start to finish.
"After the championship game, I was overwhelmed with excitement and a sense of fulfillment," Keller said. "Being able to grind our way up to winning the program's first championship was an incredibly rewarding journey.
"All in all, I am proud to be a part of this phenomenal program. To me being a part of the USC Sumter eSports team has been an amazing experience. The team is one big family for me, whether it is in or out of practices/competitions. Over the past couple of years, I've learned how to be a leader, a team player and overcome obstacles."
Weissmann, along with the support of USC Sumter Dean Michael Sonntag, was instrumental in bringing an eSports team to USC Sumter in 2015, when the idea of such an addition to the program was still in its infancy. Weissmann has coached the team ever since.
"The program has come a long way since its founding," Weissmann said. "We started with one game: League of Legends and expanded to over half a dozen (including Rocket League, Overwatch, HearthStone, CS:GO and Smite) in five years. Our numbers increased from 6-10 athletes to 20-30-plus athletes. We have been able to provide eSports scholarships to students both in and out of state. Our facility has expanded in both quality of looks and equipment.
"We have been an instrumental factor in helping other institutions in the state and nation start their eSports programs. I get calls and emails daily on how to start a program and what my best advice would be. We compete in over half a dozen leagues as well."
Other Palmetto State colleges and universities with eSports teams include the following: Coker University, Limestone College, Newberry College and University of South Carolina Union.
For more information on the USC Sumter eSports program or if you are interested in joining the team, contact Weissmann at 803-938-3763 or weissmak@uscsumter.edu.
Get local news delivered to your inbox!
Subscribe to our Daily Headlines newsletter.