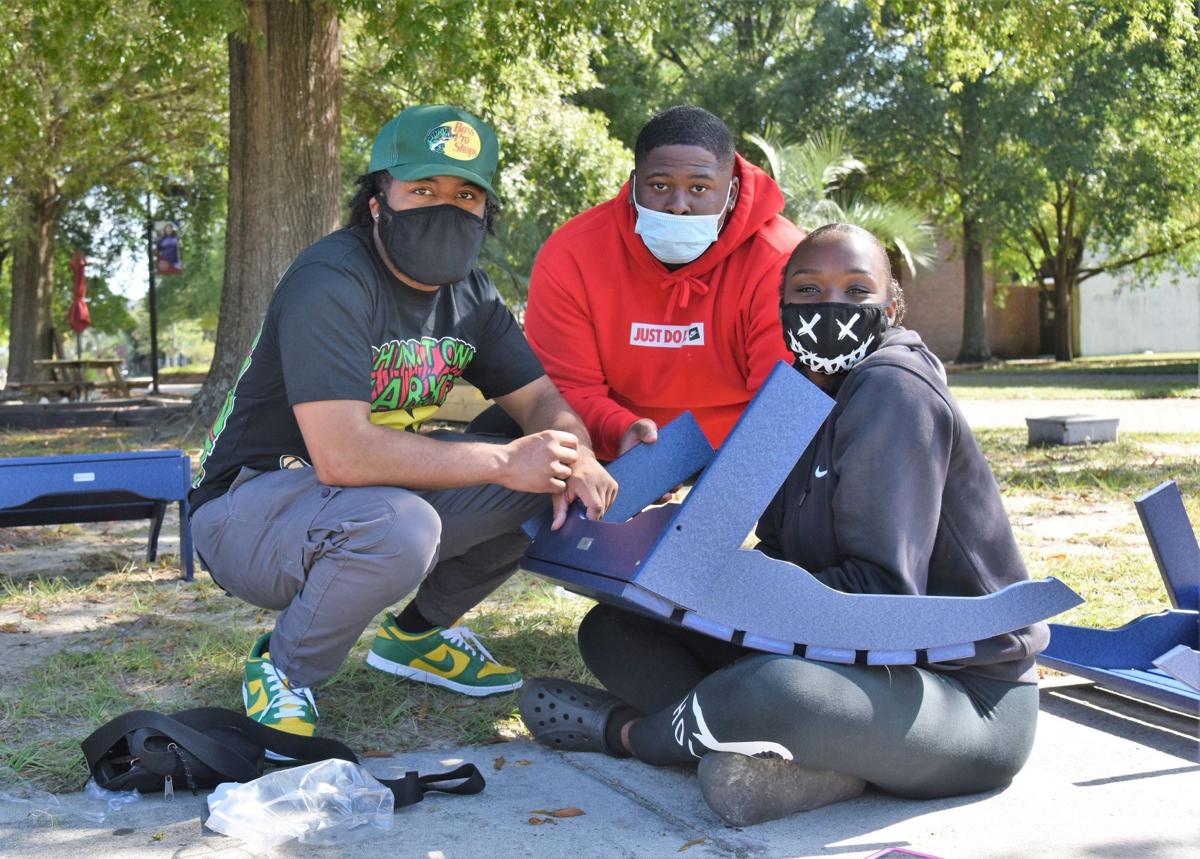 Ken Davis, director of facilities/planning and construction at South Carolina State University, gave university board trustees an update on the projects being done to make the campus brighter, cleaner and safer.
"If you've been on the campus recently, you see that we have some brighter looking buildings, cleaner looking buildings," Davis told trustees on Oct. 6.
S.C. State students, from left, Jaylen Polk and DeSharah Israel spend a part of Wednesday, Oct. 13, assembling outdoor seating as a part of th…
"There's been some pressure washing going on, some painting going on. If you had the opportunity to attend the first home football game, the stadium was completely pressure washed before the start of the season. So it looks a lot better," Davis said.
Current projects include the renovation of the university's student center and HVAC replacements at Felton Laboratory School. Upcoming projects include the renovation of the university's Brooks Health Center and ROTC building and the second phase of stabilization work on Wilkinson Hall.
"We've just recently been awarded three roofing projects, and we have three more that are out for bid. The three that have been awarded are at the Whittaker Library, Brooks Health and Moss Hall. The Moss Hall and Crawford Engineering Building are together as one," Davis said.
Support local journalism by becoming a member at www.TheTandD.com The editor's limited time offer is full access to all the website has to off…
Water-proofing work at Belcher Hall, the chiller replacement at Truth Hall and the Orangeburg Massacre Memorial located in the heart of campus are among the university's completed projects.
Completion of the Orangeburg Massacre Memorial located in the heart of campus is among the South Carolina State University's projects.
S.C. State's cleaning protocols are also continuing as part of its pandemic response efforts, with additional contract workers being hired to perform additional touch point cleaning on campus.
"That process has started. C&W (Cleaning Services) has started to hire folks. Their schedule will be 10 a.m. to 6 p.m. doing the touch point cleaning throughout the campus, mainly our academic spaces. And then there will be an additional person that'll just be doing disinfecting at night. ... C&W also has a certified Level 3 cleaning team on site," Davis said.
The university's coronavirus response measures also include the delivery of 300 bottles of hydrolite disinfectant and 20 cases of hand sanitizer, along with the construction of more than 200 Plexiglas sneeze guards for service counters, lobbies, desks and offices.
Also during the administration/operations report, Staff Senate President Franklin Pressley reported that the group was conducting a salary equity study and working to boost staff morale. He said the group's membership has increased, with a goal to have 30 new members by the end of October.
Public relations, institutional advancement, alumni relations
Carena Grace Kelly beautifies the Zeta Phi Beta Sorority space on the campus of S.C. State. 
A private giving report from July 1 through Oct. 1, 2021, from the university's Office of Institutional Advancement revealed that 989 donors had given a total of $615,962 to the university. Total giving is up more than 56%, while the average gift is down 9%. The financial goal for the end of next year's fiscal year is $5 million.
Money raised from current fundraising initiatives include $40,580 from the Student Impact/GAP Fund and $39,635 from a Bulldog Express funding initiative.
Hank Allen, president of the S.C. State National Alumni Association, said the association had a new team of officers elected in July.
"Our key focal point is on activation. What we mean by activation is having all of our alums be able to go out and identify other alums who might not be engaged, friends and companies and potential sponsors to get them to reconnect with the university and provide additional support for the university and the association," Allen said.
Growth, engagement, collaboration and education are the association's four strategic pillars, he said, with an action committee already set up to help foster alumni representation from each of the state's 46 counties "so that we can have relationships with politicians in those particular counties."
He said collaboration was the third pillar, with the alumni association to launch its own fundraising campaign to complement the existing $1.25 million "Ready All to Do and Dare" fundraising campaign recently started by S.C. State Interim President Alex Conyers.
Allen said keeping alumni educated about what is going at the university was also key.
"We have to do a better job of informing our alums. President Conyers has done an extremely outstanding job. We want to continue to do that, and one of the ways in which we want to further that is to have university town hall sessions, where we get specific leaders from the university and have conversations, discussions with our alums so they know exactly what's going on and they can also offer their support," he said.
Trustee Jameel Allen Sr., chairman of the Public Relations, Institutional Advancement and Alumni Relations committee, said a comprehensive marketing plan will be among a couple to be sent out. He said both are "working documents" and additional input on their development was welcome.
As part of the report, the trustees approved the renaming of two of its campus facilities.
The speech clinic located in the rear of the university's Lewis Building will be renamed after Dr. Harold Powell, an S.C. State alum whose accomplishments include developing the curriculum for and initiating the undergraduate program in speech pathology and audiology and opening the first speech, hearing and language clinic on a collage campus in the state.
South Carolina State University is using several approaches to increase enrollment, according to interim President Alex Conyers.
The Nance Hall first floor auditorium will be named after Leon Myers, an assistant math professor at S.C. State who passed away April 28 and spent nearly 50 years in the Department of Computer Science and Mathematics at S.C. State. He also contributed to the athletics department, including having served many years as one of the coordinators of the academic enhancement component beginning in 2002.
Athletics, student services
Trustee Daniel Varat, chairperson of the students affairs and athletics committee, reported that Dr. Tamara Jeffries-Jackson, vice president for student affairs, has kept efforts going to increase the number of internships offered to students and their placement in jobs and graduate and professional schools.
South Carolina State University is holding its homecoming through Oct. 16 with the theme "Ready All to Do and Dare."
He said her staff have engaged employers through the university's Career Center as much as possible amid the pandemic and "has kept those efforts going very aggressively."
He said students have also still been able to engage in various community service activities "whether it be at local schools, local churches or other efforts that they can make."
The university's current fall 2021 enrollment stands at 2,379. The projected enrollments for the spring 2022 and fall 2022 semesters stood at 2,097 and 3,000, respectively.
Varat said work to improve student retention included the university's attendance at college fairs and application days at high schools and at regional events across the state, while also engaging alumni, faculty, staff and students.
In the area of athletics, Varat said the university has a full slate of fall sports going on and that teams continued to compete hard.
He said S.C. State Athletics Director Stacy Danley is also adding additional members to the athletics department.
"It's going to help a lot from the perspective of academics and compliance. He's adding three new members to his academic support staff, and he's looking for three new members in compliance," he said.
Varat said he has requested Danley put together a larger workshop presentation for the board on Title IX and what it means from a "compliance, competitiveness and legal standpoint."
Varat said upgrades to several facilities, including locker rooms, help the university recruit more student athletes, and also help it stay in line with federal Title IX requirements.
"It's a compliance issue, especially when you're talking about the women's sports," he said.
As part of Varat's report, the board approved changes to the university's sex discrimination and harassment policy, specifically to the sexual harassment grievance procedures under the hearing and appeals portion of the policy.
Sponsored research, information technology
Trustee Macie Smith, vice chairperson of the sponsored research and IT committee, said the university had 84 research proposals totaling $16.3 million during the 2021 fiscal year.
Conyers said federal CARES Act money will be used to improve the university's IT infrastructure.
"Upon notification of the latest round of CARES Act money, I stated to my immediate cabinet that my number one priority of that funding was IT upgrades. So there is a large portion of this last round that's dedicated toward IT upgrades and the things that deal with being able to enhance our delivery platforms for instruction," he said.