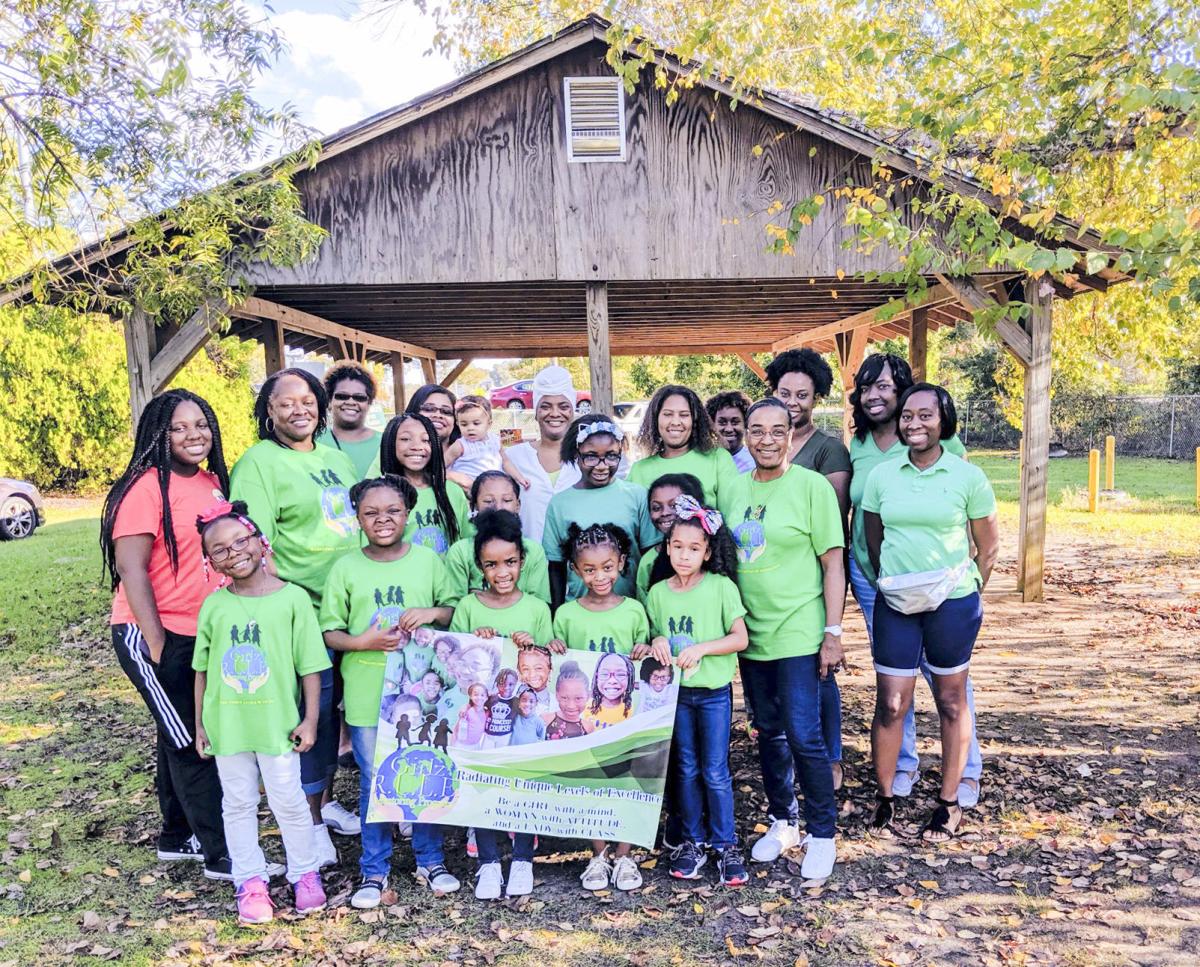 October is recognized as bullying prevention month, and on Sunday, Oct. 27, a rally was held at Harmon Park to recognize the importance of preventing bullying.
Beginning at 4 p.m., the Girlz R.U.L.E. organization hosted an anti-bullying rally. Girlz R.U.L.E. (Radiating Unique Levels of Excellence), which was established this summer in August, is a mentoring program consisting of 17 girls ages 5-17 with a platform to combat bullying.
Girlz R.U.L.E. was escorted by police officers as they walked from Mingo Street to Harmon Park. As they walked with signs, they chanted, "Girls rule, no bullying, and "Be a buddy, not a bully." Members wore parakeet green tee shirts with the organization's logo on them.
Rachelle Estrill, founder of Girlz R.U.L.E., said that she wants the girls to feel empowered through service.
"We stand against bullying and are building the self-esteem of our girls and creating leaders.
Our vision -- Girlz R.U.L.E. foresees a world where confident women are better prepared to embrace and address life-changing challenges," she said.
Estrill said she created the organization after learning that her daughter experienced bullying.
"My 6-year-old, Gabrielle Estrill, who serves as co-founder, experienced bullying firsthand. Children cannot get a quality education if they don't first feel safe at school," she said.
"We have zero tolerance for bullying. We come together on one accord. After the issue was resolved, I thought, 'Let's create a group to help other young girls,'" she said.
According to stopbullying.gov, 70.6 percent of younger people say they have seen bullying in schools, and about 25 percent of students being bullied report it to adults.
There are nine board members and 12 dedicated parents who assist Estrill with facilitating: Asha Smith, Audrey Patterson, Denise Brooks, Jacquelyn Walker, Latoya Felder James, Marsha Bellinger, Medina Haynes, Nichelle Cole, Pashen Jenkins and Zipporah Priester.
Following the walk, members of Girlz R.U.L.E. stood up with board member Audrey Patterson to recite facts about bullying.
More than 160,000 kids skip school because of bullying. Thirty percent of youth admit to bullying. One in three students bully at school, while 70 percent of students witness bullying.
Twenty percent of students between ninth and 10th grade experience bullying.
Patterson said the girls face many things such as peer pressure and social media.
"It's okay to say something if you see someone being mistreated," she said.
LaKeitha Dunning serves as a recruiter of the organization.
"I am responsible for recruiting new members to our group. I am proud of the progress being made thus far since we started," she said.
Latoya Felder James serves as a supporter of the organization.
James mentioned that Girlz R.U.L.E. has participated in a Sickle Cell Anemia Walk, Back to School Bazaar, Back to School Prayer, Boyz 2 Men and Girls 2 Women and other projects.
"We'd like to be as involved as we possibly can within our community. The young ladies are stepping up and being role models for children their age which makes me proud," she said.
There are several ways to help prevent bullying. Children should talk to a trusted adult, a parent, teacher or administrator. Children should help other children who are being bullied by showing kindness to them or befriending them. Parents can educate their children on why bullying is wrong.
Get local news delivered to your inbox!
Subscribe to our Daily Headlines newsletter.