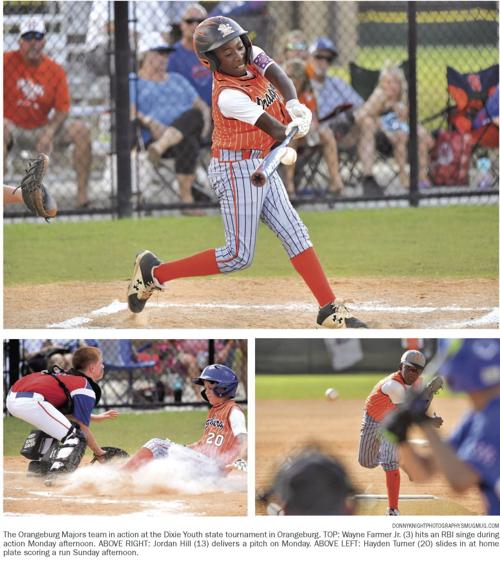 Bamberg will play Wednesday for a Dixie Majors state championship.
The 10 a.m. game in Orangeburg will feature Bamberg vs. St. George. Bamberg defeated Jasper County 9-4 Tuesday to advance to the championship round. St. George defeated Latta, 6-5.
St. George has to win twice to take the title.
Meanwhile, two T&D region teams were eliminated in competition for the 2021 South Carolina Dixie Youth Majors Division 1 & 2 tournament titles in game being played in Orangeburg.
The Lake Marion Majors All-Stars were eliminated after losing to Maple Park 6-5 on Tuesday. The Orangeburg Majors All-Stars were also eliminated, losing to McLeod Park 2-1.
Maple Park and McLeod Park will face off in the Division 1 Majors Championship. The game will be held Wednesday at 10 a.m.
Maple Park 6, Lake Marion 5
McLeod Park 2, Orangeburg 1
Bamberg 9, Jasper County 4
Fort Mill wins title
The Fort Mill All-Stars captured the 2021 Dixie Youth Baseball AA Coach Pitch state championship Tuesday morning. The team went undefeated, downing Greer 14-4 in the championship game.
Fort Mill will play in the Dixie Youth World Series in Laurel, Mississippi, on August 6th.
The City of Orangeburg Parks and Recreation Department is host for the 2021 South Carolina Dixie Youth Baseball AA Coach Pitch and Majors Division 1 & 2 state tournaments.