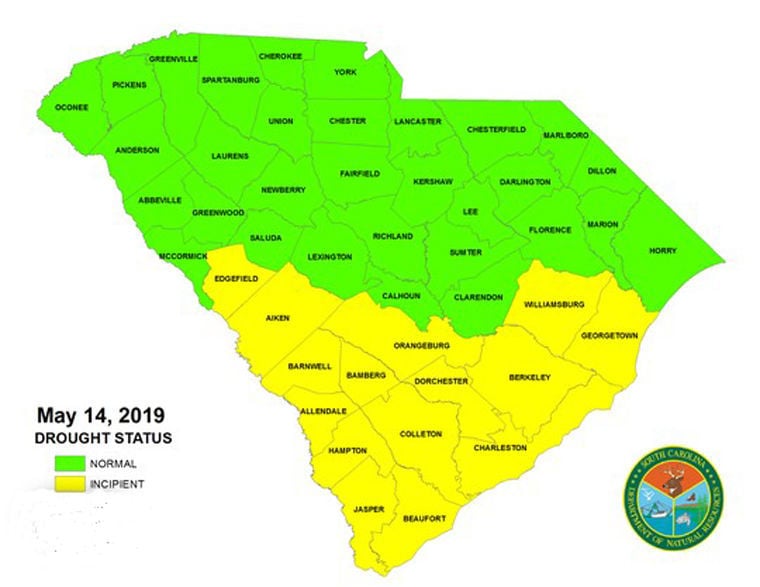 The S.C. Drought Response Committee, meeting via conference call on Tuesday, upgraded the drought status to incipient drought for 15 South Carolina counties.
Bamberg and Orangeburg counties are among those listed as being in incipient drought. As designated by the South Carolina Drought Response Act, incipient is the first level of drought followed by moderate, severe and extreme.
The decision was based on multiple indicators such as the 60-day percent of normal rainfall, the U.S. Drought Monitor, Palmer Drought Severity Index and the Crop Moisture Index.
According to State Climatologist Hope Mizzell, rainfall over the last 60 days has ranged from 3.5 inches at Mount Pleasant to over 17 inches at Sunset in Pickens County.
Most locations across the Upstate have received excessive rainfall throughout all of 2019.
Slater-Marietta in Greenville County has already logged 39.52 inches of rain since Jan. 1, while some areas in the Lowcountry have received less than 10 inches.
Orangeburg received 6.73 inches of rain between March 15 and May 13. Since the beginning of the year, it has received 13.33 inches.
Calhoun County is not in a drought.
Below-normal rainfall levels over the past 60 days has resulted in below-normal streamflow levels for much of the southern part of the state, reported Scott Harder, S.C. Department of Natural Resources senior hydrologist. However, heavy rainfall throughout winter into spring for portions of the Pee Dee and Upstate has led to record-high groundwater levels at a few monitoring sites, including Chesterfield and Oconee.
Darryl Jones, S.C. Forestry Commission forest protection chief emphasized, "While fire activity was low in April, the Keetch-Byram Drought Index indicates that dry fuels are present in some areas, particularly in the Southern Drought Management Area.
"With the low rainfall predicted for the next few weeks, we expect to see initial attack for wildfires increase in late May and into June. Fighting wildfires when we have high temperatures is very difficult and creates additional risks for firefighters, and we encourage everyone to be very careful if they choose to conduct outdoor burning during dry periods."
Get local news delivered to your inbox!
Subscribe to our Daily Headlines newsletter.