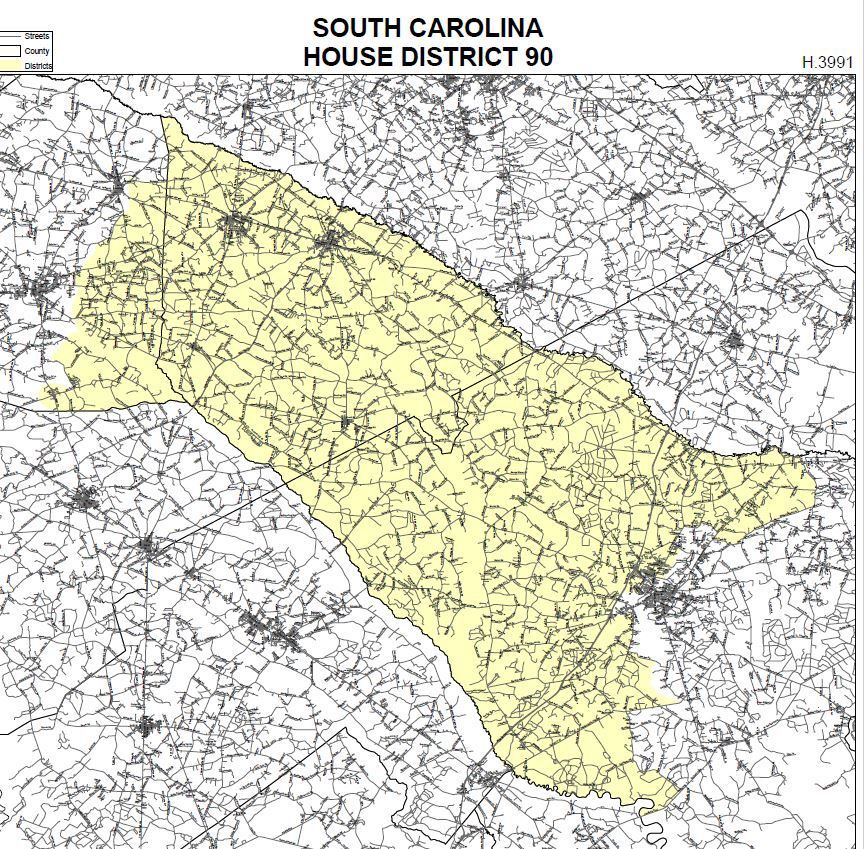 State Rep. Justin Bamberg, D-Bamberg, is being challenged by Republican Glenn Posey for the S.C. House District 90 seat.
They will face each other in the November general election.
House District 90 serves Bamberg, Barnwell and Colleton counties.
Justin Bamberg
Bamberg, 33, was first elected to the House District 90 seat in 2014.
"When I first ran back in 2014, it was a long-term commitment to make change, to make the area and life better for everybody living here. I think we still have a lot of work to do. It's been a lot of work," Bamberg said.
"I have a lot more gray hairs than I did at 26 or 27, but I feel like we are making progress and have got to keep the ball rolling forward. That's what I'd like to continue to do," he said.
Bamberg said public service runs in his blood.
"I mean, my parents, my brother, me, even my grandparents are like that, even though they never held like an elected office. It's just like generations of doing and helping other people. You've got be cut from a certain fabric, or it'll destroy you," Bamberg said.
He is a member of the House Judiciary Committee.
"We hear approximately 45 to 50 percent of the bills that are filed. I'm one of the most vocal Democrats in the State House as far as taking up battles. I'm a big advocate for rural South Carolina. It doesn't matter, Republican or Democrat, when you're in rural South Carolina, we all have the same issues," Bamberg said.
He added, "We're working on reinvigorating a Rural Caucus, which I'm proud to be a part of that. That's a bipartisan effort of rural reps, which is really good. We need that."
Bamberg said his other appointments in the House also give him a chance to benefit his area.
"For example, even during COVID, I got put on the business liability committee to study and come up with a plan. For me, my focus was small businesses, the mom-and-pop shops, the ones that are run by everyday people where we live. How do we look out for them so that they can open up and, as safe as they try to be, make sure that their businesses don't go under because of COVID?" he said.
Bamberg has also served on the civil asset forfeiture committee.
"I was first vice chairman on that committee this year to come up with a proposal to change civil asset forfeiture in this state. Then I was on the subcommittee and the main committee redoing sentencing reform in South Carolina.
"Where we live, unfortunately, sometimes people have to learn things the hard way. They go into the system, but going into the system shouldn't be a death sentence to your life. So you want to make sure that people who need to be in prison are in prison, but people who need to be punished still have an opportunity to come out and become contributing members of our communities," he said.
Alleviating some of the tax burden on citizens is one of his goals if he is re-elected.
"One of the biggest goals for me, which is particularly applicable in Bamberg County, is working on a way to alleviate some of the tax burden that we face here on property and vehicles. The reason our taxes are so high is because of the way that our school facilities are funded.
"In the General Assembly all around right now, there's been a commitment to finally address education. But part of that discussion has to be: How do we pay for our schools? It is killing areas like ours. So I would like to see the state step in and start offsetting some of these crippling taxes that our poorer districts have had to levy on citizens in order to pay for schools," Bamberg said.
He added, "That's a really big thing because it's going to be hard to move forward unless we get those tax problems under control. They were tax problems created by the state of South Carolina over the last 50 to 60 years."
Bringing jobs back to the area, particularly with the closure of companies in Bamberg County, will also be a key focus for Bamberg.
"Some of that is tied to national-level events. For example, tariffs and things like that are outside of our control locally, but we've got to keep working on that. A big part of that in 2020 and beyond is technological infrastructure," he said.
Bamberg filed a bill to give local governments the ability to create their own internet service providers and "get out of the chains of bondage of big telecom companies who give us a lot of lip service."
"We need internet everywhere. In rural South Carolina, these companies like AT&T and others, it's about money to them. It's about life to us. If they don't want to understand that, then they need to get out of the way so that we can do what we have to do to get the proper infrastructure in place," Bamberg said.
"You're not going to be able to recruit technologically advanced companies without the basics like high-speed internet."
Addressing the area's emergency health care needs has included the development of a Bamberg-Barnwell Emergency Center.
"People don't have to die from things like snake bites, heart attacks and things like that. We're able to get them treated faster. … One of the biggest things that I'd like to do is to just keep being a very real representative for people," Bamberg said.
"I call it how it is. People may not like what I say sometimes, but I'm not going to lie to my people. I'm not going to mislead my people. I'm going to do the job with character and integrity. I want to keep doing that," he said.
He said it has been an honor to serve his community.
"I would encourage them not to just go off of what I say, but look at what I have done for the area, whether it be the ER, or whether it be the fact that Denmark-Olar, after all this time, has finally got their beautiful new K-12 facility.
"When Bamberg lost its only grocery store, I was there to help fix that. I will continue to be here to not just work on things to make it better, but also to fight to fix the random occurrences that happen here. There's always going to be something that comes up," Bamberg said.
He continued, "I've been a rep who has never run from uncomfortable political discussions. I've stood by the area, I've stood by the people in this area. I'll continue to do that. If they would be so obliged to allow me to remain as their rep, they can expect nothing but my absolute best.
"I would just ask that they trust me that if I ever got to the point where I feel that I'm not adequately able to represent the people that I owe a duty to, I'll be the first to tell them. They won't have to wait until some bad stuff happens."
Bamberg said the House District 90 seat does not belong to him, but the people he represents.
"We've got an amazing area, and they deserve the best. Until somebody comes along that's better than me as far as what I am willing to do and have done for the people here, then I'm asking that everybody stand with me like I've been standing with them," he said.
Bamberg, who is also an attorney, is a 2005 graduate of Bamberg-Ehrhardt High School. He graduated from the University of South Carolina in 2009. He went on to earn his law degree from the university in December of 2011.
Posey, Bamberg's Republican challenger, did not respond to repeated requests for comment.