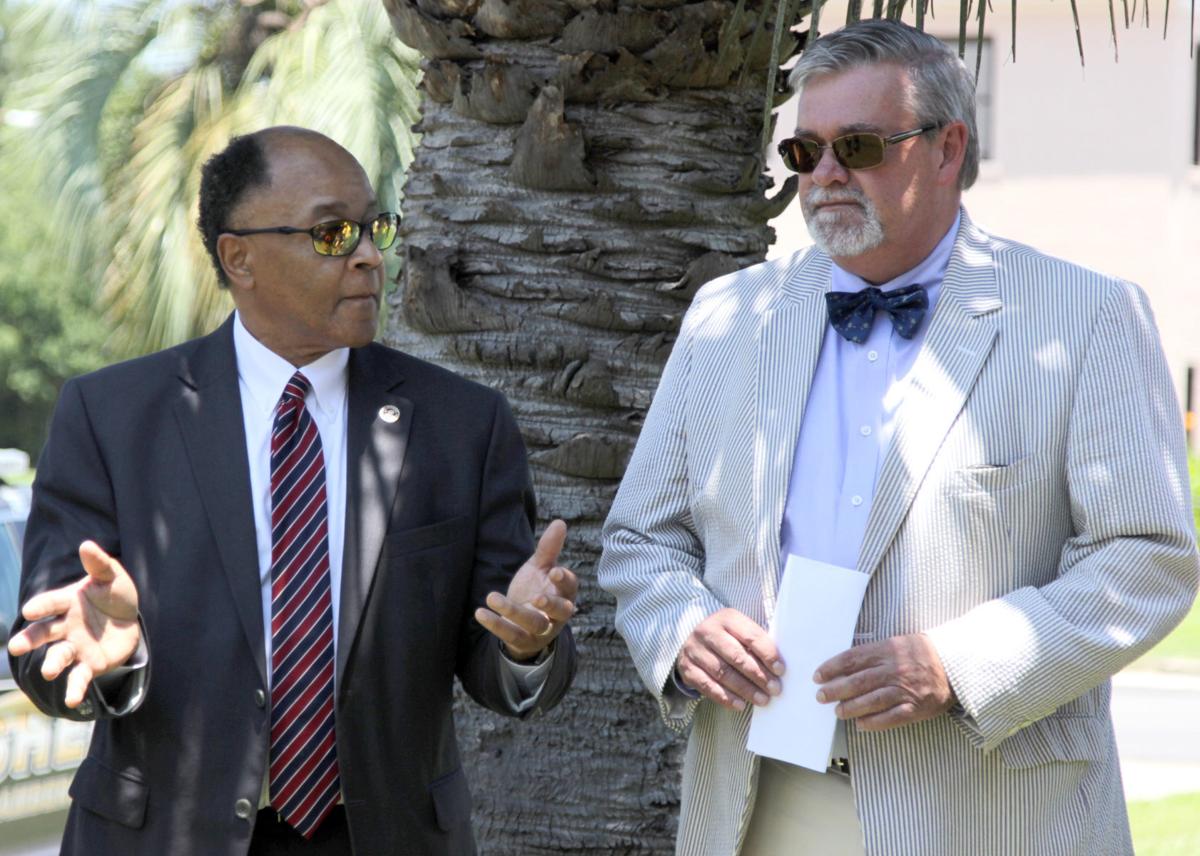 BAMBERG - A divided Bamberg County Council voted to renew the contract of County Administrator Joey R. Preston on Monday night, but it was not before a noisy debate sprinkled with insults and expletives.
Council voted to renew Preston's contract with a one-year extension to run from July 1, 2021 to June 30, 2022.
Councilmen Trent Kinard, Joe Guess Jr., Evert Comer Jr., Larry Haynes and the Rev. Isaiah Odom voted to approve the contract renewal.
Council Chairwoman Sharon Hammond and Councilman Clint Carter voted against it.
Prior to the vote, Hammond stated that she could not take any action on the contract renewal item because she didn't have any information on it.
"Right now we're not taking this item up. I'm not taking any action on this item. I don't know anything about it. We haven't discussed it," Hammond said.
Kinard responded, "Madam Chair, that's what tonight's for! I asked for the floor again."
He made a motion to approve the contract. It was eventually seconded by Comer.
County Attorney Richard Ness said, "I think you need to debate this. ... I think he (Kinard) has a right as a council member to speak. ... Whether it (a motion) is going to pass or not is another story. He's got a right to be heard."
Kinard said Hammond needed a lesson in Robert's Rules of Order.
"It ain't hard. They've got the books at Wal-Mart, or you can get them anywhere. ... Sounds like tonight you need it," he said.
Carter said he had not seen a copy of a contract in his packet and was not going to vote on something he had no information on.
Comer said, "As I recall a couple of months ago, we went through revising and updating the contract in executive session. I believe the consensus was we were in agreement with what was presented to us after we got some clarifications, and we got some understandings and made some adjustments. I was under the impression it was in the final form."
Carter said, "I don't have a copy of any kind of contract. And as of my knowledge, the contract he has is good until June 30 of next year. So I'm not sure why this is being brought up.
"But I have looked in my packet three times, and there is no copy of an administrator's contract. So I don't know any terms. I don't know nothing about any contract or nothing."
Kinard said, "I believe that's why South Carolina law lets you abstain. So you can abstain. They've got three things: yes, no or abstain."
Carter said, "Well, I'm not on council to abstain."
Kinard said, "Just vote no. How hard is that?"
Guess said, "This is a motion to renew the contract. In other words, this is not a new contract. This is a renewal of the contract that we passed last year."
Carter noted Preston's contract was already automatically renewed for a year because council did not give Preston required notice that it intended to end the contract. The one-year contract includes a base salary of $130,711.10.
"So why are we voting on something that's already renewed?" he said.
Ness said the contract was being extended another year, so it now stretches from July 1, 2020 through June 30, 2022.
"Why would that be two years? We always give an (administrator) a one-year contract," Hammond said.
Kinard said, "Madam Chair, we discussed this. If you recall, we discussed this already."
'You're the biggest one," Kinard said.
Carter said, "There was a one-year contract discussed. There was nothing about two years. ... That meeting you were talking about was probably y'all five (council members) over there holding an illegal meeting."
Ness informed Hammond that a final draft of the contract was not being crafted Monday night.
"The contract can be looked at. We can write it up and you can look at it before we sign it. If they vote to add another year onto his contract, I don't see where that's a problem tonight. ... The only change is the extra year," Ness said.
Kinard said, "There's no more money being involved. He's not getting a $500,000 buyout. He's not getting anything. He's getting a one-year extra (on his) contract, which was discussed with everybody here."
Hammond said, "It should be for one year, not two years."
"Well, that's what the debate is, I guess," Ness said.
Kinard said, "Whether you like it or not does not make you able to keep it at one year or two years."
Hammond said she was "torn" at having a vote on something she hadn't seen.
Odom, who said that he didn't have the administrator's contract in his packet either, said he did remember discussing the contract extension.
"We sat down and discussed this, and I don't see anything wrong giving two years. It does not increase the finances one way or the other," Odom said.
Hammond said she was not happy with voting on the addition of a year to the administrator's contract.
"I don't understand how information can get out to everyone else and I not receive the information. It's unfair, and it's not right. It's not trusting, and I'm in shock. I don't believe this. It feels like a set up," she said.
The chairwoman added, "It feels like a set up and it's not right, but if the majority feels that that's the way that we have to do business, then that's the way we have to do business."
Get local news delivered to your inbox!
Subscribe to our Daily Headlines newsletter.