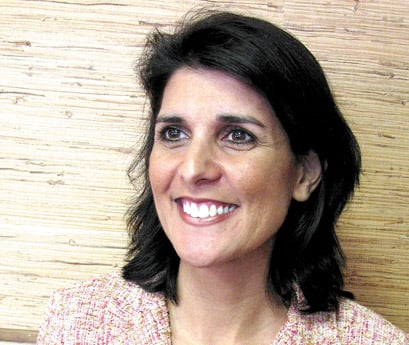 Some recent national stories about state Rep. Nikki Haley don't paint a full picture of Bamberg, she says.
This week, the Republican gubernatorial candidate said a recent anecdote used by national columnist George Will and other media outlets is not indicative of her hometown.
Haley said it's true that she and her sister were disqualified from a pageant when they were little girls because they are neither black nor white. (They are Indian.) But she said the anecdote doesn't tell the most important story about Bamberg.
"I didn't tell the story. The media somehow heard it, and they ran with it," the Lexington Republican said. "I loved growing up in Bamberg because every neighbor took care of everyone else.
"What I want people to know is what I learned in Bamberg - my values. That was the great thing about growing up there."
The story, which appeared in Will's Sept. 8 column, noted Haley and her sister entered the Little Miss Bamberg Pageant when she was 5.
The contest "usually crowned a white and a black queen. The flummoxed judges disqualified both Randhawa girls," according to Will's column. The story was used in the overall context of the column about South Carolina candidates moving beyond the usual "identity politics of race and ethnicity."
Several long-time Bamberg residents said they had no personal recollection of the event, but indicated it might not be far-fetched given the time period.
Retired Bamberg pediatrician Dr. Mike Watson delivered Haley, born Nimrata Randhawa. He served on the school board in the 1960s and 1970s when Bamberg schools were integrated. Watson said the story is true but it is not indicative of present-day Bamberg.
"We had a black and a white queen, and she was neither," Watson said. "It has changed very much since then.
"When I first opened a practice with my partner in 1954, all doctors' offices in Bamberg were segregated. I had several Indian families as patients, and I had to decide which waiting room, black or white, to seat them. Ours was the first office to desegregate."
Former teacher Lorelle Wise said choosing a white and a black queen also occurred at Bamberg-Ehrhardt High School for years following desegregation.
"My children did not do beauty pageants but they did have one for the B-E Homecoming," Wise said. "At that time it was just what was done in order to represent both races.
"They don't do that anymore. People in Bamberg have always gotten along. Very few kids left the public schools when we desegregated."
Bamberg City Councilman Nancy Foster arrived in 1965. She feels the pageant story leaves people outside South Carolina with an inaccurate picture of Bamberg.
"I openly received the Randhawas when they arrived, and I am appalled if that happened," Foster said. "Nikki's brother played on my husband's tennis team. We traveled all over the state, and he was wonderful.
"I don't feel like Bamberg is like that. I think we've tried to do our part to work with everyone."
Jamie Brabham operates a beauty salon in Bamberg. A personal friend of the Randhawas, she had no recollection of the pageant.
"Our community is not that way now. It probably was at that time, but this community has embraced (Haley)," Brabham said. "Nikki was a bubbly, happy, fun-loving young lady who enjoyed laughter. She hung out at our house with my oldest growing up."
Haley said she doesn't want people to think of Bamberg "as that one pageant."
"When I went back a month ago, a lot of people welcomed me back," Haley said. "They still care about me.
"Bamberg is small-town America. It's changing for the better, but what hasn't changed is what makes it special, and that's about taking care of your neighbor. That's what people need to see."
Foster said Haley is still a good ambassador for Bamberg.
"I hope she does well because Bamberg can claim her as one of our own."