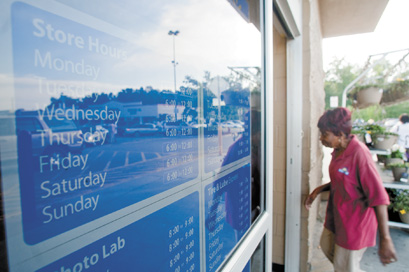 With the usual public comment discouraged Monday, Orangeburg County Council voted 6-1 for first reading of an ordinance rescinding the county's controversial blue laws.
Council discussion centered not on the blue law ordinance itself, which passed by title only, but on whether the public should have been allowed to comment on the issue.
Chairman Johnnie Wright told anyone wanting to address council during the regular public comments portion of the session that the blue laws have already had plenty of discussion and public input.
That input includes comments during previous council sessions and a special public hearing at Orangeburg-Calhoun Technical College last month. In addition, another public hearing will also be held on the ordinance when it's up for second reading at the next session.
"Hold your comments on the blue laws until second reading," Wright said. He made a similar suggestion during the May 2 session.
Councilman Harry Wimberly, who cast the only vote against the change, said at the end of the council session the public should have been allowed to speak.
"It's your prerogative whether there's discussion on an item or not," Wimberly told the chairman. "But tonight, your decision (was) not to have discussion on an agenda item. It's good for the public to know there will be no discussion on agenda items prior to the meeting."
Some people came to the meeting to speak, either pro or con, Wimberly said, and "they were not allowed to speak."
Wright noted the special public hearing already held, comments before council at previous sessions and the planned second public hearing in a few weeks.
"I felt it was pretty fair," he said.
You have free articles remaining.
Councilwoman Janie Cooper agreed with Wright's handling of the situation. Noting that the special public hearing was poorly attended, she said council could be opening the door or setting a precedent for people to comment repeatedly.
Councilman Willie B. Owens agreed with Cooper's comments.
However, Councilman Clyde Livingston said he was "twixt and between. I do think we should probably come up with a policy. ... What happened today is we should have announced it (before the session). ...
"Learn from hindsight. ... The error was we had people come thinking we had an item on the agenda" for discussion.
Livingston also said that council has to, "protect the rights of the minority -- not black or white, but the two people who have something to say."
Councilman Heyward Livingston said that Wright, as chairman of council, has the final say-so on what is discussed, although council members can express opinions.
The public hearing and second reading of the blue laws ordinance is scheduled for the next council session on June 6. An ordinance must have three readings before it becomes law.
Under the blue laws, items that cannot be sold before 1:30 p.m. on Sunday include clothing and accessories, except for souvenirs and underwear; housewares; home and office furnishings; tools; jewelry; electronics and sporting goods.
The penalty for violations is between $50 and $250 for the first offense, and up to $500 for subsequent offenses.