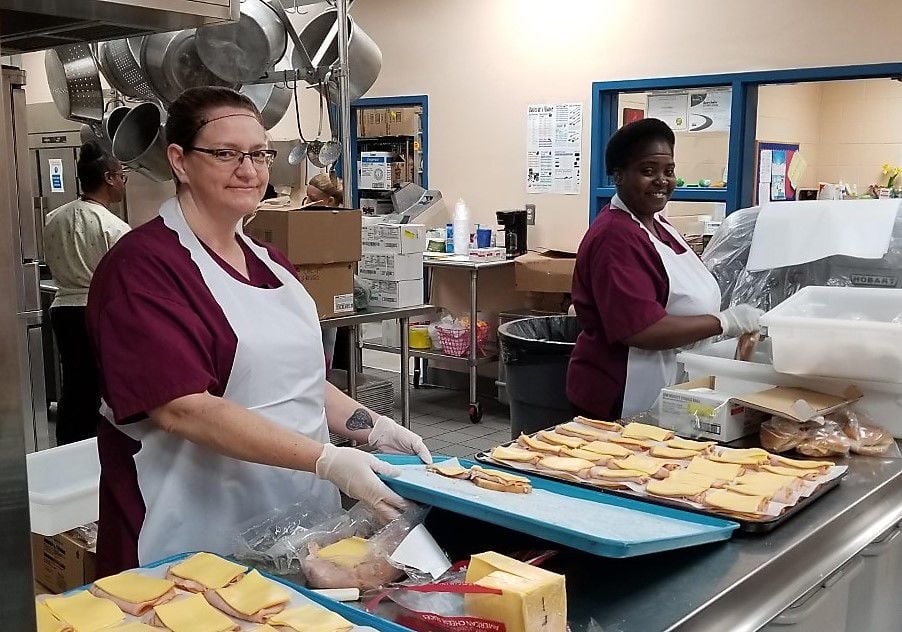 Curtis Keller Jr. has worked in Orangeburg County's public schools for two decades.
Lately, Sheridan Elementary School's food service manager has seen his job become even more rewarding.
"It is wonderful," he said. "We are having a good time doing it."
Keller is currently managing meal preparations at William J. Clark Middle School. He's helping make the meals that are being distributed to students across the county while school is closed because of the coronavirus.
"It might the only meal they might get," Keller said.
Rebecca Johnson, who serves as a food field supervisor, said "I have been working with these kids for 10 years.
"It is important to me, because I know some of what they are facing at home."
Some families have lost their jobs while others are working but their children are at home alone.
She said proper measures are being taken to keep employees and children safe while the food is being distributed. It can be challenging because we "cannot hold them like we want to."
It's necessary to serve the children while recognizing social distancing guidelines, Johnson said.
"I have kids at home and I'm trying to make sure I am keeping myself as safe as possible," Johnson said. "This is a very important job right now for us to be doing."
Both Keller and Johnson are among a couple hundred Orangeburg County School District employees who are ensuring about 6,300 breakfasts and lunches are served to district students as part of the district's Grab 'n Go Meals program.
The district delivers lunch along with the next morning's breakfast along existing bus routes. It's also distributing meals at some schools.
The food program is a part of the U.S. Department of Agriculture's Summer Food Service Program and Seamless Summer option. It allows schools to serve two meals at a time as they, and other community-based organizations, do during summer vacation.
Under the declared emergency situation, the district has received a community eligible provision that allows all children under the age of 18 to receive a meal. Typically, the CEP is restricted to schools located in low-income areas.
"It does not matter if they ride the bus or go to a different school district or are staying with their parents from another state," OCSD Coordinator of Food Nutrition Angela Robinson said.
She says the program also allows the district to feed students from private schools and students not even enrolled in school.
As a 20-year veteran of food service, Robinson said when she began in school food services she thought all children would be fed at home but she realized that is not the case.
"We want to make sure that every child is getting a nutritional meal available to them," she said.
While the district is providing about 6,300 breakfasts and lunches daily, she says the numbers are increasing daily.
"We are putting more and more food on the buses and more children are coming to the bus routes to get their meals," she said.
Currently, about 160 individuals prep meals and about 134 buses are rolling through the county for meal delivery.
"It is a huge operation," Robinson said.
The district receives its food from Sysco out of Columbia and produce from Senn Brothers and Carolina Produce. Borden's Dairy also provides food.
Robinson is confident the district will continue to provide meals for the duration of the virus.
"Everyone has shortages but we are working through the shortages," she said. "I think we will be able to go through the long haul."
Other local school districts are also making sure students are fed.
Calhoun County Public Schools are running all their bus routes as the primary way the meals are being served. The district has about 1,700 students, all of whom qualify for a meal.
"We are delivering a lot of them," School District Superintendent Dr. Steve Wilson said.
Bamberg School District 1 has 1,200 students and all students qualify for a meal and Bamberg School District 2 has about 658 students who are being served.
"We have enough food distribution at this time," Superintendent Dr. Thelma Sojourner said. "The governor has stated that schools will be closed through April 30. We are prepared to serve meals until that date."
Concerned about COVID-19?
Sign up now to get the most recent coronavirus headlines and other important local and national news sent to your email inbox daily.