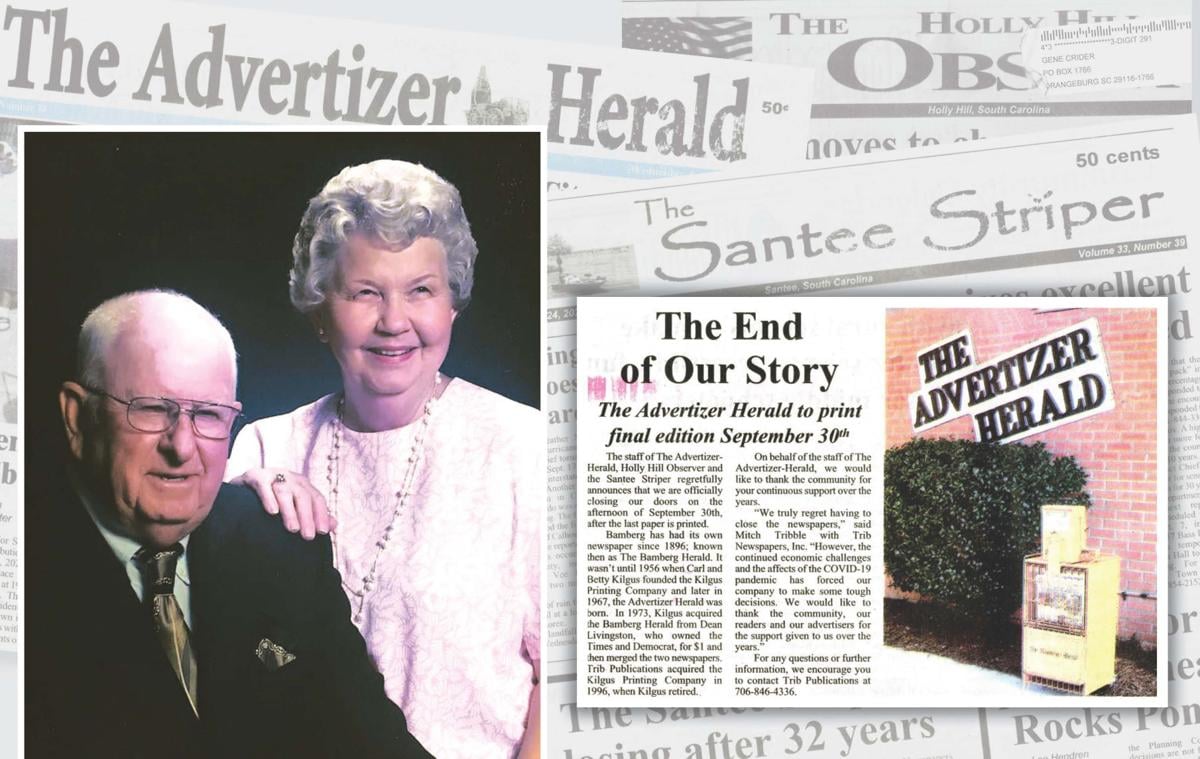 After decades of covering their communities, three weekly newspapers are preparing to close.
Bamberg's Advertizer-Herald and its sister papers, The Santee Striper and The Holly Hill Observer, will publish their final editions this week.
"It's a sad day for all of us," Betty Kilgus said Thursday in an interview at her home in Bamberg.
She, along with her late husband, Carl Kilgus, established The Advertizer in 1967 and went on to acquire The Bamberg Herald from The Times and Democrat in 1973, merging the two newspapers.
The Kilguses retired in 1996, when the papers were sold to Trib Publications. Carl died in 2014.
According to "Palmetto Press," a 2018 book on South Carolina newspapers by Patricia G. McNeely and Michael L. Smith, The Herald dates to 1891 when it was established by Dr. Henry S. Hartzog, who later became president of Clemson College.
Among Herald editors were Robert M. Hitt Sr. and Robert M. Hitt Jr., a former South Carolina Journalism Hall of Fame inductee and father of S.C. Commerce Secretary Bobby Hitt.
Mr. Kilgus began working at The Herald when he was 14 in 1943.
"Carl's first job there was sweeping the floors and cleaning up on Fridays and Saturdays for 50 cents," Mrs. Kilgus said. "He would go back to the shop at night, even after we were married, to learn how to operate the linotype on his own time. When he left in 1956, Carl was the foreman of the printing department."
The Kilguses opened Kilgus Printing Company the same year with the help of four men, H.D. Steedly, Dr. Robert Black, Charles Henerey and Jack Hill, who each gave the couple $500 to help them get started.
"Three of them said they didn't want their money back, but we paid them all back. We used that $2,000 to buy a lot of old, old equipment," Mrs. Kilgus said.
The couple founded their first newspaper "after some people from North approached us about starting a newspaper there, and we printed the first edition of The North Trade Journal in 1957," Mrs. Kilgus said. That weekly closed a few years ago.
In 1987, the Kilguses started the Santee Striper.
As the years passed, the Kilguses built one of the most successful and respected printing businesses in the state, specifically of advertising circulars for Red & White and IGA grocery stores. At one time, Kilgus Printing Co. was the largest bulk mailer in the Postal Service's Columbia Sectional Center, spending as much as $600,000 a year with the Bamberg Post Office.
Before moving to its current location on McGee Street, the business encompassed four buildings in a two-block radius in downtown Bamberg, daughter Cindy Kilgus Wise said.
"We had a storage building, a building for the smaller presses and folders, a building housing the big press and a building for the office supply business and the printing and newspaper offices," she said. "If you got a call for Daddy and it was important, you'd have to run down the street a block to tell him to come pick up the phone."
Mrs. Kilgus said her husband was proud of their printing and newspaper business. He always wanted to give the communities and customers the best service and product possible, she said.
"Carl didn't let printing orders go out the door unless they were right, and he made sure the newspapers covered the communities well," she said. "We had all those correspondents around Bamberg County, and the entire county was represented every week in The Advertizer-Herald. We printed 16 to 24 pages every week."
Their success was the result of hard work, long hours, teamwork and sacrifices, Mrs. Kilgus said.
"I had a job doing payroll work at Bamberg Textile Mill. I kept that job after we started our business, and I would go down and work with Carl after I got off at 5," she said. "Then we'd come home and I'd get the children (twins Carol and Carl Jr. 'Bubba') bathed and fed, and we would go back. We had a playpen with a mattress in it, and the children would play and sleep. Sometimes we would work until 2 in the morning."
All five of their children, the late Bubba Kilgus, Mrs. Jerry Durgan (Carol), Cindy Wise, Mrs. Jerry Tuten (Patti) and Jim Kilgus, worked at or helped out at the business. Cindy is a teacher in Bamberg School District One; Carol is a retired teacher; Patti and her husband operate a tool and die business and Jim was formerly band director at J.L. Mann High School and currently is the co-director on bands at Mauldin Middle School.
Other family members were also employed at Kilgus Printing over the years.
Through it all, Carl and Betty Kilgus came to realize that newspapers and printing weren't just about presses, ink and paper. They were about people and building relationships.
"We were banking with Bill Varn at Enterprise Bank, and he was so good to us. We would run out of money for postage, etc., but we knew it would be coming in within 30 to 60 days," Mrs. Kilgus said. "Carl would call Bill and say, 'I need $50,000, and Bill would say, 'OK. Come in and sign the papers.' He did that for us more than once."
As the printing and newspaper businesses grew, so did the number of employees hired by the couple. At one time, they had 42 people on the payroll.
"We always felt like our employees were family. After Carl died, we had a drop-in here at the house for the former employees, and 65 came," Mrs. Kilgus said.
Many of those who worked at Kilgus Printing Co. have passed away, said Wise, who worked as advertising manager and general manager of the newspapers.
"I like to think our former employees who are in Heaven today are running the golden presses and Daddy's in charge," Wise said. "They've got to have a great newspaper up there!"
Reflecting on their 62-year marriage, Mrs. Kilgus said, "Carl was good to me. He really was a good man, good husband and good co-worker."
"If Carl had been here to talk to you today, he'd tell you that the most important thing he gained from the newspaper and printing business was respect," she said. "He grew up poor. He told about the times he didn't have anything to eat. His daddy left them. Carl had nothing,"
"For him, his greatest achievement was earning respect."