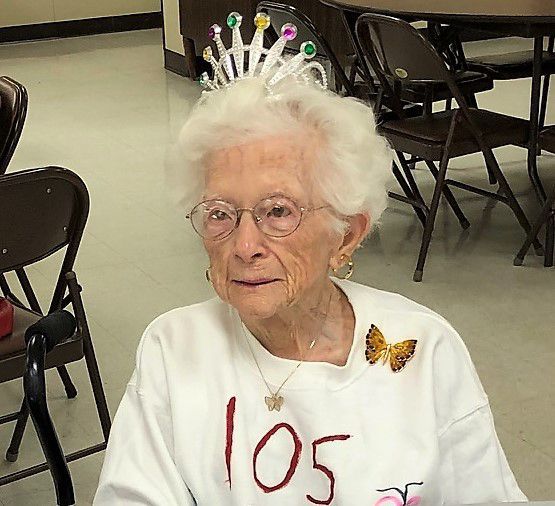 Katherine "Kay" Hughes is sharp, quick-witted and, most of all, thankful for all of the blessings God has showered upon her. Her love for him and others keeps her going after 105 years of life.
"It helps to keep me on the move," said Hughes, who celebrated her 105th birthday on Jan. 16.
It was not so long ago that she stopped volunteering at the Cooperative Church Ministries of Orangeburg, where she began volunteering at age 73.
She now spends a lot of her time at the Orangeburg County Council on Aging, where she enjoys fun and fellowship among other seniors and staff members.
OCCOA Nutrition Coordinator Janet Antley presented Hughes with a birthday card and letter from U.S. President Donald Trump and his wife, Melania, along with a signed picture from President Trump, on Jan. 27.
The letter read in part: "We hope your heart is filled with joy, knowing you have experienced our nation's greatest blessings and the affection of your loved ones over a long well-lived life."
What does Hughes like most about her time at the Council on Aging?
"The people. They've been so kind to me," Hughes said.
Jan Smith, Hughes' caretaker, said, "They show her so much love. They give her so many compliments and kiss and hug her. This is just the best place. As soon as we walk through the door, you can feel the love from everybody."
Smith said Hughes still has people who come to the Council on Aging and recognize her from CCMO.
"They'll say, 'Oh, I remember you from CCMO!' She's not a bit of trouble. She does everything on her own. She exercises every morning. Every morning before she gets out of bed, she does leg lifts in the bed," Smith said.
Hughes said she stays close with some of her former colleagues at CCMO, still talking to some of them on the phone.
The 105-year-old also still sports a head full of white, fluffy hair, which is kept up with her regular Thursday morning trips to the hairdresser.
Smith said Hughes enjoys coming to the Council on Aging following her hair appointments.
Hughes still has a good appetite.
Smith said, "When she gets through eating, she says, 'OK, I'm a member of the clean plate club.'"
A widowed mother of three children, Hughes was born in Oswego, New York.
She was not quite 4 years old when her mother died, but she was raised by an aunt who had an equally big heart. Her aunt also took her eight siblings in, along with many other children.
Hughes later went to Niagara Falls where she went on to play piano in a local orchestra.
She retired from American Yard Products at the age of 71.
While her hearing and eyesight are not what they used to be, the Orangeburg resident is still moving along with the help of a cane.
"I don't use a walker. I have a cane now. Most of the time I feel pretty good," said Hughes, who ultimately said she feels "fantastic."
She's not sure why God has let her live so long.
"I don't really know, but I'm still here. I'm very grateful. I go to church regularly. I'm grateful to God. He's the one that's important in my life," said Hughes, who attends Holy Trinity Catholic Church.
Her plan is to be around as long as she can.
"As long as the Lord will let me," she said.