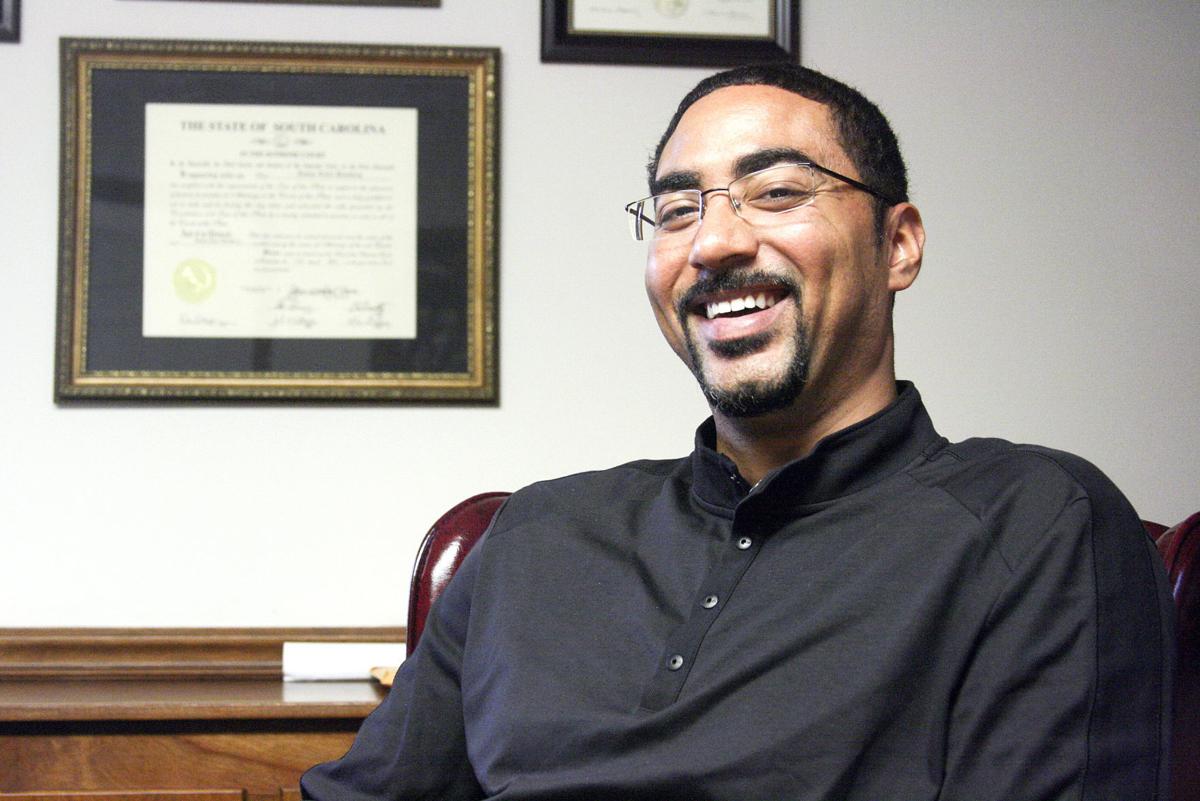 It's been just over a decade since state Rep. Justin Bamberg graduated from Bamberg-Ehrhardt High School.
The 29-year-old opened his law firm in his hometown last week.
"Investing in home was important to me," Bamberg said from his new office at 2331 Main Highway.
"I feel like time is going so fast because I remember when I was a kid running around this place and now I'm a small business owner here," he said.
The tall, former varsity athlete smiled when he said, "I live here, my office is here and I'm a state representative here. I think it's safe to say I ain't ever leaving."
For two years "Bamberg from Bamberg," as he refers to himself at times, practiced law at Lanier & Burroughs in Orangeburg.
"I really enjoyed working with Lanier & Burroughs," Bamberg said. "I love them as professionals and friends."
"For me, it was just time and I thought about branching out and starting my own firm," he said.
Bamberg has emerged as an attorney who represents families of those who've been shot and killed by law enforcement officers.
"The case that really kind of changed things as far as the national scene goes is when I started representing the family of Walter Scott," Bamberg said.
Scott, 50, was shot and killed by then-North Charleston police officer Michael Slager.
Slager's murder trial is expected to finish next week. The trial has lasted about four weeks.
Bamberg and Atlanta-area attorney Chris Stewart represented Scott's family.
Last October, Scott's family and the City of North Charleston agreed to a $6.5 million settlement in Scott's death.
Bamberg said that he and Stewart will be in Charleston for the conclusion of Slager's trial.
"And we'll see how that turns out. We'll let the wheels of justice turn and see where justice stops," he said.
Bamberg said he's always wanted to help people.
"A lot of times you'll do it and nobody will ever know and I'm fine with that because you don't do it for recognition, you do it because you feel like it's the right thing to do. It just happened that in that one particular instance, making the decision to help someone kind of took off," he said.
As a result of the Scott case, he ended up taking on other officer-involved shooting cases. He's representing the families of Alton Sterling in Baton Rouge, Louisiana and Keith Scott in Charlotte, North Carolina.
Bamberg is also representing the family of Kouren-Rodney Bernard Thomas, a 20-year-old Raleigh, N.C. man who was shot and killed leaving a house party last August.
Before the Scott case, Bamberg handled cases involving personal injury, vehicle accidents, medical malpractice and wrongful deaths.
Bamberg's journey to law school, a law practice and the State House began just outside of the city limits of Bamberg.
And it hasn't been an easy path.
"Growing up a child of two law enforcement officers, Kenneth and Ronda Bamberg, I was able to hang around the police department and go to court with them as a kid," Bamberg said. "That was always really exciting for me."
By fifth grade, Bamberg knew he was destined to become a lawyer.
"I remember reading 'To Kill a Mockingbird,' one of my favorite novels of life," Bamberg said.
"Reading about Atticus Finch fighting for Tom Robinson and then I was like, 'You know what? That's what I'm going to be. I'm going to be a lawyer,'" Bamberg said.
In Harper Lee's novel, Finch, who was white, represented Robinson, who was black, in a trial where Robinson was accused of rape in a small, segregated Alabama town in the mid-1930s.
Bamberg said he was impressed how Finch "kind of fought against the odds, against the grain, because somebody deserved to have somebody fight for him."
But Bamberg nearly lost sight of his fifth-grade goal of becoming an attorney.
After graduating from Bamberg-Ehrhardt High School in 2005, Bamberg enrolled in the University of South Carolina with a scholarship.
"And I almost messed up," Bamberg said.
He lost his scholarship his first year due to low grades.
Bamberg said he didn't study and spent too much time enjoying the nightlife of Columbia.
"I kind of forgot why I was there and the sacrifices that people like my parents and grandparents made for me," he said.
But Bamberg "got it together" and worked nearly 40 hours a week while he pursued his undergraduate degree.
Next, he applied for law school, turning down his first offer at a school in Kansas.
Bamberg decided to remain at USC.
He described law school as "one of the most difficult things" because he doesn't perform well on standardized tests.
During the first year of law school, students try to get jobs working for law firms, Bamberg said.
"Everybody wanted to work for big law (firms) because they paid the most. We were all broke law students," he said.
"But my grades, again, weren't good enough," he added.
He couldn't get a single paid job.
"I just started making calls, 'Hey, I'm Justin Bamberg, I'm trying to get experience. I want to be a trial lawyer. If you're looking for some help, I'll work for free,'" he said.
Bamberg ended up volunteering his time at a law firm.
"So it was kind of like a regular job, but I wasn't getting paid," he said.
Bamberg graduated from law school a semester early, but he was concerned his grades were going to be another hurdle for him.
He got his first job out of law school at Hood Law Firm in Charleston, a civil defense practice.
Bamberg worked there for two years and decided to locate closer to his hometown. He began at Lanier & Burroughs in August 2014.
A couple of months before that, Bamberg won the Democratic primary for S.C. House District 90. Bakari Sellers vacated the seat to run for lieutenant governor.
Bamberg noted that he didn't have any desire to be a politician.
"I hated politics. I didn't like politicians. I didn't like the political process," he said.
In November 2014, voters elected Bamberg to the State House.
"I enjoy serving my House district. There are a lot of great people. It's one of the reasons I ran," Bamberg said. "I see where we're going and I see we're making progress and I want to keep helping push this along."
He won his second term in November.
"Between practicing law, serving three counties of 38,000 people in the State House, it can admittedly get difficult," Bamberg said.
"It's one of those things where my daddy used to tell me, 'Don't start anything unless you can finish it,'" he said.
"If you say you're going to do it, you do it. It doesn't matter what you personally have to go through to get it done, but you've made that commitment to somebody and it's important to keep your word," Bamberg said.
He said another saying by which he lives is, "Success isn't owned, it's leased, and the rent is due every single day."
Bamberg said that while he was visiting someone in Orangeburg a few months ago, a group of four boys met him by his vehicle after he returned to it an hour later.
The boys – ranging from fifth through ninth grades – told Bamberg they liked his car and they wanted to talk to him about it.
"I had a Statehouse tie and I asked them who among them had the highest grades," he said.
He said all four boys unanimously selected the same person.
"I gave him the tie, but I didn't want to leave the other ones out, so I happened to have three other ties in my trunk," he said. He gave each of the kids a tie.
When he gave them the ties, he challenged them to make good grades and stay out of trouble.
"And to this very day, anytime I go out there, they'll always come up to me," he said.
About two weeks ago, Bamberg visited the area and one of the kids ran up to him, he said.
Then the kid ran home, retrieved his most recent report card and returned to Bamberg with his report card in hand.
It was just a few years ago when Bamberg answered his challenge to make good grades and stay out of trouble.
"People think that if you're looking for someone to look up to that they have to be somebody who has always been on top of the world and I think it's sometimes the exact opposite," he said.
"You can find a lot of good things for your own life if you look at people who at one point had the world on top of them and they managed to crawl their way out. There have been those times when I felt like the world was on top of me," he said.
He's felt that way when family members passed away.
"I really wish my great-grandmother was alive today. She lived right next door to us. Grandma Bertha, I wish she was here to see this," he said.
"I know she's looking down on us smiling on me and my brother Brandon and the whole family," Bamberg said.
Bamberg says his Christian faith serves as a steady guide for his life's course.
"God has his ways of working and if something opens up one day, who am I to challenge what may have been put before me as a reason," Bamberg said.