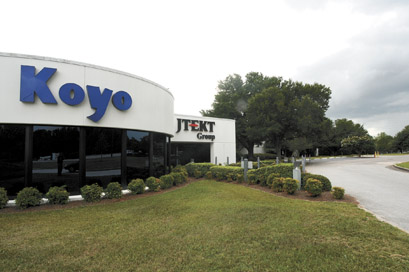 Koyo Bearing North America's Orangeburg plant will get a $10 million equipment overhaul over the next five years while maintaining its 500-member workforce, it was announced at the Orangeburg County Council meeting Monday night.
"Our county is grateful for the continued commitment of Koyo for providing solid investments as well as maintaining 500-plus jobs in our community," council Chairman Johnnie Wright Sr. said.
"The marriage between Koyo and Orangeburg County over the last 40 years has created mutual success and continued growth," Wright said. "The additional $10 million investment today further strengthens our commitment today to develop stronger together."
Koyo announced in 2009 it would invest $10 million in the Orangeburg plant to preserve its existing investment. At the time, Orangeburg County approved a 6 percent assessment ratio for a period of 20 years for the plant. Manufacturing plants are typically taxed at a 10.5 percent ratio.
On Monday, Orangeburg County extended the investment period by five years. As part of the agreement to extend its investment period, Koyo promises to make a $10 million equipment upgrade within a five-year period.
"I think we should always do what we can to keep these kinds of industries in our community," Councilman Willie B. Owens said.
During the approval process – which required three public readings and a hearing by county council – Koyo chose to go by an alias of "Project Bearing" until the final reading and hearing was formally approved.
In previous public discussions about "Project Bearing," Orangeburg County Development Commission Executive Director Gregg Robinson stated, "It's all part of us maintaining a good business environment for an existing industry to reinvest in itself."
Robinson went on to say that Koyo chose to reinvest in its Orangeburg plant because, "this is a profitable location and they want to continue to invest here."
Jeff Sherrill, Koyo Bearing North America's plant manager in Orangeburg, said in a statement issued by the Development Commission that Koyo's $10 million investment is, "being done to ensure the company's competitiveness in the automotive industry and to preserve existing employment levels.
"Koyo appreciates the commitment of Orangeburg County and the State of South Carolina to the company's success and looks forward to continuing its good relationship with Orangeburg County and the State of South Carolina for years to come."
Gov. Nikki Haley stated, "We are excited to see growth in Orangeburg County and we celebrate with Koyo as they invest $10 million in Orangeburg and help support the continued success of South Carolina's automotive industry."
Koyo, a subsidiary of JTEKT Corporation, operates 13 manufacturing sites in North America. JTEKT Corporation is headquartered in Japan.
Koyo Bearing North America's Orangeburg plant is located at 2850 Magnolia Street. The Orangeburg plant opened in 1975 and is a Tier 1 and Tier 2 supplier of bearings for Toyota, Ford, Honda, General Motors and John Deere.
Mike Brenan, chairman of the Central SC Alliance, said, "Koyo Bearing North America has a long history of manufacturing and machine tooling excellence in Orangeburg going back nearly 40 years. Koyo's global manufacturing footprint is quite impressive and we are very honored and appreciative of the continued commitment to the State of South Carolina by making this significant investment".
"One of our main objectives as a community is to provide a pro-business environment that encourages growth and prosperity for existing and new industries," OCDC Chairman Ken Middleton said. "This investment announcement from Koyo shows that Orangeburg County has the resources to foster growth in the automotive sector. Koyo has a strong history in Orangeburg County and this expansion ensures that Koyo and Orangeburg County will continue to move in a positive direction."
Contact the writer: 803-533-5545​